Update 7 November 2009: We have now completed a full review of the Sony KDL40Z5500.

Sony have launched their Bravia Z5500 series which — as indicated by the model name — will directly succeed their critically acclaimed Sony Z4500 series, though word has it that the Z4500 will still continue to be sold alongside the Z5500. The Sony Z5500 range of Bravia HDTVs will be available in three sizes, namely the 40-inch Sony KDL40Z5500, the 46-inch Sony KDL46Z5500, and the 52-inch KDL52Z5500.
Just like the Z4500 series, all the LCD televisions in the Sony Bravia Z5500 series will feature full HD 1920 x 1080 panels, and of course Sony's Motionflow 200Hz motion-compensated frame interpolation (MCFI) technology (which helped the Z4500 achieve the highest motion resolution we have ever recorded on an LCD TV to date). Whilst on the Z4500 series this did not translate into any drastic improvement during subjective viewing when compared to the Motionflow 100Hz found on the W4500 series, perhaps things may be better with the Sony Z5500 series.
Sony KDL40Z5500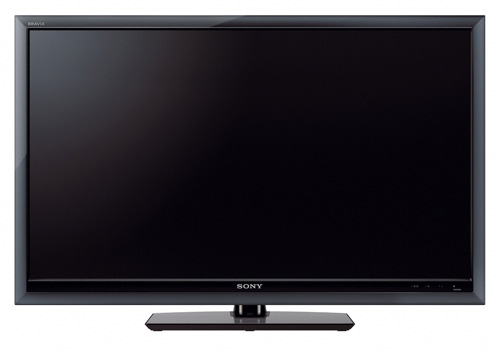 On paper, the Sony KDL40Z5500 offers the following extras over the KDL40Z4500:
Applicast internet widget function;
One additional HDMI input (4 vs 3);
Expanded DLNA media streaming;
Reduced power consumption; and
The latest version of Bravia video processing (Bravia Engine 3 vs BE 2).
Based on our experiences with Sony's 2009 Bravia LCD models (specifically the W5500 series), the Sony KDL40Z5500 200Hz LCD HDTV should also sport these improvements over the Z4500:
Inclusion of user-accessible white balance and gamma controls; and
Eradication of undefeatable edge enhancement on 1080 content.
Interestingly, the Sony KDL40Z5500 retains a 10-bit panel and WCG-CCFL backlight which is very good news indeed — as a consequence of these features being "downgraded" (to an 8-bit panel and only CCFL backlight) on the W5500 series, the colour gamut was not as accurate according to our measurements.
The Sony KDL40Z5500 LCD television is expected to hit UK stores sometime in July, with an RRP of around £1,800… hardly an alluring price in these times of economic uncertainty, but we'll reserve judgement until we get our hands on a review sample.