This TV has now been discontinued to be replaced by the Sony KDL42W705 which we have reviewed here.
Over recent years, Sony has been streamlining its Bravia flat-screen television ranges. For example, this year's lineup from the famous Japanese TV manufacturer consists of the 4K Ultra HD Sony X9 series, the 1080p flagship W9 with active-shutter 3D, the step-down W8 with passive 3D, the midrange 2D-only W6 which we're reviewing today, and finally the entry-level R4 series. Contrast this to Korean rival Samsung who offers Series 4, 5, 6, 7, 8 and 9 from its LED LCD division without counting plasmas, and Series 6 alone contains the F6400, F6500, F6800 plus some more, which can get pretty bewildering for consumers!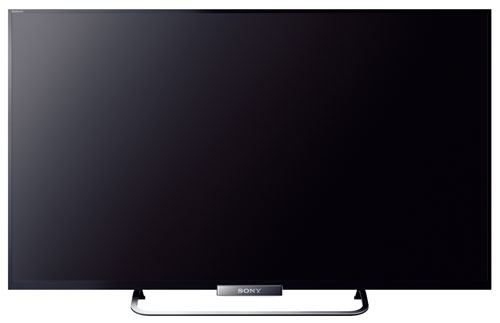 Back to the Sony KDL-42W653A we're testing, which is a 42-inch model with black bezel. In case you're wondering, the company also sells a silver-frame version with model number KDL-42W654A – we expect no difference in picture quality since the underlying hardware is identical, featuring edge LED backlight technology, X-Reality Pro video processing engine, Motionflow XR 200Hz (more on this later), and integrated WiFi which makes accessing the firm's internet-connect Smart TV platform easier.
Design
By any measure, the KDL42W653 is a handsome set. The semi-glossy LCD screen is framed by an impressively slim, quarter-inch-wide matte black bezel that sports a very subtle brushed metal effect. Staying true to Sony's 2013 Bravia design ethos, a small rectangular unit – dubbed "Intelligent Core" – bearing the company's logo hangs from beneath the panel, whose underside can be adjusted to cast a soft glow.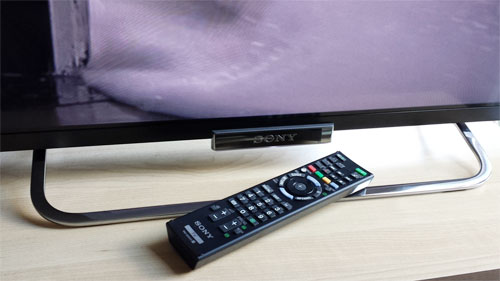 Step around the side of the Sony W653, and the benefits of edge LED backlighting are clearly visible, with a slender chassis that's interrupted only by some protrusions in the middle (where the connection ports are) and along the bottom edge (housing the speakers). The entire screen sits on a unique, low-profile table-top stand that is chrome-plated, shaped like a wire rack, and not swivel-capable. Build quality is high, with no wobbliness or squeakiness.
Updated 15 November 2013: Unlike most modern flat-screen TVs, the Sony W6 LED TV comes with an external power supply.
Connections
Only two HDMI inputs and one USB port are provided on the Sony Bravia W65, which is stingy by today's standards.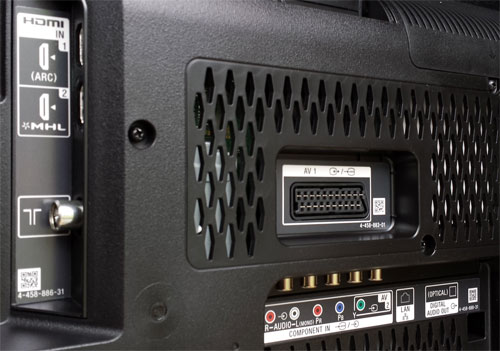 2 x HDMI, Freeview HD tuner, SCART, component, LAN, audio outs, USB (not pictured).
Operation
Note: The KDL-42W653A's user menu, remote control (it doesn't come with the NFC-capable one-touch secondary remote bundled with the Sony W9 and W8) and Smart TV portal are very similar to the ones found on the KDL55W905 we've reviewed back in May – please refer to that review if you haven't read it, or need a refresher.
Calibration
Note: Our review sample was calibrated using CalMAN 5, the industry-leading video calibration software.
To obtain the most accurate out-of-the-box image without further adjustments, we switched the top-level [Scene Select] preset to "Cinema" on the Sony KDL42W653. Two more [Picture Modes] are available in this preset: we went with "Cinema 1" over "Cinema 2" because the former had more unnecessary picture processing disabled by default.
Greyscale
"Cinema 1" yielded relatively accurate greyscale for an out-of-the-box picture preset, though blue component tended towards the low side, causing images to look slightly warm.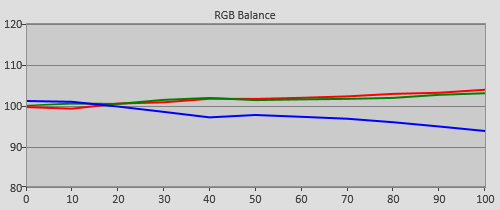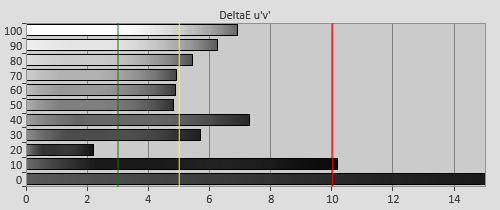 Pre-calibration RGB tracking and delta errors (dEs)
Like all Sony flat-screen HDTVs for the consumer market, the Bravia W6 only comes with a basic 2-point [White Balance] system, offering neither 10-point WB controls nor advanced colour management system (CMS) found on competing models from other top-tier TV brands. Furthermore, its 2p WB system is idiosyncratic in the sense that the RGB gain controls are only adjustable decrementally, whilst the bias sliders are excessively coarse.
The top-limited gain controls meant that we had to find another way to boost blue energy, since [B Gain] slider can only be adjusted downwards. Fortunately, there exists a picture-affecting option called [Clear White] in the [Advanced Settings] submenu, whose purpose is to deliver brighter whites by – wait for it – increasing the intensity of blue channel at the upper end! So, we set [Clear White] to "Low" which propelled greyscale to above D65K, and then dialled down [B-Gain] to neutralise the excess blue. Worked a treat: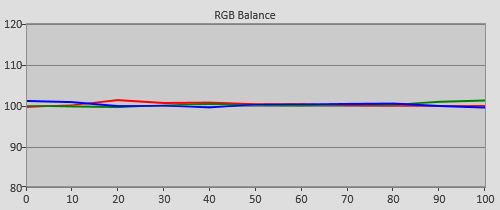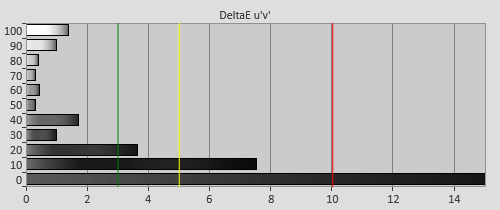 Post-calibration RGB tracking and delta errors (dEs)
Delta errors (dEs) were reduced to less than 3 (commonly accepted as the perceptible limit for the human eye) from 30% stimulus onwards, but below that luminance level some inaccuracies remained, which could probably be rectified had Sony provided more precision in the form of 10p [White Balance] controls.
Gamma
This year's Sony televisions have been targeting gamma 2.4 (which has been established by the ITU as the reference value for flat-panel HD displays used in dark-room mastering) in their most accurate picture preset, and it's no different on the KDL42W653A.
| | |
| --- | --- |
| | |
| Pre-calibration gamma tracking (2.48) | Post-calibration gamma tracking (2.37) |
The default [Gamma] setting of "-2" in [Cinema 1] mode resulted in an overall gamma of 2.48 which is a touch too dark, so we bumped it up to "-1" which steered measured gamma closer to 2.4, promising an image that's satisfyingly rich in contrast yet does not obscure shadow detail.
Colour
Not blessed with Sony's quantum-dot-based Triluminos Display technology, it's not surprising that the KDL42W653's colour gamut bears more similarities to the Triluminos-less Bravia W8 LED TV we reviewed last month than the Triluminos-equipped flagship W9. Green primary was deviated towards yellow, causing minor shifts in the saturation and hue of the secondary colours.
Sony doesn't really give us many effective colour-affecting controls to play with, so we had to gently nudge the global [Colour] slider, measuring back and forth between the outer gamut and sub-100% saturation tracking points to balance out the errors.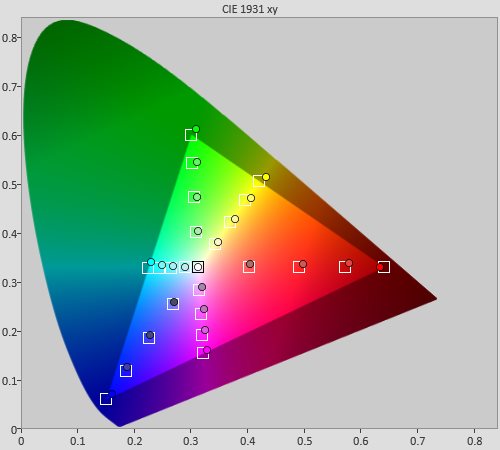 Post-calibration colour saturation tracking
And in the end we managed to suppress delta errors (colour luminance taken into account) under 3 across all measured chromaticities:
Post-calibration colour errors (<3 not appreciable to the eye)
Benchmark Test Results
| | |
| --- | --- |
| Dead pixels | None |
| Screen uniformity | Very good for an edge LED TV |
| Overscanning on HDMI | 0% if [Screen Format] "Full" & [Display Area] "Full Pixel" |
| Blacker than black | Passed |
| Calibrated black level (black screen) | LEDs dim down to 0.022 cd/m2 |
| Calibrated black level (ANSI checkerboard) | 0.046 cd/m2 |
| Black level retention | Auto-dimming with full black screen |
| Primary chromaticity | Green primary deviated towards yellow |
| Scaling | Very good |
| Video mode deinterlacing | Decent |
| Film mode deinterlacing | Passed 3:2 cadence over 480i; and 2:2 over 576i |
| Viewing angle | Good for VA LCD panel |
| Motion resolution | 1080 (but double image) with [LED Motion Mode] on; 300, off |
| Digital noise reduction | Optional; effective when engaged |
| Sharpness | Defeatable edge enhancement |
| Luma/Chroma bandwidth (2D Blu-ray) | Full luma; chroma horizontally blurred except in [Game] & [Graphics] modes |
| 1080p/24 capability | Judder-free |
| Input lag (high-speed camera) | 6ms compared to lag-free CRT in [Game] mode |
| Leo Bodnar input lag tester | 15ms in [Game] mode |
| Full 4:4:4 reproduction (PC) | Yes, in [Game] and [Graphics] modes |
Power Consumption
| | |
| --- | --- |
| Default [Standard] mode | 36 watts* |
| Calibrated [Cinema 1] mode | 43 watts |
| Standby | <1 watt |
*Note: Out of the box, [Light Sensor] is engaged by default, which explains why energy usage was lower before calibration than after.
Picture Quality
The Sony KDL-42W653A uses a VA-type LCD panel supplied by Taiwanese vendor AUO (AU Optronics), which translates to deep blacks by LED LCD standards. On a 4×4 ANSI checkerboard pattern, we measured the TV's black level to be 0.046 cd/m2 which is on par with this year's VA-based high-end LED televisions like the Sony W9 as well as the Samsung F7000 and F8000. As is the case with most LED LCDs, the W653 dimmed its backlight down to 0.022 cd/m2 when asked to display a full black screen.
Considering its edge LED makeup and svelte build, our KDL42W653 review sample exhibited surprisingly good backlight uniformity, without any sign of clouding or corner bleed. A subtle dirty screen effect (DSE) was visible in the centre of the panel particularly when we put up 20% to 30% stimulus full-field grey patterns, but to be honest this is pretty much unavoidable on all large-sized edge-lit LED TVs due to the way a limited number of LED bulbs (which are placed along the borders) are required to illuminate the entire screen. The DSE on our Sony W6 review unit was extremely mild, and rarely bothered us in real-world content.
The KDL42W653A is advertised by Sony as featuring Motionflow XR 200Hz, but it's important to understand that this is simply a figure for marketing purposes (similar to Samsung's Clear Motion Rate or LG's TruMotion), rather than the true refresh rate of the TV. Running our reference motion resolution test pattern (Chapter 31 in the FPD Benchmark Software disc) on the Bravia W65 returned a result of 300 which is what we would expect natively from an LCD panel without the help of MCFI (motion-compensated frame interpolation).
Interestingly, the Sony W653 doesn't have any [Motionflow] control available in its user menu, but does offer an [LED Motion Mode] option which activates backlight scanning on the television. When enabled, motion resolution jumped to 1080 (the maximum value possible in the FPD Benchmark test pattern), but three undesirable side effects ensued: a drop in luminance; increased flicker that was especially noticeable on bright scenes; and double ghosted image on moving objects. In other words, although [LED Motion Mode] significantly reduced motion blur, it came with several shortcomings which made it pretty much unusable in our opinion. Your mileage may vary.
While we're at it, we ran our custom "motion interpolation checker" pattern on the KDL42W653A, and verified that no forced motion interpolation took place in any of the [Scene Select] presets. Having no MCFI forcibly applied is particularly relevant for the [Cinema] mode which is our picture preset of choice for critical viewing – the last thing we want is for the cinematic quality of 24fps movies to be subverted by ugly soap opera effect.
HD feed looked nothing short of stunning, helped immensely by the set's deep blacks and balanced colours. 1080p/24 signal from Blu-ray playback was presented impeccably without any sign of telecine judder. The Sony KDL42W653 is no slouch at handling standard-definition content too, delivering crisp upconversion without excessive ringing, as well as competent film cadence detection, though the TV's jaggies suppression for video-based material was not as effective as Samsung's or Panasonic's (to be fair, the difference was more marked in HQV Benchmark than in real-life content).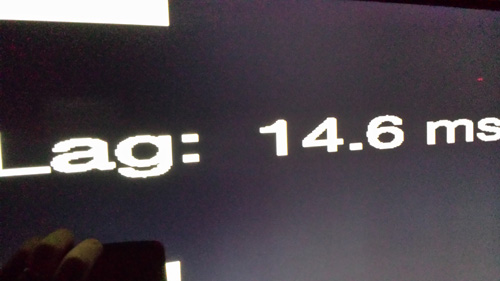 Sony's 2013 Bravias have proven to be superb gaming TVs, and the W65 is no exception. With [Scene Select] set to "Game", the 42W653A effortlessly smashed through our existing input lag record (held by another Sony – the W8), posting a jaw-dropping figure of 14.6ms on the Leo Bodnar lag tester. Engaging [LED Motion Mode] – should you wish to do so – barely increased the lag by a mere 6ms to 20.5ms which is an excellent level of responsiveness no other non-Sony HDTVs have been capable of matching to date. Add full 4:4:4 reproduction (in [Game] and [Graphics] mode) to the equation, and we're convinced you won't find a better flat-screen television on which to play video games at the moment.
Conclusion
Up until last year, a 42in LCD-based TV almost certainly points to the use of IPS-type panel whose contrast performance often disappoints. This year, we've tested at least two HDTVs with 42″ screen size which feature VA LCD panels, delivering the sort of deep blacks commonly associated with top-tier LED LCDs.
The Sony KDL-42W653A is one such TV: it handles both HD and SD feeds with great composure, and is above all a supreme large-screen gaming display. A few people may lament the omission of tri-dimensional capability, but given the lacklustre reception to 3D among the general public, we're sure some potential buyers would gladly give this up in exchange for a more affordable price.