The Sony KDL46HX823 and KDL55HX823 3D-capable HDTV sets, featuring edge LED backlight that is paradoxically controlled via local-dimming algorithm, is scheduled to hit UK stores sometime in May later this year. Both the 46- and 55-inchers are members of the HX823 series which is one rung down from the Japanese TV manufacturer's top-of-the-line HX923 range.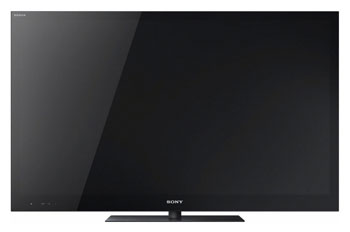 Sony Bravia LCD televisions containing the HX marker fall under the Cinematic Range which puts emphasis on picture quality. To this end, the HX823 LCD TV models are fitted with edge-mounted LEDs, but employs local-dimming video processing which – in theory – allows for more localised and precise backlight control to achieve higher contrast ratio with deeper blacks and brighter whites.
Like every model in the Bravia Cinematic Range, the Sony KDL-46HX823 and KDL-55HX823 sports the X-Reality PRO dual-chip image processing engine. The company claims that this cutting-edge video processor is able to deliver near-HD quality even from web videos and low-resolution images, due in no small part to its 14-bit multi-frame video data analysis and scaling.
All 2011 Sony 3D TV sets will have 3D sync transmitters built-in (saving owners some money should they wish to watch 3D content), and the HX823 is no exception. However, any compatible active-shutter 3D glasses will need to be purchased separately, as the company currently have no plans to include them with either the KDL46HX823 or KDL55HX823. Some Sony stores and independent retailers may still bundle the 3DTV and the 3D glasses at a discounted price though.
While on paper the Motionflow XR 400 motion technology implemented on the Sony HX823 only offers half the refresh rate of the Motionflow XR 800 found on the top-tier HX923 (400Hz vs 800Hz), in real-life viewing any difference is likely to be subtle rather than obvious. Other features on the KDL-46HX823 and KDL-55HX823 LED televisions include the Bravia Internet TV portal (with access to BBC iPlayer, Skype, Facebook, Twitter, Qriocity and Opera web browser), Monolithic design with OptiContrast panel, integrated Freeview HD tuner, inbuilt wireless connectivity, and TV recording via USB to an external hard disc drive.
UK prices are unknown at this time of writing, but should be announced closer to launch.