Hot on the heels of the Sony KDL-40HX853 we tested last month, its bigger brother – the 46″ KDL46HX853 – has arrived for review, which means that the complete trio of different-sized offerings within the Bravia HX853 series will have received the HDTVTest treatment. We had high praise for the KDL40HX853 and the KDL55HX853 after giving the pair a meticulous inspection, calling them the best LED-based HDTVs we've seen in 2012. Will the middle child continue this fine trend? Let's find out.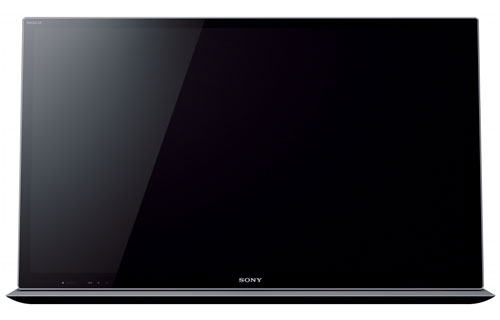 Sony KDL46HX853 LED 3D TV
Note: The specific unit we reviewed was the Sony KDL46HX853BU, the United Kingdom three-pin-plug version. Because we have published comprehensive reviews of its 40- and 55-inch siblings, this article is condensed, since many features – ranging from design and on-screen menu to connections and Smart TV functions – are identical between all 3 models.
Calibration
To obtain the most accurate picture out of the box, we set [Scene Select] to "Cinema", and then engaged "Cinema 1" [Picture Mode] which has less superfluous image processing options switched on by default than "Cinema 2". Here's how the measured greyscale compared to D65 video and broadcast industry standard: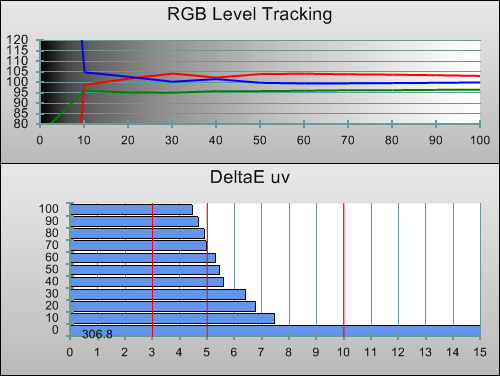 Pre-calibration RGB tracking and delta errors (dEs)
With a deficiency of green component in the greys causing delta errors to exceed 4 across the entire luminance range, there's clearly room for improvement, prompting us to reach straight for the 2-point white balance controls on the KDL-46HX853. Unfortunately, as was the case with its 40HX853 and 55HX853 siblings, the RGB cut/ bias controls were overly crude, rendering them unusable to fix low-end greyscale.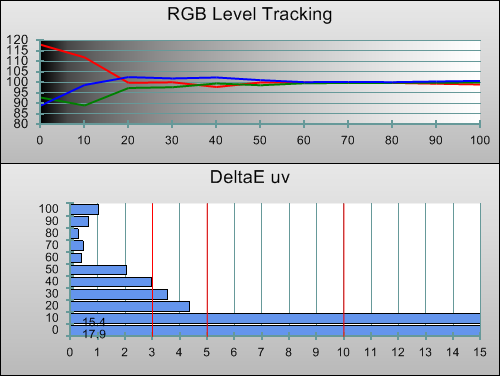 Post-calibration RGB tracking and delta errors (dEs)
The charts above reflect the limitations of the white balance system implemented on the Sony HX853: because we were restricted to only using the gain controls, greyscale above 50% stimulus tracked beautifully, but anything below that threshold had to be left unattended. Mind you, it's not a massive, immediately visible error; we just wished that Sony had offered more refined controls to bring the darker shades of grey in line with industry standards.
Gamma
| | |
| --- | --- |
| | |
| Gamma curve in [Cinema 1] mode | Corresponding gamma tracking |
Unlike plasmas, LCD-based televisions typically feature consistent gamma tracking regardless of whether full-field or windowed patterns are used, so we can be confident that a good measurement should transfer nicely onto real-world content. Sony has programmed the default [Gamma] value of "0" to approximate 2.2; lowering the setting to "-1" brought us closest to 2.4, the target we now aim for ever since it was established as the reference electro-optical transfer function (EOTF) for flat-screen displays used in dark-room studio mastering.
Colour
Given the lack of any CMS (colour management system) on board, the Sony KDL46HX853 actually fared surprisingly well colour-wise (just like the 40″ and 55″ HX8). Colour decoding was respectable, with no red push visible; and sub-100% saturation tracking points were generally spot-on or thereabouts, as long as we didn't make any large adjustment to [Colour]. In terms of chromaticity, blue primary and cyan were undersaturated, and the hues of green and magenta were slightly deviated, but these inaccuracies shouldn't be noticeable to most users outside of a side-by-side comparison with a reference display.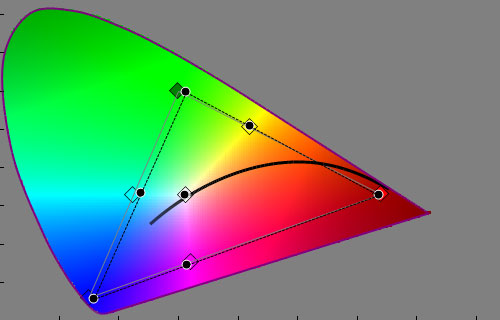 Post-calibration CIE chart with reference to HD Rec.709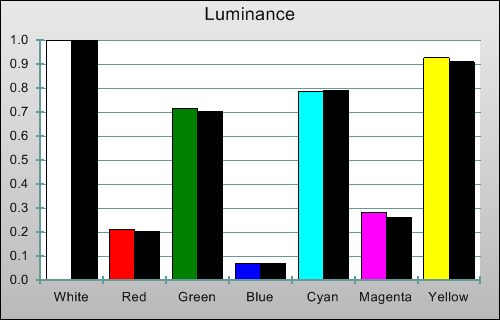 Post-calibration colour luminance (coloured bars = targets; black bars = measured values)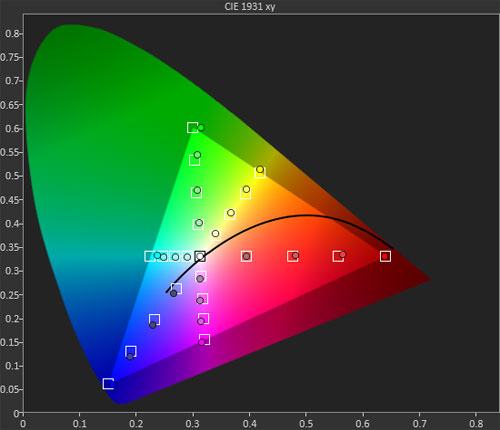 Post-calibration colour saturation tracking
Benchmark Test Results
| | |
| --- | --- |
| Dead pixels | None |
| Screen uniformity | Very good for an LCD panel |
| Overscanning on HDMI | 0% with [Screen Format] set to "Full" |
| Blacker than black | Passed |
| Calibrated black level (black screen) | 0 cd/m2 (LEDs turn off) |
| Calibrated black level (ANSI checkerboard) | 0.0457 cd/m2 |
| Black level retention | Auto-dimming with black screen in all modes |
| Primary chromaticity | Good |
| Scaling | Very good |
| Video mode deinterlacing | Decent jaggies reduction |
| Film mode deinterlacing | Passed 3:2 over 480i & 1080i; and 2:2 over 576i |
| Viewing angle | Decent for an LCD TV |
| Motion resolution | 950 to 1080 with [Motionflow] engaged; 300 if off. |
| Digital noise reduction | Optional |
| Sharpness | Defeatable edge enhancement |
| Luma/ chroma bandwidth (2D Blu-ray) | Full luma; chroma horizontally blurred except in [Game] and [Graphics] modes |
| 1080p/24 capability | No judder in 2D nor 3D |
| Input lag | 32ms compared to lag-free CRT |
| Full 4:4:4 reproduction (PC) | Yes, in [Game] and [Graphics] modes |
Power Consumption
| | |
| --- | --- |
| Default [Standard] mode (2D) | 48 watts |
| Default [Standard] mode (3D) | 90 watts |
| Calibrated [Cinema 1] mode (2D) | 43 watts |
| [Cinema 1] mode (3D) | 45 watts |
| Standby | 1 watt |
Picture Quality
Backlight Uniformity
The review sample we received exhibited very good screen and backlight uniformity: even out of the box with [Backlight] set at its default value of "6" in the "Standard" [Picture Mode], we failed to detect any hint of clouding which has plagued some Sony Bravia LED LCD TVs in recent years.
Black Level
Overall, blacks on the KDL-46HX853 measured marginally deeper than its 40-inch brother we tested last month. Enabling and disabling [LED Dynamic Control] yielded ANSI black levels (using a checkerboard test pattern) of 0.0457 and 0.055 cd/m2 respectively.
Standard Definition
While still very decent, SD programmes didn't look as good as they did on the 40HX853, probably because they have to be upconverted to be fitted on a larger screen. Putting up the SMPTE RP-133 resolution test chart on the KDL46HX853 revealed a touch more ringing than that seen on the KDL40HX853, although all the details were captured in full and displayed crisply. Samsung's ES7000 and ES8000 series have a slight upper hand here, with their more assured upscaling and smoother diagonal interpolation (which translates to less jaggies in video-based material).
High Definition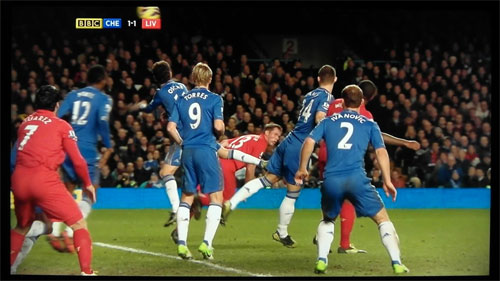 When an HDTV is blessed with deep blacks, reasonably flat gamma, as well as natural and well-saturated colours, it's hard for HD content not to look stunning, and so it proved with the Sony KDL-46HX853. What we particularly appreciated was the absence of any underhanded noise reduction or edge enhancement, which allows all the fine detail in 1080 content to shine through unfiltered. Also, as with all Bravia televisions we've reviewed over the last 4 years, the KDL46HX853 handled 1080p/24 signal from Blu-ray discs impeccably without any sign of telecine judder.
3D
In our review of the smaller KDL-40HX853, we pointed out the prevalence of crosstalk on the 3DTV when displaying extra-dimensional content containing bright objects contrasted against a dark background at certain stereoscopic depth. The Sony 46HX853 is not free of this issue entirely, but on our test unit, the ghost images were less intense and therefore less noticeable than those witnessed on the 40HX853.
We're not sure if this improvement is down to the panel/ 3D processing used for different screen sizes, or just a coincidence specific to our individual sample. Either way, we thoroughly enjoyed watching 3-D Blu-rays on the KDL46HX853, due in no small part to its judder-free rendering, and full HD 3D resolution granted by active-shutter glasses (ASG) technology.
Conclusion
There's no nasty surprise here: the KDL-46HX853 completes a trilogy of class-leading HX8 models, cementing the Bravia HX853's reputation as the go-to LED TV lineup for the year 2012. Following Panasonic's decision not to release any 46-inch Viera plasmas this year, it's left to Samsung and Sony to battle it out in this size class. Although the Korean manufacturer's offerings hold the edge in standard-definition handling and calibration friendliness, ultimately we felt that the Sony – as a whole package – is just that bit more appealing when you take into account its tamper-free high-def presentation, relatively good sound quality (from the integrated speaker stand), and affordable price point.