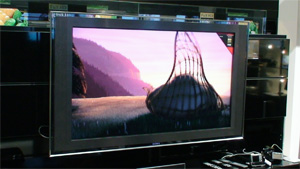 Sony announced their new range of Bravia LCD TVs at IFA Berlin 2007, including the W3000 and X3500/ X3000 series. These are full HD 1080p panels with 3 HDMI ports and 24p support.

I first stumbled upon the 46″ version in the Bravia W3000 range. The screen was framed by a minimalist-looking brushed black metal bezel. Backlight is based upon WCG-CCFL, and powered by Sony's Bravia EX picture processing engine, generating a claimed contrast ratio of 16,000:1.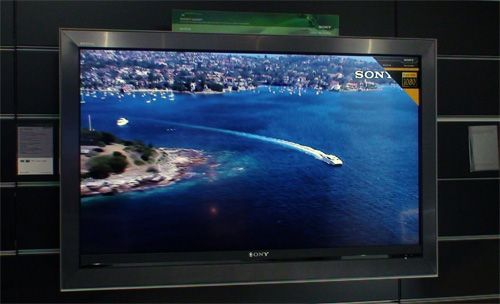 Sony KDL46W3000
Right next to the KDL46W3000 was a Sony KDL46X3000 distinguished by its chequered bezel which was in turn surrounded by a thin strip of glass to create a floating illusion that we've seen before on the Bravia X2000 series. Backlight will still be WCG-CCFL, but image processing should benefit from upgrades like Bravia Engine Pro and Motionflow +100Hz, resulting in a slightly increased claimed contrast ratio of 18,000:1.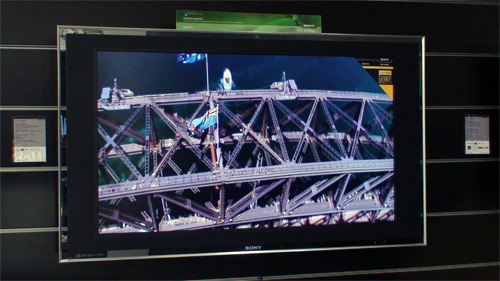 Sony KDL46X3000
Although it shares the same panel and processing as the X3000, the Bravia X3500 range is aesthetically more appealing thanks to its exquisitely brushed metal bezel which is flanked by finely-pored speaker grille on both sides. Befitting a top-of-the-range model, the Sony KDL46X3500 was awarded its own floor space right in the centre of the room, and augmented by a surround sound system.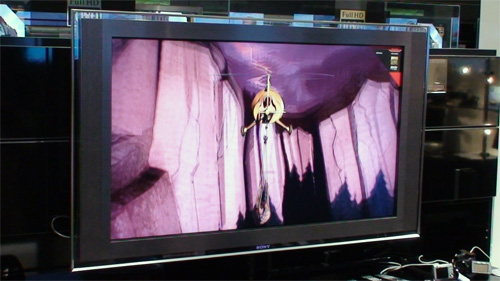 Sony KDL46X3500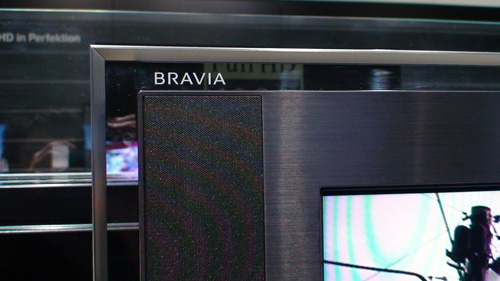 Bravia inscription on glass; speaker grille; and brushed bezel in gunmetal
Pioneer
No surprises here, the theme for the Pioneer stand was Kuro. Since I've already reviewed the 508XD and 4280XD, I moved on to other booths pretty quickly, but not before I caught a glimpse of a 1080p full HD Kuro plasma – the Pioneer PDPLX608D – showing Wild Hogs Blu-ray in German. I"m not entirely sold on the benefits of the extra resolution, but will reserve judgement until I can do a side-by-side comparison at home.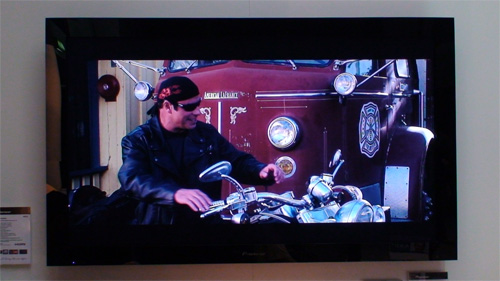 Pioneer PDPLX608D
5 manufacturers down, 3 more to go…