If you've been following Sony's exploits over the past six months, you could be forgiven for thinking that the manufacturer is concentrating 100% of its efforts on Ultra HD 4K technology. The Japanese brand is launching 55″ and 65″ 4K TVs to go with its existing ultra-high-def 84-incher; releasing a 4K Media Player; and even filming Wimbledon 2013 in all its ultra high definition glory together with the BBC.
However, native 4K content is virtually non-existent, and the vast majority of flat-panel televisions bought by consumers this year is still going to be regular 1080p ones. Taking this into account, Sony is sensibly launching an exciting 2013 lineup of Bravia full HD LED LCDs, instead of putting all its eggs in the 4K basket.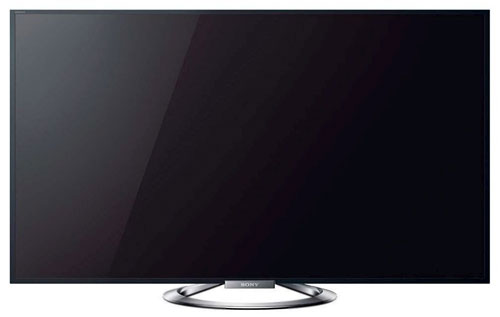 In for review today is the Sony KDL-55W905A, a 55-inch model within the company's range-topping W9 series which is the successor to 2012's multi-award-winning HX8 series. The television is equipped with edge LED backlighting, X-Reality PRO video processing engine, MotionFlow XR 800Hz motion-compensated frame interpolation (MCFI) technology, active-shutter-glasses (ASG) 3D, Freeview HD and Freesat HD tuners, inbuilt WiFi connectivity, one-touch NFC remote mirroring, as well as the Sony Entertainment Network (SEN) Smart TV platform.
But by far the most intriguing technology implemented on the KDL55W905 is what Sony calls "Triluminos Display", which basically places two red and green quantum dots (licensed as "Color IQ" tech from American nanomaterials vendor QD Vision) in front of each blue LED to deliver a wider colour gamut for more realistic images. Here's an excellent primer on the subject written by home theatre expert Geoffrey Morrison on CNet.
This new technology sounds great, but how will it fare in real-life viewing, especially when many upper-tier modern HDTVs have had no problem fulfilling the Rec. 709 HDTV colour space which is the current standard used for high-definition television broadcast and most Blu-ray mastering? Time to put the Bravia W905 through our battery of tests to find out.
Note: The specific model we reviewed was the Sony KDL55W905ABU which is the 3-pin-plug United Kingdom version. While we haven't tested the smaller 40-inch Sony KDL-40W905A or the 46-inch KDL-46W905A, there shouldn't be any significant difference in picture performance given similar specifications within the Bravia W905A series.
Design
Sony has dispensed with the "slanted screen" styling seen on last year's HX853, and for the better by our reckoning. This does not mean that the KDL-55W905A's appearance is any less distinctive though. Perhaps most eye-catching is the swivel table-top stand whose base forms a circular arc, and is coated in a gleaming chrome finish. This has the effect of making the whole set look as if it's facing you all the time regardless of how much you turn the screen. Sweet.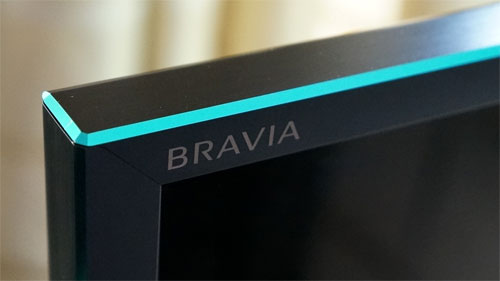 The impressively slim, matte black bezel features diamond-cut bevelled edges which are further accented by elements of quartz crystal to give off a subtle blue tint under light. A small rectangular box (dubbed "Intelligent Core") bearing Sony's logo hangs from the bottom of the screen, whose underside can be illuminated to emit a soft glow (or not). The Sony logo itself does not light up however, which we think is a trick missed.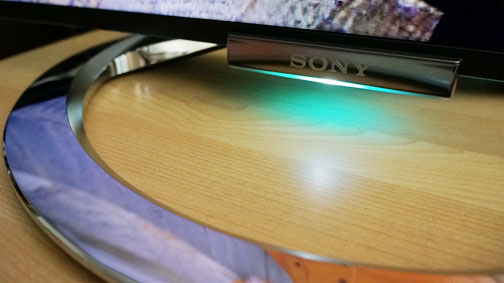 Nevertheless, the whole ensemble looks fabulous, and will inject elegance into any living room setup. Build quality is decent.
Connections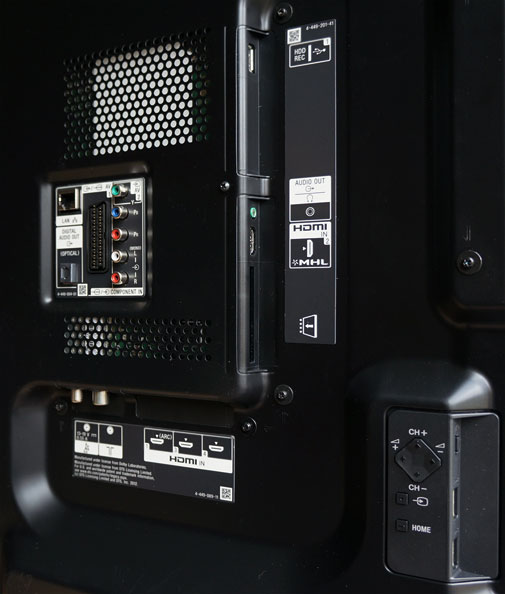 4xHDMI, 3xUSB, component, SCART, Freeview & Freesat HD tuners, LAN, audio outs.
Operation
Sony has revamped its graphical user interface (GUI) for 2013: gone is the frustratingly cumbersome XMB (acronym for Xross Media Bar) system to be replaced by a highly appealing platform featuring lovely-looking thumbnails, modern fonts and tasteful animation. While there's a slight stutter in fluidity if accessed immediately after the TV is switched on, the menu does pick up in navigational speed after 30 seconds or so (presumably helped by caching), though it's not quite as zippy as the class-leading responsiveness we experienced on the quad-core-powered Samsung F7000 and F8000 series. Still, this is a massive step-up from we've seen on Sony Bravia HDTVs over the past few years.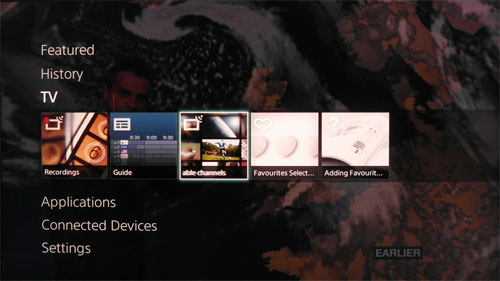 For people like us who like to tinker with the picture settings, pressing the [Options] button on the remote summons an alternative menu which provides direct access to the picture (and sound, among others) adjustment controls. Delving into the KDL55W905A's picture submenus renewed our annual disappointment at Sony's persistent refusal to include any sort of advanced colour management system (CMS) on its Bravia televisions. The [White Balance] controls are also only of the 2-point variant, when most other major TV brands are already offering 10-point or even 20-point WB on their midrange to high-end models.
| | |
| --- | --- |
| | |
| Picture menu | [Advanced Settings] submenu |
As is the case with Sony Bravias in recent years, the W905 offers a variety of top-level picture presets – accessible from the [Scene Select] menu – which is optimised for different material such as movies, sports or photos. The two that interest us most are the [Cinema] preset which should deliver the most accurate image irrespective of the type of video content (Blu-ray, digital television broadcast, etc.), and the [Game] preset which can potentially minimise input lag to enhance gaming responsiveness.
Moving onto general usage, we really liked the "Fast Zapping" feature which repurposes the [Prog] Up and Down keys to bring up a programme list on the right portion of the screen while displaying the live video feed on the left, thus elevating the whole channel surfing experience to another level.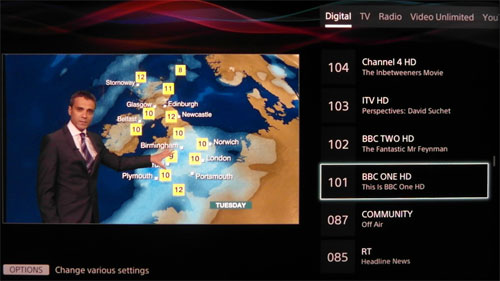 The Sony W905A comes with two remote controls: a traditional one, and an elongated secondary remote which sports chamfered edges in a similar vein to the TV bezel. Unlike those supplied with this year's mid-to-high-end Smart TVs from Samsung and Panasonic, Sony's secondary remote lacks touchpad functionality, but makes up for it with its embedded NFC chip that allows for "One-Touch Mirroring" – simply touch the back of the remote against the back of an NFC-compatible mobile device, and whatever is on the second screen will be displayed on the television via wireless transmission.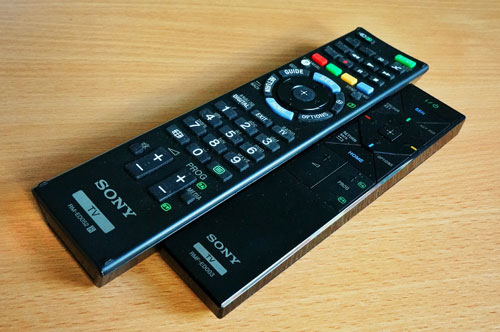 We tried out this feature with a Sony Xperia Z smartphone. Pairing it to the KDL-55W905A was straightforward – the Xperia Z was successfully detected most of the time, although very rarely "Screen Mirroring" wouldn't initialise. The main problem is there's a fair bit of lag present between the phone and the TV, so video playback would stutter, and games would became choppy to the point of being unplayable on the bigger screen.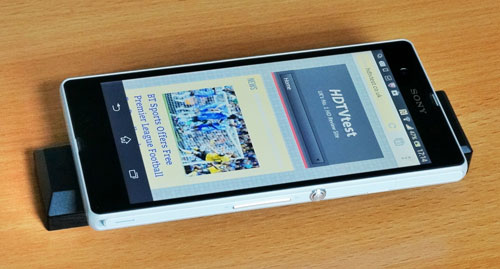 Also, because the near-field communication (NFC) between the smartphone and the television is established via direct WiFi connection (i.e. it's not routed through your home network), you'll need to use cellular data (e.g. 3G/4G) for browsing the web or watching YouTube videos. The fact that the NFC-based "One-Touch Mirroring" can only be done through the secondary remote – which, by its very nature, is less available at hand – means that this feature probably won't be used much, if at all.
Calibration
Note: Our review sample was calibrated using CalMAN 5, the industry-leading video calibration software.
Greyscale
We first switched [Scene Select] to "Cinema" on the Sony KDL55W905A, presuming that this is the most accurate preset out of the box. Between the two [Picture Modes] available in this preset, "Cinema 1" is more suitable for critical viewing in a dimly-lit environment, whereas "Cinema 2" is geared towards daytime viewing. We engaged the former, and started measuring.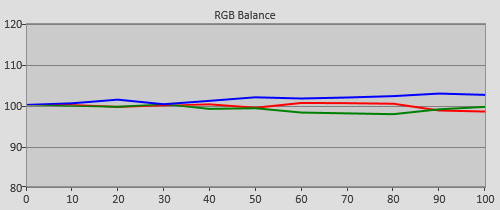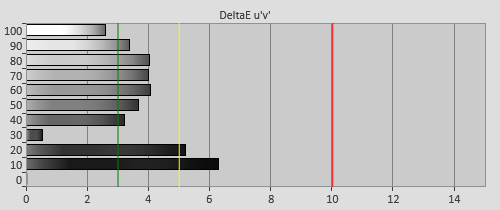 Pre-calibration RGB tracking and delta errors (dEs)
Although there was a mild excess in blue component from 30% stimulus onwards, delta errors (dEs) in these areas were not too far away from the visible perceptible threshold of 3. This is a very good out-of-the-box greyscale result – certainly the best we've observed on a 2013 HDTV to date.
We attempted to improve the greyscale accuracy by using the onboard 2p [White Balance] system, which – just like what we've experienced on Sony Bravia LED TVs over the last few years – is hampered by two quirks: the RGB gains can only be adjusted downwards; while the bias sliders are too coarse.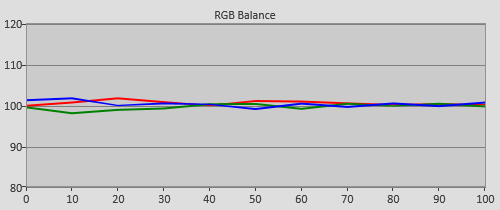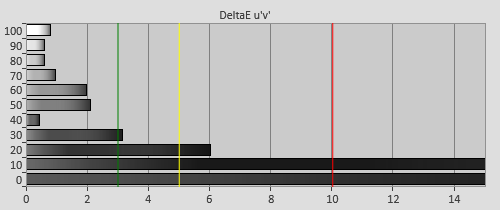 Post-calibration RGB tracking and delta errors (dEs)
We managed to reduce greyscale dEs in the midtone and brighter parts of the image, but in doing so introduced more errors into the shadows. Whether or not this can be called an improvement is debatable. That we didn't really succeed in making any inroads is probably due to a combination of the already outstanding out-of-the-box greyscale, and the mediocre white balance controls.
Gamma
To our pleasant surprise, the default [Gamma] setting in [Cinema 1] mode on the KDL-55W905A is "-2", which according to our measurements yielded an average gamma of 2.4. We absolutely applaud Sony's decision to abandon 2.2 (the default implemented on most flat-screen televisions including last year's Bravias) in favour of 2.4 which has been decreed by the ITU as the reference electro-optical transfer function (EOTF) for such displays used for mastering HD content in a dark room. This reflects highly not only upon the Japanese corporation's pedigree in film production through its Sony Pictures Entertainment subsidiary, but also its willingness to keep up-to-date with the latest industry standards.
| | |
| --- | --- |
| | |
| Pre-calibration gamma tracking (2.4) | Post-calibration gamma tracking (2.4) |
The 55in Sony W9 does not come with any advanced controls to calibrate gamma beyond the global [Gamma] slider which has already been correctly set in [Cinema 1] mode by default, so the above right-hand-side chart is simply a snapshot of what we achieved after greyscale calibration. Gamma tracked quite linearly to 2.4 throughout most of the luminance range (which will give images a very contrast-rich yet realistic look), with a slight brightening at 10% stimulus (which will reveal a touch more shadow detail).
Colour
This is where things got really interesting. As discussed earlier, the headline feature on the Bravia KDL55W905 is Triluminos Display, which combines QD Vision's Color IQ Quantum Dots innovation with Sony's own technologies to produce a wider colour gamut. Putting our meter on screen, we found that the intensity of the Triluminos technology (i.e. how wide the resultant gamut is) is determined by the [Live Colour] control in the [Picture] > [Advanced Settings] submenu. Four settings are available: "Off", "Low", "Medium" and "High".
We will probably dedicate a separate article exploring the full ramifications of each [Live Colour] setting, but for the purpose of adhering to Rec. 709, the standard used for high-def content production and broadcast, the choice is between "Off" and "Low". The former resulted in undersaturated greens and to a lesser extent reds throughout the saturation tracking points (though these can be dialled out with calibration), whereas the latter produced a gamut whose red and green primaries went beyond Rec. 709 specifications at 100% saturation, but nailed the sub-100% intervals. "Medium" and "High" were both too oversaturated to be in contention.
Click on the options below to compare saturation tracking:
[Live Colour] "Off" <========> [Live Colour] "Low"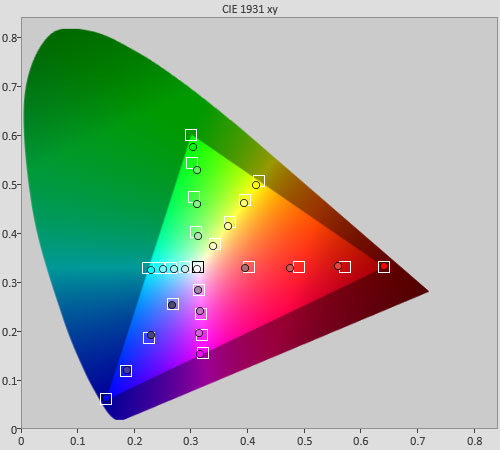 If you're not going to carry out advanced calibration on your Sony W905A, then [Live Colour] "Low" may in theory be the better option for well-saturated colour reproduction. Because we have access to light measurement meters and software, we went with [Live Colour] "Off", and proceeded to align colour decoding and sub-100% saturation tracking mainly by tweaking the global [Colour] control.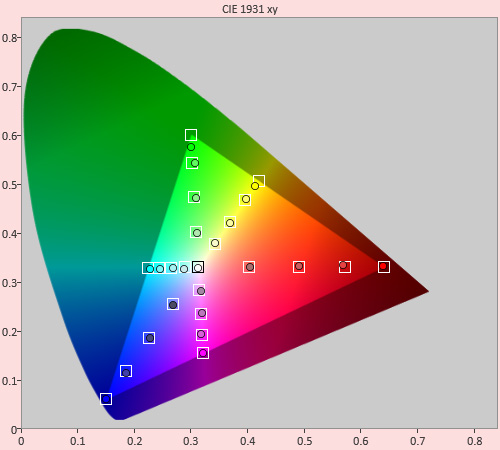 Post-calibration colour saturation tracking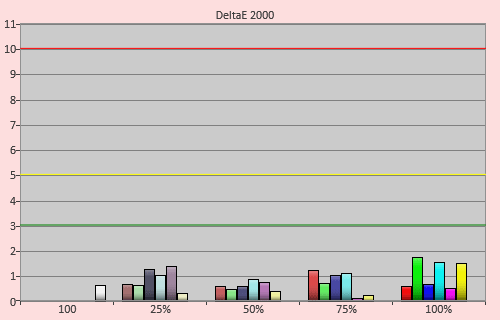 Post-calibration colour errors (<3 not appreciable to the eye)
We achieved excellent result, with delta errors (colour luminance taken into account too) not exceeding 3 for all six primary and secondary colours, and across the 25%, 50%, 75% and 100% saturation tracking points. Looking at the CIE chart, the only deviation of note is an undersaturated green primary at 100% saturation.
Benchmark Test Results
| | |
| --- | --- |
| Dead pixels | None |
| Screen uniformity | Mild "pillars" along left & right edges of screen; some DSE |
| Overscanning on HDMI | 0% if [Screen Format] "Full" & [Display Area] "Full Pixel" |
| Blacker than black | Passed |
| Calibrated black level (black screen) | LEDs dim down/ shut off |
| Calibrated black level (ANSI checkerboard) | 0.049 cd/m2 |
| Black level retention | Auto-dimming with full black screen |
| Primary chromaticity | Undersaturated green primary |
| Scaling | Very good |
| Video mode deinterlacing | Decent |
| Film mode deinterlacing | Passed 3:2 cadence over 480i; and 2:2 over 576i |
| Viewing angle | Limited: washout occurs beyond 20° off-axis |
| Motion resolution | 850 to 1080 with [Motionflow] engaged; 300 otherwise |
| Digital noise reduction | Optional; effective when engaged |
| Sharpness | Defeatable edge enhancement |
| Luma/Chroma bandwidth (2D Blu-ray) | Full luma; chroma horizontally blurred except in [Game] & [Graphics] mode |
| 1080p/24 capability | No judder in 2D and 3D |
| Input lag (high-speed camera) | 8ms compared to lag-free CRT |
| Leo Bodnar input lag tester | 20ms |
| Full 4:4:4 reproduction (PC) | Yes, in [Game] and [Graphics] mode |
| 3D crosstalk level (Spears & Munsil) | 3.0% |
Power Consumption
| | |
| --- | --- |
| Default [Standard] mode | 35 watts* |
| Calibrated [Cinema 1] mode | 64 watts |
| Standby | <1 watt |
*Note: Out of the box, [LED Dynamic Control] and [Light Sensor] are both engaged, which explains why energy usage was lower before calibration than after.