Korean brands Samsung and LG Electronics may be the biggest TV makers overall, but when it comes to the crunch with next-generation display technologies, Sony emerges as the surprise leader by some distance according to the latest figures from NPD DisplaySearch. According to the market research firm, the Japanese manufacturer is well ahead of the field when it comes to 4K TV shipments having captured a massive 37.8% share of the global market during the first half of 2013, followed by LG in second place with a mere 14.2%. Samsung meanwhile, trails by some distance having sold just 4% of all 4K TVs so far.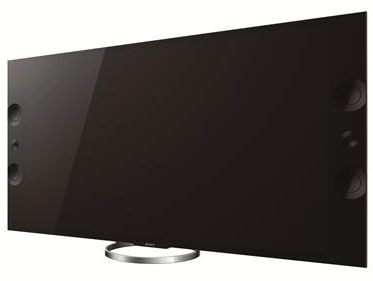 NPD DisplaySearch says that the key reason for Sony's dominance is its sales of smaller 55-inch and 65-inch Bravia X9 models. Powered by these sales, Sony has achieved revenues of $185 million (around £120 million) from its Ultra HD TVs out of an industry-wide total of $490 million (approximately £317 million).
That may be part of the story, but it doesn't give us the whole picture. Fact is, Sony's marketing efforts have far surpassed anything put together by Samsung and LG. The Japanese firm has been going all out to sell the idea of 4KTV to consumers, and its efforts are paying off. Not only has it pulled off a series of great marketing stunts such as its 4K micro-ads at this year's Wimbledon tennis tournament, but it's also the only manufacturer that's made an effort to resolve the scarcity of native 4K content. Unlike with LG's and Samsung's Ultra HD 4K televisions (or anyone else's for that matter), Sony's Bravia X9 series comes bundled with eight "Mastered in 4K" Blu-ray discs for owners to watch. Then there's its 4K media player that comes with 10 movies in all their native 4K glory, with the promise of more to come via its cloud streaming service.
In comparison, the Koreans' 4K marketing efforts have been rather lame, especially in the case of Samsung, which only launched its first affordable 4K television last month. Little wonder that hardly anyone's bought one.
So can Samsung and LG catch up with Sony? Probably not, or at least not until someone does something about the content. With Sony's PlayStation 4 (PS4) console bringing the possibility of even more true 4K content for its TVs, it's likely that anyone who wants Ultra HD and does their research will go with the Japanese brand. Additionally, Sony is said to be gearing up to release a pair of lower spec, mid-sized 4K TVs in the next couple of months, something that should only increase its dominance of the sector.
In fact, it may well be that Sony's biggest threat won't come from Korea but from China. According to NPD DisplaySearch, a number of Chinese vendors are set to enter the ultra high-definition market in the next 12 months, with an assortment of low-cost 39-inch, 50-inch and 55-inch models expected to go on sale by 2014.
Source: DigiTimes