Sony is leading the field in the race for 4K TV market dominance, but its position is set to be threatened by companies from the one country where it's been left behind in the dust – China.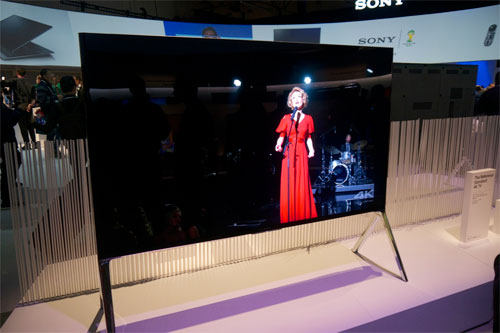 The new data comes from industry analyst firm NPD DisplaySearch's Quarterly Global TV Shipment and Forecast Report, which reveals that China is head and shoulders above the rest of the world in ultra high-definition (UHD) TV adoption. The country reportedly snapped up 84 percent of all 4K TVs sold in the last year, including 80 percent in the fourth quarter, though the vast majority of these sets were low-cost sets from homegrown manufacturers like Skyworth and TCL in the 39-inch, 50-inch and 55-inch range.
But the real battle takes place not in China, which has traditionally kept outsiders locked out of many tech industries, but in the rest of the world where big names like Sony and Samsung are slugging it out to be the best seller. DisplaySearch doesn't give any exact figures, but states that "Sony maintained the top shipment share of 4K TVs outside of China," a position that it's held onto since Q2 of last year.
The Japanese firm deserves its lead if only for its trailblazing role in trying to make sure people actually have some native 4K content to watch, but unfortunately it's doubtful the company can hold onto the top spot for much longer. Samsung is believed to be closing in on Sony's position fast – back in January the Korean consumer electronics giant reportedly overtook its rival in the vital North American market, according to South Korea's Chosun Ilbo which cited NPD DisplaySearch data. Given that Samsung is the world's largest TV brand overall, it's going to be tough for Sony to keep its nose in front.
Even so, DisplaySearch claims that the real threat to Sony comes not from Korea, but from the Chinese firms that are selling so well at home. After all, one of the biggest stumbling blocks for many consumers is the high price of 4K Ultra HD televisions being sold by Sony, Samsung, LG and others, but that isn't the case with the likes of Skyworth and TCL's UHDTVs.
Paul Gagnon, director of global TV research for NPD DisplaySearch, stated:
"Sony maintained the top shipment share of 4K TVs outside of China, which is a position they have held since the second quarter of 2013, but one which will be challenged significantly this year by low-cost competitors from China and elsewhere."
According to DisplaySearch's report, total TV shipments of all kinds fell substantially last year, by just over three percent, which makes the race to dominate the growing 4KTV segment all the more important.
Source: NPD DisplaySearch