Japanese consumer electronics giant Sony Corporation recently revealed its intention to devise a new generation of TV sets that will enable the company to compete with competitors such as Apple, stem financial losses experienced in the present troubled climate, and revive the flagging television market.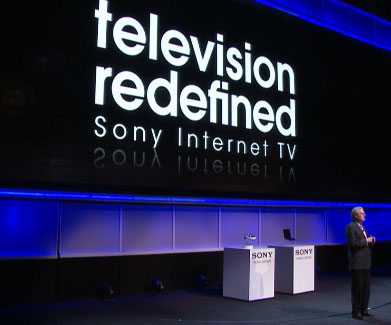 Sony devising next-gen TV to tackle losses and Apple
Speaking to The Wall Street Journal, Sony's chief executive Howard Stringer said that the company is in a good position to develop products that are innovative and capable of injecting new life into the HDTV market, as well as fight off competition from rival technology giants.
Stringer said that the market has become extremely competitive as TV manufacturers are vying to secure the biggest market share. Sony wants to stay one step ahead of the competition by developing something new, innovative and exciting in the world of TV to make it stand out from the crowd, and to enable the firm to make more profit.
Whilst Stringer did not go into too much detail about what Sony Corp has up its sleeve, he did state that there is a lot of research and development taking place into a different type of television display (that presumably concentrates on delivering an "seamless" viewing experience). He also said that he was in no doubt that the late Steve Jobs, co-founder of rival technology giant Apple, had been working on ways to improve traditional television sets.
Sony recently announced that it is expecting huge financial losses in the fiscal year through March, partly as a result of its underperforming TV business. Many other manufacturers have also reported massive losses owing to reduced demand for televisions worldwide. Mr Stringer said that he does not doubt the ability of Apple to come up with an innovative concept, but warned that it can be a long and difficult process to move over to a new form of television.
Source: Wall Street Journal