This is likely the biggest story of CES 2017 as far as TV is concerned. We were absolutely flabbergasted when we first heard it, and many industry watchers will probably be taken by surprise too. Consumer electronics heavyweight Sony has just announced at this year's Consumer Electronics Show that its upcoming A1 series of 4K OLED TV will support Dolby Vision (DV) HDR standard.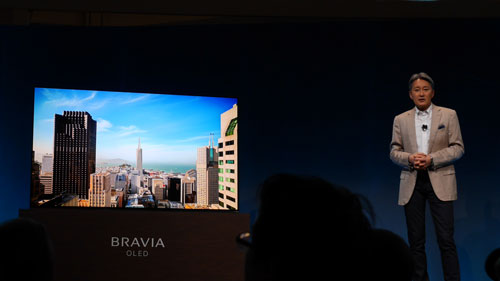 Rumours of Sony entering the OLED TV market have of course been swirling especially since leading AV journalist John Archer broke the story on Forbes, but if we're honest, we never saw this hookup with Dolby coming. TV manufacturers who take pride in their own picture processing sauce, such as Panasonic and Samsung, have been extremely wary about handing over control to Dolby's proprietary chipset for DV HDR presentation, and we certainly rate Sony TVs as having some of the best video processing in the business.
That said, Sony has never been as vocal as Panasonic and Samsung in slating Dolby Vision, and Sony Pictures Home Entertainment did join up with Dolby Labs back in September 2015 to use Dolby Vision mastering on future 4K Ultra HD titles. In hindsight, perhaps Sony embracing Dolby Vision shouldn't come as a surprise after all.
But what a scoop for Dolby. Previously the organisation only had support from LG, Vizio and a handful of brands such as Philips and Loewe, but Sony is a big well-known brand that immediately adds gravitas to the whole Dolby Vision movement. Even though from our tests (albeit limited) HDR10 on a capable HDR TV didn't look inferior to Dolby Vision, the "Dolby" brand commands such recognisability and respect among the video enthusiasts community that many prospective buyers will demand Dolby Vision compatibility on their future televisions, especially as Dolby Vision content becomes more widely available. Can Panasonic and Samsung continue to ignore DV?
The A1 OLED is not the only Sony TV to support Dolby Vision: the step-down X93E LED LCD will be getting it too, as well as last year's outstanding Sony ZD9 via a firmware update.
Given Sony's excellent video processing and motion handling complemented by Dolby Vision HDR, we expect Sony's new 55in and 65in A series OLED TVs to be the displays to beat for the year ahead, as long as they're not priced extravagantly high. We'll be attending a briefing from the company at CES 2017 this week, and will bring you more details as we find out.