Despite 3D TV sets and tablet PCs receiving most of the attention, Sony's head-mounted 3D display prototype emerged as a hidden gem for many during the Consumer Electronics Show (CES) 2011 in Las Vegas. It was not the only 3D device that the Japanese company had on display at CES either – Sony was also one of only two TV manufacturers (the other being Toshiba) to showcase 3D televisions that worked without the use of 3D glasses. Although the autostereoscopic display technology is still in development, those glasses-free 3D TVs were quite impressive, attracting lots of passersby throughout the convention.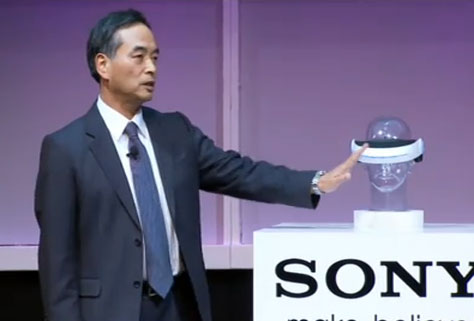 The Sony 3D head-mounted display (HMD) features two high-definition 720p OLED displays complete with 5.1 digital surround sound, allowing viewers to enjoy their favorite 3D content straight from the headset. It delivers complete immersion into whatever you are watching, and a little creative thinking will show you exactly what this could mean in terms of the future of television viewing as well as video gaming.
At this point of writing, there was no way to keep the Sony 3D personal viewer properly mounted on one's head: those who tested it out had to hold the device to their face while they watched 3D material. Obviously there would be no practical use for the 3D prototype currently, but it certainly provided a very interesting look into where the HDTV industry could be heading in the future.
No details on the price nor future availability of their head-mounted 3D display were released by Sony. On the whole, the company was very active in the promotion of 3D-related gadgets at CES 2011, debuting a number of different products that garnered a lot of attention throughout the show. It is clear that the Tokyo-headquartered corporation has embraced the fact that the industry seems to be heading toward a three-dimensional future, and is doing their best to make sure they are at the forefront.