In a move that may cast further doubt on the future of Google TV, Sony will soon be implementing the Opera web browser software on its Bravia HDTV sets and Blu-ray players. Internet-protocol television (IPTV) is expected to be a big hit among consumers in this year – perhaps even more so than 3D TV technology – judging by the number of internet-connected hardware and software showcased at the Consumer Electronics Show (CES) 2011 in Las Vegas earlier this month.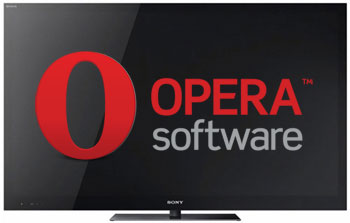 The Opera internet browser installed on Sony Bravia LCD TVs is said to be compliant with emerging standards such as HTML5, HbbTV and OIPF, allowing users to surf the web in an unrestricted fashion. However, the Japanese TV manufacturer had suggested at CES 2011 that embedded videos will not be supported, leading to speculations that the company is following Apple's footsteps in alienating Adobe Flash technology.
Perhaps more interesting is the uncertainty surrounding the partnership between Sony and Google TV. The Japanese company is one of the co-developers of the open-source software platform, and in October last year launched its NSX-GT1 series of Sony Internet TV displays, which was then touted as the world's first HD televisions to boast the Google TV interface.
Based upon the Android operating system, the Google TV platform is equipped with the search giant's Chrome browser which – yes, you've guessed it – lets users carry out "full web browsing" alongside traditional television viewing. By teaming up with Opera to offer an alternative web browser that performs essentially the same function, one does wonder if Sony is getting cold feet in the face of disappointing initial reception (both among the media and the public) and sluggish sales figures (which has led to significant price cuts within two months).
The winner here is of course Norwegian software firm Opera, whose browser has made it onto the internet-connected portals of selected HDTV models from Philips, Sharp, Toshiba and Loewe. Obviously pleased at the tie-up with Sony, Opera's chief development officer Christen Krogh said that the company's mission is to make the constantly evolving World Wide Web more accessible across different devices.