In a surprise announcement, Sony has stunned the CES 2014 crowd by unveiling an ultra short throw native 4K projector that's capable of displaying a 147-inch projection on a wall from as near as 7-inch away. Never one to shy away from futuristic concepts, the Japanese manufacturer has given the device a cool moniker of "Life Space UX".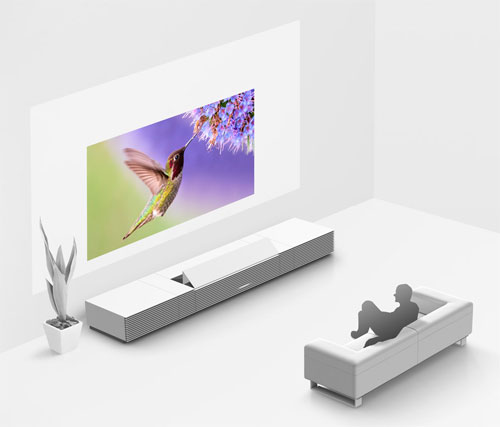 The 4K projector was announced by Sony's CEO Kazuo Hirai when he took to the stage to deliver his CES keynote address earlier today. In line with the company's vision to create more wow, Hirai explained that the Life Space UX's super high-resolution 4K images are only limited by the size of your video wall. The device's super-short throw distance opens up a wall (pardon the pun) of possibilities, allowing for more flexible installation and larger open space, since the projected picture won't be blocked by viewers.
The Sony Life Space UX sounds eerily similar to LG's Hecto laser projector which first broke cover at last year's CES, but of course the Sony's trump card is its native 4K resolution of 4096×2160 delivered via three 0.74″ SXRD chips and laser diode light source. Light output is specced at 2,000 lumens, while a 1.6x powered zoom lens makes the size of the projected image easily adjustable – Sony claims that you can still achieve a 66-inch diagonal projection even when the unit is positioned flush to the wall, which is remarkable.
Like the VPL-VW500ES 4K projector which impressed us when we reviewed it, Sony's ultra short throw 4K laser projector features 4K X-Reality PRO video processing engine, TRILUMINOS Display colour technology, and HDMI 2.0 compliance with support for 4K input at 50p/60p (8-bit 4:2:0).
The Life Space UX is scheduled to be launched in the USA in the summer of 2014, though there's no word on a European or UK release. Regarding the price, if you have to ask, you probably can't afford it, but provisionally it's between $30,000 and $40,000 (around £18,000 to £25,000).