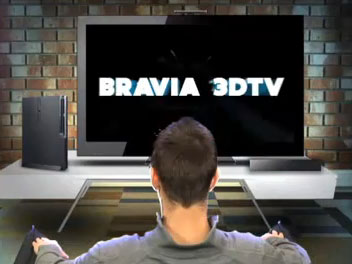 Coinciding with the long-awaited launch of the Gran Turismo 5 (GT5) racing game on the Playstation 3 (PS3) platform, Sony is giving away for free a copy of the game and a PS3 console, along with two pairs of 3D glasses and a 3D sync transmitter with every Sony 3D TV purchase. The offer is available in Sony Centre stores across the UK, and will last until Sunday the 5th of December, or when stock runs out.

A Sony PS3 160Gb console, two pairs of Sony TDG-BR100B active shutter 3D glasses, a Sony TMR-BR100 3D sync transmitter, and a copy of Gran Turismo 5 would cost around £500 if bought separately. Throw in the VAT cashback promotion Sony is currently running, and free 5-year warranty for big-screen BRAVIA HDTV displays purchased in store, and this deal becomes very tempting indeed for consumers who are thinking about making the jump into the world of 3D entertainment at home.
Sony has also put together an alternative bundle for non-gamers, replacing the GT5 and Sony PS3 with a Sony BDP-S470 3D Blu-ray player and five Blu-ray titles.
Commenting on the Sony 3D TV/ GT5 promotion, Sony UK's senior category marketing manager Christian Brown said that it is a testament to the company's commitment to elevate home entertainment experience to the next level through 3D technology.
To celebrate the release of GT5, Sony has also teamed up with HMV to hold a nationwide GT5 3D gaming competition. Players can visit their local HMV stores to post their best lap times on Sony 3D TVs, and the fastest two from each region will go on to race in the grand final to be held at the HMV Oxford Circus flagship store in London on the 15th of December.