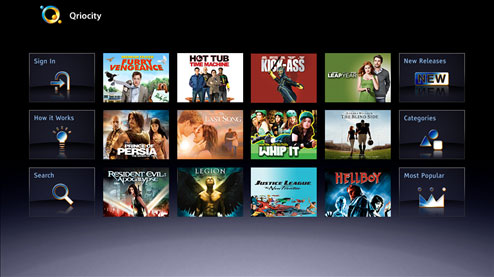 We are not sure if anyone else got the memo, but apparently this week is the week for TV makers to launch movies on demand streaming services on their respective internet-connected HDTV models. On Monday the Acetrax Movies app went live on the Samsung Internet@TV platform; on Tuesday LG Electronics officially updated their NetCast portal to (among other things) provide Acetrax and Viewster movies on demand. Now it is Sony's turn to flick the switch on its Qriocity cloud-based movie streaming service for the UK and European regions.

The Sony Qriocity movies on demand service will be made available on the company's 2010 range of network-enabled BRAVIA HDTVs, Blu-ray players and Blu-ray home cinema systems, allowing users to stream and watch movies directly on these Sony devices on a pay-per-view basis. Positioned as an alternative to the hugely successful Apple iTunes store which will over time offer digital music, games and ebooks in addition to movies, Sony's Qriocity service is currently not available on the Sony Playstation 3 (PS3) console system, but this may change in the future.
Impressively, Sony has managed to sign up quite a few major Hollywood studios (such as MGM, 20th Century Fox, Lions Gate, Paramount Pictures, NBC Universal, Warner Brothers, Walt Disney, Starz Digital Media, and of course its own movie production/ distribution arm Sony Pictures Entertainment) as well as local film companies to provide content for the Qriocity platform. As a result, Qriocity's movie library boasts hundreds of titles (ranging from classic favourites to newer blockbusters), with more being added each day.
Many of the movies in the Qriocity catalogue are available to "rent" either in standard definition (SD) or high definition (HD). Standard-def rental prices are £2.49 for older library titles and £3.49 for new releases; high-definition movies will cost £3.49 and £4.49 respectively per rental.
The Qriocity video-on-demand (VoD) service is easily accessible through the Qriocity icon found on compatible Sony devices' Xross Media Bar (XMB) menu. Once a film has been rented, users have up to two weeks to watch the movie. Initiating the playback of the rented movie will further cut the viewing time down to 48 hours, although within this period the film can be watched as many times as possible.