Sony's announcement that it was planning to film three matches from the FIFA World Cup in 4K Ultra HD caused plenty of excitement when we reported on it last month – until it became apparent that the trials would be kept behind closed doors, away from the prying eyes of the public.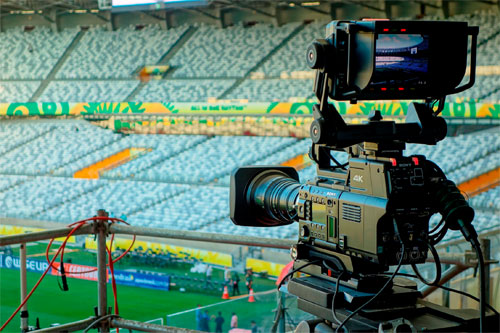 Unfortunately for ultra high-definition (UHD) lovers who happen to love the beautiful game as well, Sony said its experiment was for its eyes only, with the footage only to be made available at the end of the tournament on a special edition "4K World Cup Film". Well, it looks as though that plan's been scrapped – sort of anyway. We imagine there's still going to be an official film, but if you can get yourself to one of 25 retail outlets scattered across the UK, you'll be able to a glimpse of the action way before anyone else.
That's because Sony's now decided to showcase its 4K World Cup coverage at a number of select stores across the UK on its new Bravia X9 television, which also happens to be the official 4K TV of the World Cup (for what that's worth).
What Hifi published the locations of these outlets this week, and there's a good chance a retail store near you might be showing off Sony's Ultra HD football action. To get the best possible view of the action we recommend popping into Harrod's in London, John Lewis in Oxford Street, Fosse Park Currys in Leicester, Fenwick's in Newcastle or the Braehead Shopping Centre in Glasgow, which are said to be the five stores showing Sony's 4K footy coverage on the Japanese manufacturer's shiny new 85-inch X95 UHD televisions.
But don't worry if these are a bit too far out the way, for there's twenty other general stores located across the nation that will also gain access to Sony's project.
Here's the list from What Hifi:
East Anglia – West Thurrock Megastore Currys; John Lewis Bluewater; and John Lewis Norwich
East Midlands – Leicester Megastore Currys
London – Brent Cross Currys; Staples Corner Currys; John Lewis Westfield Stratford City; John Lewis Peter Jones; Selfridges; and Croydon Currys
North East – Teesside Park Megastore Currys
North West – John Lewis Cheadle and Oldham Megastore Currys
South and South East – Guildford (2211) Currys; John Lewis Southampton; and Southampton Hedge End Megastore Currys
Wales – Swansea Megastore Currys
West Midlands – Coventry Megastore Currys and Birmingham Wednesbury (Junction 9) Megastore Currys
Yorkshire – Leeds Birstall Megastore Currys
It wasn't clarified if the 4K footage will be screened live or replayed after the event, but we're guessing it will be the latter. The other places where the Ultra HD content can be seen after the event is at two Simply Electricals outlets in Bolton and Rawenstall, which are set to screen highlight packages streamed by Sony on its 65in and 55in X9005B Bravia models. Those two outlets have participated in Sony's 4KTV experiments before, having demonstrated footage from last year's Confederations Cup in Brazil.
Source: What Hifi