Sony is looking to endear itself to tennis fans worldwide, as the company announced this week that it will be filming selected Wimbledon 2011 tennis matches in all their 3D glory, which will then be broadcast live in 3D cinemas worldwide. The Japanese HDTV manufacturer has also bought over Winchester-based firm Hawk-Eye Innovations Ltd which is responsible for the ball-tracking technology familiar to followers of tennis.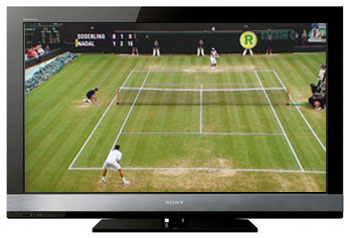 In partnership with BBC (the incumbent host broadcaster and UK rights holder), Sony was appointed by the All England Lawn Tennis Club (AELTC) as an official supplier at this year's Wimbledon Lawn Tennis Championships to shoot certain games in 3D for the first time ever. The four matches that are slated to receive the tri-dimensional treatment include the men's semi-finals and finals, as well as the women's finals.
The live 3-dimensional coverage will be screened in 3D-capable cinemas across the globe through theatrical distributor SuperVision Media. Sony is also understood to be actively seeking for partner broadcasters whose audience might be interested in 3D tennis to take up the footage. In the United Kingdom however, because the BBC holds the exclusive rights to broadcast the Wimbledon tennis championships live until 2014, it is unlikely that British viewers will be able to feast their eyes on the tournament in virtual 3D unless the UK public broadcaster reverses its hitherto negative stance on launching its own 3D channel.
Sony's deal with AELTC to produce Wimbledon 2011 in 3D follows on the corporation's 3D coverage of 25 football matches in the FIFA World Cup 2010 in South Africa last summer. Over the past couple of years, the Osaka-headquartered conglomerate has invested a lot of resources into extra-dimensional live sports entertainment broadcast, hoping that such high-profile associations will cement its brand as the leading 3D hardware and content provider in the mind of the consumers.