For those who have been wondering just what on earth they'll be watching on one of those new fangled 4K TVs that HDTVTest reported on earlier this year, Sony's got your back. Or, at least it's got the back of any US buyer ready and willing to shell out $25,000 (around £15,600) on the company's new XBR-84X900 (also known as the KD-84X9005 in the United Kingdom) Ultra HD 4K LED TV.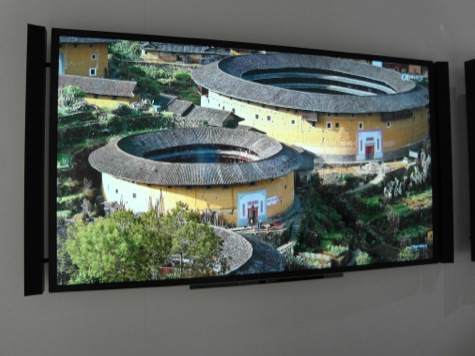 Sony 84″ 4K TV owners to be loaned Ultra HD Video Player with 10 movies
Sony has just unveiled a new 4K Ultra HD Video Player to go alongside its latest flagship 84-inch 4K televisions, although the Japanese firm says that it won't be giving the device away for free (not exactly anyway).
We speculated that Sony would ship some kind of free 4K content via a PC-based media server in a story 10 days ago – the only thing we didn't reckon for, is that rather than simply give away a delivery system, Sony has made the unusual move of loaning the media players to its customers instead.
It looks like a smart strategy from Sony, as we're crying out for someone to show us just how awesome the 4K home entertainment experience – which on paper delivers four times the pixel resolution of regular 1080p HDTV – can be. Sony says that the ultra high-def media server will come pre-loaded with no less than ten, full-length feature films delivered in native 4K, and they won't be some bunch of random old classics everybody's seen a dozen times already either – instead, the titles include a number of recent action blockbusters, including The Amazing Spiderman, Total Recall (the 2012 remake), Battle Los Angeles and Salt. Other 4K movies include hit comedies such as Bad Teacher, That's My Boy and The Other Guys, while the lineup is rounded out by the 2010 remake of The Karate Kid, and a couple of classics in the form of The Bridge on the River Kwai and Taxi Driver.
Also included in the package are some bonus 'video shorts', including four acoustic songs from Filthy Empire, and The Athlete Machine: Red Bull Kluge. Sony adds that its Ultra HD hard-disk server is capable of receiving further 4K movie and video uploads, so presumably the company is planning to release more ultra high-definition content in the coming months.
Sony Electronics USA's president and chief operating officer (COO) Phil Molyneux said that the company's release of its new Ultra HD Video Player, the world's first 4K content delivery platform, demonstrates its continuing innovative and pioneering spirit.
"Sony is a company of firsts. The first to roll out 4K projectors to cinemas, the first to launch 4K projectors for regular consumers, and the first to introduce 4K Blu-rays. And once again, Sony is the first to offer native 4K content for home viewers, bringing them the most awe-inspiring and immersive experience ever seen in the living room," Molyneux added.
We certainly hope that the Ultra HD 4K Video Player loan programme will be extended to the UK for Brits who already have to put up with a £25,000 price tag (which is some 60% higher than what Americans need to pay) for the Sony Bravia KD-84X9005 4KTV.