Ever so keen to establish itself as the leader in the ultra high-definition (UHD) movement, Sony Electronics USA has revealed relatively affordable pricing for its upcoming 55-inch and 65-inch 4K TVs which were first unveiled at this year's Consumer Electronics Show (CES) in Las Vegas back in January.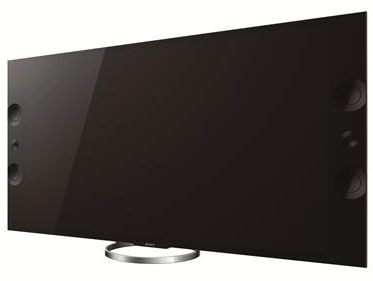 Sony USA prices 55in & 65in ultra HD 4K LED TVs at $5k & $7k
The 55in Sony XBR-55X900A and 65in XBR-65X900A has been given price tags of USD $4,999 (around £3,250) and $6,999 (approximately £4,550) respectively. While still somewhat expensive compared to top-end "regular" 1080p HDTVs, this is the first time we've seen an ultra HD TV priced at under 5 figures, which is surely a big step towards getting these sets into consumers' homes.
Blessed with a native screen resolution of 3840×2160, the 55″ and 65″ Sony Bravia X9 series boast four times the pixel resolution of full high-def televisions. Both are edge LED-lit LCD TVs that will feature the firm's proprietary TRILUMINOS Display technology that is claimed to deliver more accurate and richer reds, greens and blues.
As is the case with the 84-inch Sony KD-84X9005 4K TV which has gone on sale in the United Kingdom towards the end of last year, the 55X9 and 65X9's upscaling is provided by the company's 4K X-Reality Pro video processing engine, promising high-quality upconversion onto the UHD panels regardless of whether the original video source is Blu-ray, standard definition or internet content.
The Sony XBR-55X900A and XBR-65X900A uses passive 3D display technology, which means that viewers will receive full HD 3D resolution through the polarized glasses that are light, cheaper, convenient (does not require charging, battery nor synchronisation) and free of flicker. Given that there's currently only one LCD panel vendor supplying UHD 4K panels with passive 3D, we surmised that Sony sourced the underlying panel from LG Display.
From this week onwards, six Sony Stores in the United States will have the 55-inch and 65-inch Sony X9 ultra high-def LED TVs on show for instore demos of both native and upscaled 4K content. Pre-orders will begin on the 21st of April online, in-store, as well as at selected US retailers for summer delivery. No word yet on official UK prices and availability, but we'll be shouting about it as soon as we know.
Source: Sony USA blog