Earlier this month, we attended an event held by Sony in the swanky setting of Bulgari Hotel London, where we were given the opportunity to audition the company's upcoming 84-inch KD-84X9005 LED LCD TV that features a native screen resolution of 3840×2160, as well as its VPL-VW1000ES 4K projector which has been out on the market for some time. Despite the 4k-centric nature of the affair (the theme was "4K Resolution Revolution" after all), it was actually a more down-to-earth, "regular" full HD product on show that impressed us most, which was no mean feat considering the superiorly-specced competition it was up against on that day.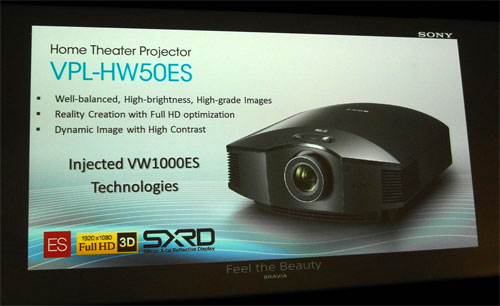 Sony VPL-HW50ES full HD 3D projector shines at 4K event
The star in question was Sony's new VPL-HW50ES home cinema projector which, as far as full HD models go, is the next step-up from the HW30 that was introduced last year. Although capable of delivering only 1920×1080 resolution, the HW50 is packed to the brim with some of the Japanese brand's latest technologies, including its "Reality Creation" image processing engine, active-shutter 3D capabilities, and boosted lumen brightness.
The Digital Reality Creation technology implemented on the Sony VPL-HW50ES is actually a distilled version of that found on the VPL-VW1000ES 4K projector. The video processor compares the input signal against a vast database of images, then – using a proprietary algorithm – intelligently attempts to restore information that was lost during transfer or through digital compression.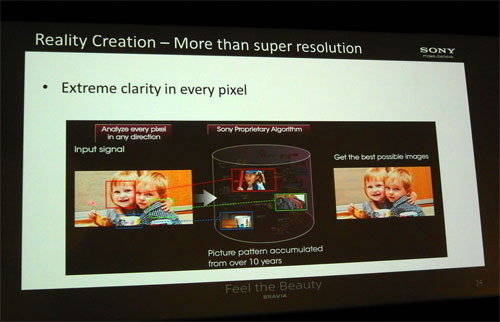 Sony claimed that even Blu-ray movies can benefit from the Reality Creation system. From what we've seen of the technology in action through a brief clip from The Tourist where Angelina Jolie stepped off a water taxi to enter a ballroom, images certainly appeared crisper without any evidence of halos nor excessive edge enhancement. We observed some extra noise which we're not sure was intentional, but it did add to the perceived sharpness.
Listening to customer feedback, Sony also discovered that many projector owners do not have the luxury of a dedicated bat cave, instead having to install their projection systems in living rooms with little to no light control. To cater for the needs of these users, the company not only improved the light efficiency of the lamp, but also programmed a new Bright Cinema mode to help the HW50ES pump out 1,700 lumens (which is some 30% higher than what the HW30 is capable of) without sacrificing colour accuracy.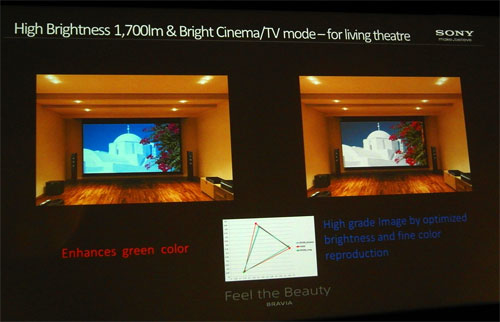 Dynamic contrast ratio is quoted to be north of 100,000 to 1, thanks to the firm's Optimised Advanced Iris 3 algorithm and contrast enhancer technology which performs real-time analysis and automatic compensatory adjustments on the darker and brighter portions of each scene. Sony has also put a lot of work into making sure that one of the out-of-the-box picture presets is as close to D65 industry standard as possible. We did not have the resources to carry out any measurement during the event, but subjectively the image put out by the VPL-HW50ES looked jawdroppingly good, with the deep blacks, punchy contrast, neutral tint, realistic colours and exquisite detail on screen enthralling us no end.
The heightened brightness and contrast came in extremely handy for 3D screening too. Sampling the climactic New York City battle sequence in Avengers Assemble (yay!) through Sony's active-shutter glasses, not once did we feel that the extra-dimensional images were too dim (unlike what we usually lament about plasma-based active 3D TVs). However, because we're so used to seeing properly calibrated HDTVs (yes, even in 3D), the image came across as too blue, and there was some motion interpolation going on leading to a mild "soap opera" effect. Sony reassured us that these can be easily dialled out using the relevant picture-affecting controls in the menu. Crosstalk was negligible, and the 3D transmitter is built into the unit, which is always a plus.
The Sony HW50 home theatre projector will be available to buy in UK stores at the end of this month in either black (VPL-HW50ES/B) or white (VPL-HW50ES/W). Launch price has been set at £2,800, which is a bargain judging from the virtuoso performance we had the pleasure to witness.