The Sony VPL-HW55ES is the successor to the Japanese brand's excellent VPL-HW50ES SXRD projector, offering higher dynamic contrast and longer lamp life. Given Sony's penchant for all things 4K, it's good to see the company continue to release an updated model in the full HD 1080p space. Let's see if there are other improvements under the hood beyond manufacturer-supplied figures.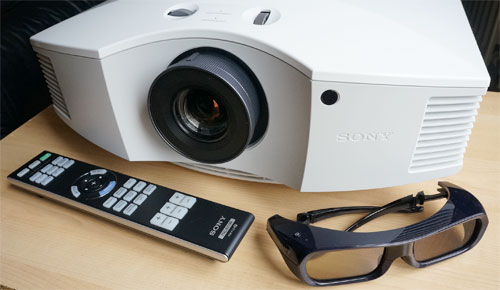 Design
The styling of the HW55 is unchanged from the HW50, with its topside curve reflecting the projector's lifestyle rather than industrial aspirations. Adjustments to the centrally mounted lens have to be done manually: two dials on top of the VPL-HW55ES allow for horizontal and vertical shifts in a crude and imprecise fashion; whereas zoom and focus are achieved by turning the manual lens controls. Without remote-controlled focusing, you'll need the help of another person to stand near the screen if you want to obtain the sharpest image. The lack of lens memory also poses an inconvenience for owners of non-16:9 screens.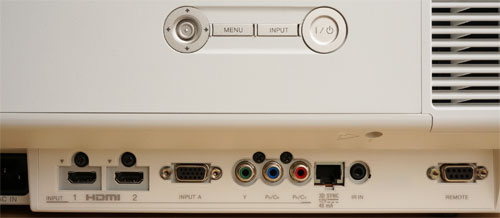 The connection ports (including two HDMI inputs), power inlet and some control buttons are located to the right side of the chassis. Our review sample is finished in tasteful pearlescent white, but there's also a polished black version available.
Calibration
Note: Our Sony VPL-HW55ES/W review sample was calibrated using CalMAN 5, the industry-leading video calibration software.
The most accurate picture mode – or [Calib. Preset] as Sony calls it – on the HW55ES is "Reference", which we used as our platform to calibrate the projector.
Greyscale
With [Color Temp.] left at its default of "D65", there was too much blue component in the greys: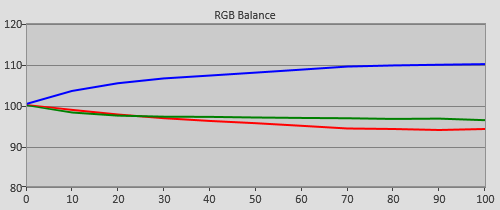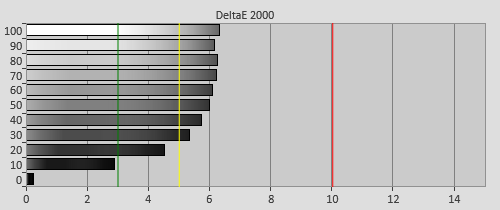 Pre-calibration RGB tracking and delta errors (dEs)
Switching [Color Temp.] to one of the "Custom" modes grants access to the Sony VPL-HW55's two-point white balance controls. Out of the box, "Custom 3" came closest to the D6500K standard, requiring the least amount of adjustments. After a few clicks, we achieved the following result: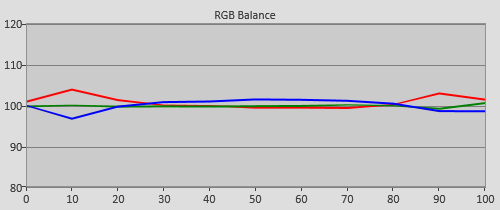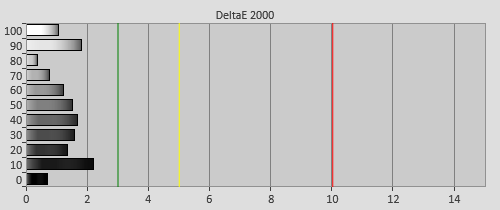 Post-calibration RGB tracking and dEs in [Cinema Film 1] mode
Some red spikes here and there were unavoidable, since the VPLHW55ES does not offer the precision of 10-point white balance controls. Nevertheless, delta errors (dEs) were less than 3 across the entire luminance range, meaning that the inaccuracies would normally not be visible to the human eye in real-world content.
Gamma
The Hw55's gamma tracking is probably the clearest sign that the Sony engineers responsible for projectors do not work in the same department as those tasked to Bravia televisions. While we've praised recent Sony TVs for targeting 2.4 gamma out of the box in its most accurate [Cinema] mode, the VPL-HW55ES tracked closer to the conventional 2.2 value.
| | |
| --- | --- |
| | |
| Pre-calibration gamma tracking (2.25) | Post-calibration gamma tracking (2.33) |
Using one of the [Gamma Correction] presets brought us nearer to 2.4 gamma. If you're thinking why did we settle for an average gamma of 2.33, it's because going one step higher would bump gamma up to 2.5 and obscure shadow detail, hence the compromise.
Colour
The colours on the HW55ES fell into place nicely after greyscale calibration, requiring very little work inside the RCP (Real Color Processing) submenu which is the colour management system (CMS) on the projector. Because [RCP Color] changes both saturation and luminance when ideally it should only affect the former, we mainly used [RCP Hue] and [RCP Brightness] to tweak tint and colour decoding respectively. The result was spectacular: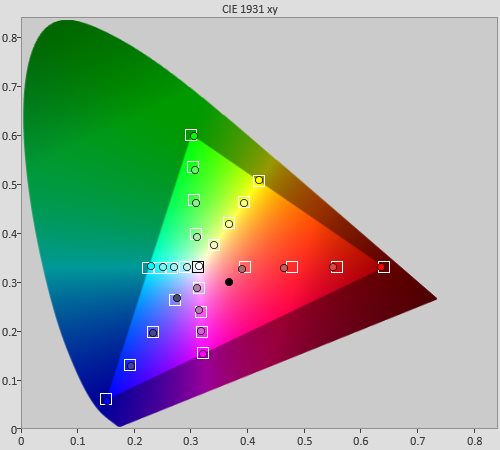 Post-calibration colour saturation tracking
…with delta errors (dEs) curbed below 2 (the perceptible limit for the human visual system is commonly accepted to be 3) across all the measured colour saturation tracking points with decoding taken into account.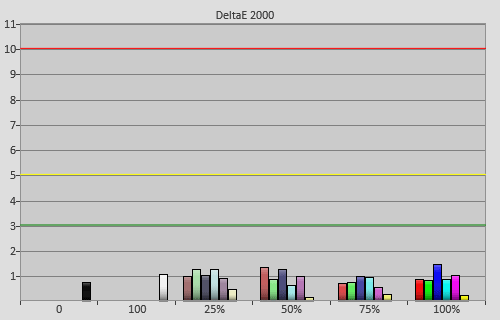 Post-calibration colour errors (<3 not appreciable to the eye)
Benchmark Test Results
| | |
| --- | --- |
| Dead pixels | None |
| Panel uniformity | Very good |
| Primary chromaticity | Very good |
| Motion resolution | [Film Projection]: 900; [Motion Enhancer]: 600; both off: 300 |
| Digital noise reduction | Some mild temporal smoothing running at all times |
| Sharpness | Defeatable unless [Film Projection] on |
| Luma/Chroma bandwidth (2D Blu-ray) | Full Luma & Chroma |
| 1080p/24 capability | No judder in 2D or 3D |
| Input lag (Leo Bodnar tester) | 26ms in [Reference] & [Game] modes |
| Full 4:4:4 reproduction (PC) | Yes, in [Reference], [Photo] & [Game] modes |
Picture Quality
The Sony VPL-HW55ES delivered a highly satisfying HD viewing experience, helped largely by its superb contrast performance. Black level didn't get as inky as JVC's D-ILA projectors, but it's not too far away. On the opposite end of the contrast ratio equation, the HW55 could go brighter than the JVCs, and it's not too loud even in high lamp mode, making the Sony more suitable for installations in non-light-controlled environments.
The VPLHW55ES offers two dynamic iris settings: [Advanced Iris] "Auto Full" or "Auto Limited", with the former having a higher brightness ceiling. With dynamic iris (DI) engaged, blacks deepened mainly on full-screen black but little elsewhere. We did not notice any significant light pumping after sampling a handful of Blu-rays, though we disliked the resultant gamma distortion near the top-end, which caused brighter scenes to appear washed out. From what we saw, "Auto Limited" looked better than "Auto Full", but we much preferred using [Advanced Iris] "Manual" to fix the iris size to obtain deep blacks, bright-enough peak luminance, and linear gamma tracking in between.
We absolutely loved the [Film Projection] mode on the outgoing VPL-HW50ES, which was essentially a black frame insertion (BFI) system that not only boosted motion resolution without needing to use artefact-prone frame interpolation, but also recreated the cinematic appearance of 35mm film right in our test room. The good news is Sony has retained – and improved – this feature on the VPLHW55: flickering (an inevitable side effect of BFI) had been reduced, which should make it more tolerable to viewers. We could still spot flicker in bright scenes or test patterns, but that's the whole point of the filmic look, and in any case did not bother us in the slightest.
The only major downside of [Film Projection] mode is that just like on the HW50, it introduced a small amount of undefeatable edge enhancement which can be easily verified on the luma zone plate pattern in the Spears & Munsil HD Benchmark disc, or indeed any other sharpness/ overscan test pattern. It probably won't be noticeable to most users when watching real-life material from sensible viewing distances, and didn't stop us from engaging [Film Projection] mode since we thought the positives outweighed the negatives, but we would've liked Sony to rectify this issue. Maybe next year?
One area where Sony's engineers did listen to our feedback was in the realm of 3D. When we reviewed the VPL-HW50ES, we found that it did not provide full HD 3D resolution, although that didn't spoil our enjoyment of the projector. The Sony HW55 did resolve 3D full HD according to our custom 3-D resolution test pattern, displaying the alternate black and white single-pixel horizontal lines fully instead of smudging them into one solid grey block. Watching in the third dimension locked the projector into high lamp mode with louder fan noise (which was still bearable). We witnessed some light-on-dark crosstalk during the lantern scene in Tangled, but it's minor, and did not detract from the bright, colourful and immersive tri-dimensional presentation put on by the HW55ES.
Gaming was a joy on the Sony VPL-HW55ES, providing both big-screen thrills and fantastic responsiveness. Our Leo Bodnar input lag tester returned a figure of 26ms in [Game] mode, and remarkably, with the [Reference] preset too that also supported full 4:4:4 chroma reproduction. Another pleasant surprise was that [Film Projection] did not add to the lag at all, meaning that you can get the rare triple combo of low input lag, high motion clarity and accurate colours all at the same time. There's no need to use other picture presets for playing games, but we checked out [Cinema Film 1] anyway, which had 61ms lag.
Conclusion
The Sony VPL-HW55ES is a fabulous package, never missing a beat in providing a compelling big-screen experience be it with Blu-ray movies, live sports or video games. Its very usable high lamp mode – which is less noisy than rival models – makes the projector very appealing to 3D fans (if there are still any out there) and those who do not have the luxury of a bat cave.
We wished the HW55 featured motorised lens controls with lens memory for the benefit of 2:35 screen owners, or a 12V trigger for easier system integration, but that may be asking too much at this price point. Improving upon the HW50 by delivering full-res 3D and more tolerable black frame insertion, the Sony HW55ES is a versatile, high-quality projector that's currently our number one choice under £3000, though ironically its thunder may yet be stolen by the company's forthcoming VPL-HW40ES budget model (review pending) which is around £1000 cheaper.