At the same time as JVC unveiling its 2014 lineup of D-ILA projectors featuring the manufacturer's clever "4K e-shift 3" technology, Sony has also taken the opportunity at CEDIA 2013 to announce the successor to its VPL-VW1000ES which was the world's first home cinema projector boasting native 4K resolution.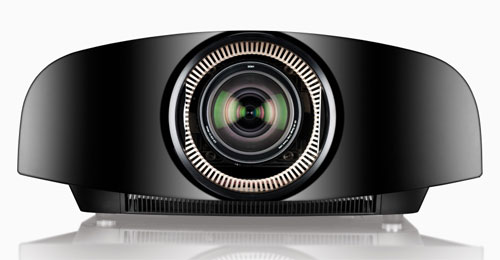 Sony's new top-of-the-line 4K projector has been given a model number of VPL-VW1100ES, with the most notable upgrade being HDMI 2.0 compatibility, which means that the device is capable of supporting 4K content at a frame rate of 50Hz or 60Hz. Its predecessor, the Sony VPL-VW1000ES (which really impressed us; review here) only supports HDMI 1.4, though existing owners can purchase an upgrade package later this year for a mainboard overhaul to become compliant with HDMI 2.0.
Other specifications on the VPL-VW1100 include a true 4K SXRD panel, 2000 ANSI lumens brightness, Advanced Iris3 technology to achieve even deeper blacks (Sony quotes a dynamic contrast of 1 million to 1), together with a comprehensive array of features that will surely appeal to custom installers and high-end video enthusiasts, such as 2.1 times motorised zoom, dual triggers, expanded lens shift, RS232 interfacing, control over IP, and compatibility with leading home automation systems.
Commenting on the company's new VW1100 flagship 4K projector, Sony Europe's product manager Tak Nakane said:
Our 4K projector line-up continues to raise the bar on what the most discerning home entertainment enthusiast expects from Sony, whether they want to enjoy the best picture quality or unrivalled sound, we have the right solution for every environment.
The Sony VW1100ES will go on sale in the UK and Europe at a recommended retail price of €19,900. Given that the Japanese manufacturer has also launched another native 4K projector in the shape of the VPL-VW500ES (which blew us away when we sampled it at IFA 2013) costing only half the price, we're not sure if many potential buyers will be willing to make the step-up, but we'll reserve judgement until we get the opportunity to review both units.