Sony has announced the launch of an even more affordable 4K projector at IFA 2014 in Berlin this afternoon. The VPL-300ES will sit below the Japanese company's popular VPL-VW500ES and its flagship VPL-VW1100ES projectors, priced at only 6,999 Euros, truly making a native 4K beamer more accessible to the masses.
Projector enthusiasts will remember that this time last year, Sony also used the IFA trade show as the platform to unveil its VPL-VW500ES projector with a native 4K Ultra HD resolution of 4096×2160, at only half the price of the £17,000 VPL-VW1000ES. The Sony VW500 truly set the benchmark within the video projector industry at a time when no other manufacturer has even launched a consumer-grade 4K projector, and with the VPL-300ES the company has done the unfathomable and gone one better.
Of course, it's expected that to achieve this unbelievable price point, some compromises will have to be made, though a company spokesman reassured HDTVTest that picture quality will not suffer significantly. Compared with the step-up VPL-VW500ES, the Sony VPLVW300ES features slightly lower light output (1500 lumens versus the VW500's 1700 lumens), no dynamic iris, and no lens memory.
Otherwise, Sony told us that the VPL-VW300 uses the same chassis, lens configuration and optical pathway as the VPL-VW500ES, complete with 4K SXRD panel, TRILUMINOS technology, HDMI 2.0 (YCbCr 4:2:0 8-bit, i.e. Level b) and HDCP 2.2 support (only HDMI input 2), as well as the usual flexible installation options like 2.06 zoom-powered lens and 12V trigger.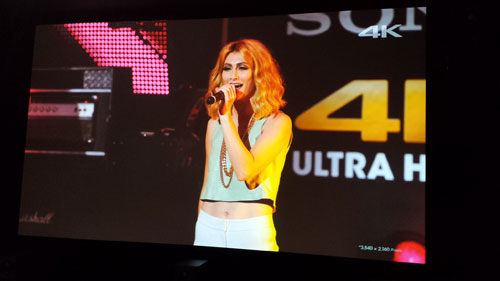 We wandered into Sony's pitch-black demo room after Sony's IFA press conference, and at first glance the image produced by the Sony VW300ES appeared silky smooth (as you would expect from a native 4K projector fed with true ultra high-definition source) and plenty bright. We are scheduled for a dedicated presentation and demo later at IFA, and will update this article with our impressions.
The Sony VPL-VW300ES is available to buy with a black finish from October 2014. UK pricing to follow.