As we revealed back in April, it looks as if Sony is about to team up with the BBC to film at least some of this year's Wimbledon tennis tournament in 4K resolution when it kicks off on the 24th of this month. The experiment is being described as a "trial broadcast," according to British home cinema publication What Hifi, and will be carried out alongside a similar ultra high-definition (UHD) filming project that's underway at the FIFA Confederations Cup in Brazil.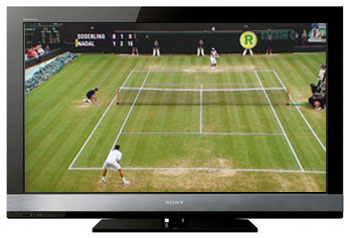 The partnership seems to be led by Sony, with the Japanese company expected to provide the necessary equipment and expertise, and the BBC merely 'overseeing' the production. This isn't much of a surprise when you consider that the Japanese are streets ahead of anyone else when it comes to UHD filming – Sony has already opened up a 4K film studio in Hollywood, whilst Japan is set to become the first country to introduce 4K broadcasts nationwide by next summer.
Sony has also sent several 4K cameras and engineers to shoot three football matches at the FIFA Confederations Cup football tournament that has kicked off in Brazil a few days ago. The ultra high-def footage won't be transmitted for live broadcast, but instead will be analysed by FIFA, Sony and their partners in preparation for the FIFA World Cup 2014 where live 4K coverage is expected by industry insiders.
As we reported back in April, this isn't the first time that the BBC and Sony have teamed up to carry out trial broadcasts. Previously, the two organisations worked together to deliver the 2011 Wimbledon Championship in the third dimension. This new trial seems to be natural extension of that partnership, given the disappointing reception of 3D broadcasts in general, and Sony's determination to ensure that 4K doesn't go down the same road to oblivion.
Though few details have been provided so far, it's likely that the experimental broadcast will be streamed over the web, making use of the new H. 265 High Efficiency Video Codec, or HEVC, that was formalised earlier this year. The new codec makes it possible to compress 4K streams to just 20Mbps, meaning that it won't overwhelm standard broadband connection speeds used today.
The Beeb is yet to make any formal announcement, but Sony confirmed in a statement to What Hifi that it'll be setting up a special "4K experience zone" at Wimbledon for this year's championships. The firm said that "some matches" will be shot in 4K, and that fans will be allowed to view playbacks of this footage in the 4K experience zone throughout the duration of the tournament. So far, neither Sony nor the BBC has confirmed if there are any plans to broadcast these matches over the web.
Source: What Hifi