Major sports events have always been popular testing grounds for TV broadcasters, and that's set to be the case once again now that FIFA and Sony have confirmed plans to film this year's World Cup final in 4K ultra high-definition (UHD).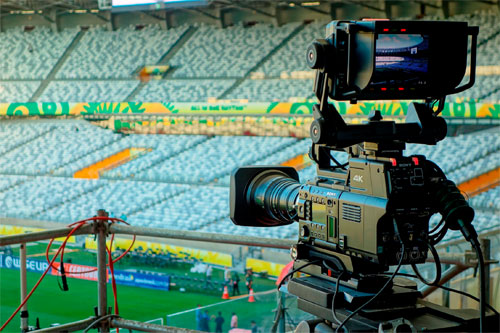 We first heard about Sony and FIFA's 4K World Cup plans last year, and it was confirmed today that the Japanese company will record three full matches in glorious 4K@60Hz resolution at this summer's tournament in Brazil, including the World Cup Final in Rio de Janeiro's Estádio do Maracanã on the 13th of July. The matches won't be broadcast live (unfortunately), but the content will be released via FIFA's 4K online platform at the end of the tournament. This means that anyone with a Sony Bravia 4K TV will be able to enjoy the action retrospectively in Ultra HD resolution.
Sony will do the bulk of the actual filming work, using its own professional 4K recording equipment and its 4K live production workflow software. The games to be covered include one match from the Second Round on June 28th, one quarter-final, to take place on July 4th, and the World Cup Final itself on the 13th of July. The partnership will see Sony providing "extensive technical support to FIFA", which includes the development of a new 4K live production system. Sony will be using all of its own hardware for this project, including its PMW-F55 CineAlta 4K live camera plus an assortment of other specialized 4K equipment. Once the tournament is finished, Sony and FIFA's producers will work together to compile the content into an Official 4K World Cup film.
Soichi Kawachi, VP in charge of FIFA Partnership at Sony, said that fans would be able to experience an entirely new viewing experience at this year's World Cup:
"By leveraging our cutting-edge 4K technology and our premier products and solutions through our partnership with FIFA, we will deliver a unique and totally compelling entertainment experience conveying the excitement of the matches in Brazil with the depth and vividness that the ultra-high definition of 4K delivers."
This isn't the first time that football has been used as a testing ground for 4K. Last August, British Sky Broadcasting (BSkyB) filmed the FA Premier League match between West Ham United and Stoke City in 4K, although this content was never made public. Sony has plenty of prior experience too, filming last year's Confederation Cup in 4K, followed by the 2013 Wimbledon tennis championship here in the UK.
Looking to the future, major sporting events are set continue being used as a testing ground for new broadcast technologies, with the 2020 Tokyo Olympic Games all set to get the 8K treatment from Japanese broadcaster NHK.