Just when you thought that 4K TVs couldn't get any cheaper, there they go again. Sony, which is already the world leader in Ultra HD TV sales according to new research from the NPD DisplaySearch analyst firm, has just moved to strengthen its grip on the emerging niche market with the unveiling of its new, cheaper Bravia X8 series of ultra high-definition televisions at IFA 2013.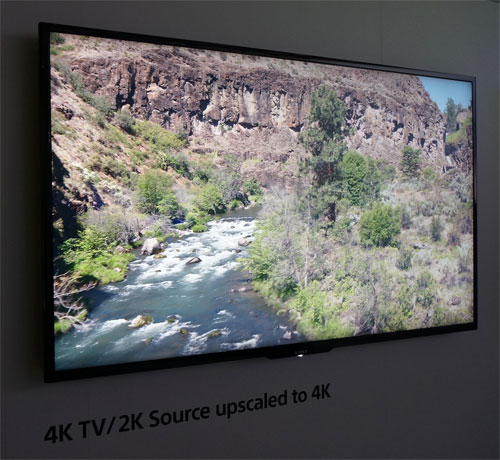 The Japanese firm is betting big on 4K with the addition to two more affordable models to its Ultra HD lineup. Seen for the first time in Berlin yesterday, the 55-inch KD-55X8505A and the 65-inch KD-65X8505A are almost identical to Sony's Bravia X9 range, with the biggest visible difference being the removal of the so-called 'elephant ear' side-mounted speakers.
This means that the Bravia X8 series sports a slimmer design, with audio instead being boosted by an "integrated bass reflex box speaker with tweeter and assist woofer," according to Sony. Essentially what the company is doing is cutting back on some of the snazzier audio aspects of its X9 series, integrating cheaper parts whilst keeping the same 4K displays to make them more affordable. To that end, the Sony X8 series is set to be priced considerably cheaper than the X9 series, with the 55-inch version going for $3,499 and the 65-inch model tagged at $4,999 in the US.
Sony's newest 4K TVs still feature the company's proprietary Triluminos display and 4K X-Reality PRO upscaling engine, which is more or less identical to what its current flagship TVs are offering. Moreover, just like the X9 series, the X8's currently only support HDMI 1.4, although Sony says that this will be upped to the new HDMI 2.0 standard via a firmware update at the end of the year.
That might all sound very tempting, but unfortunately there's also some disappointing news for UK Sony fans – while the X8 Series is expected to hit the stores in North America soon, a company spokesperson has stated that the Bravia X8 series will not be released in the UK and Europe with the exception of Russia.