Sony has added a 55-inch and a 65-inch model to its BRAVIA lineup of ultra high-definition 4K televisions, it was announced at the company's CES 2013 press conference in Las Vegas today. The Japanese manufacturer released the 84-inch Sony KD-84X9005 ultra HD LED LCD TV in the United Kingdom towards the end of last year.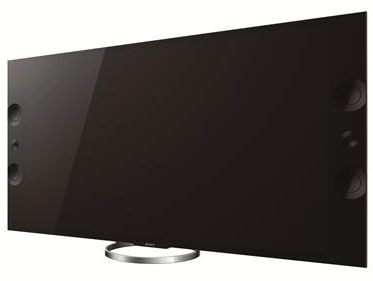 Sony adds 55″ & 65-inch X9000A 4K LED TVs to ultra HD lineup
Like the 84-incher, Sony's new 55″ and 65″ X90 ultra HD 4K TVs will feature a native screen resolution of 3840×2160, which amounts to four times the pixel resolution of regular 1080p HDTV. The tellys will be equipped with TRILUMINOS Display technology which the firm claims will result in truer and richer reds, greens and blues. Upscaling – be it from Blu-ray, standard definition or even internet content – is handled by the onboard 4K X-Reality Pro video processing engine.
There's another intriguing feature called "Colour IQ" (an advanced light-emitting semiconductor technology developed by QD Vision) which provides a wider colour gamut when combined with Sony's own optical technologies. While not useful for regular HD content, it is probably designed with the Rec.2020 UHDTV specification in mind.
3D capability on the Sony X90 series of UHD 4K LED televisions is of the passive variant, delivering full HD 3D resolution as well as the convenience and flicker-free comfort of polarized glasses – the best attributes of both active and passive 3D in one package. By virtue of the screen sizes and previous collaboration history, the LCD panels are probably FPR (film-type patterned retarder) IPS ones supplied by LG Display.
The design – dubbed "Sense of Quartz" – of the new Sony 4K TVs is interesting. There are two fleshed-out "Magnetic Fluid" speakers along the right and left sides of the screen, heralding superior sound quality. The panel itself is monolithic in styling, and supported on a pedestal stand with a hollow circular base. Other features include Motionflow XR 800Hz motion-compensated frame interpolation (MCFI), NFC with one-touch mirroring, "TV SideView" second-screen app compatibility, and the firm's Sony Entertainment Network connected TV portal.
The Sony X9000A will be released first in the USA, followed by a phased global rollout depending on the response. However, Sony UK has informed us that we can expect the KD-55X9000A and KD-65X9000A to hit British stores come summer 2013, with prices to be revealed closer to the time.