It's not only smartphones that want to get slimmer and slimmer – TVs are trimming down too, and none more than Sony's new super, razor-thin slim 4K TV, which must be about as thin as it's possible for a television to be. Looking at the Bravia from the front it's a monster, big, beautiful and sharp, but viewed from the side you'll barely even see its there. That's how thin it is.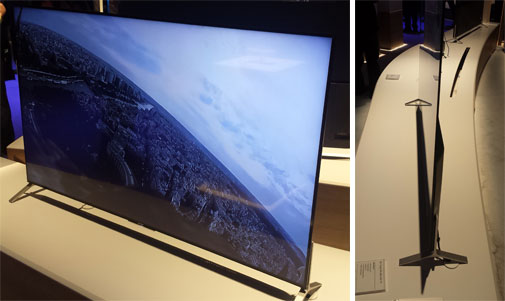 The Sony Bravia X90C 'name' hardly does justice to what this display really is. The telly – soon to be available in the UK as the 55in Sony KD-55X9005C and the 65in KD-65X9005C – looks enormous when viewed from the front, but that same display astonishingly measures just 4.9 millimetres thick – less than a fifth of an inch, and even thinner than the latest iPhone 6. Crazy-thin is the only word to described this.
But why make a TV so ridiculously thin, you might ask? Simple, it's all about the aesthetics, reckons Sony. When mounted to your living room wall, the Bravia X9005C appears almost completely flush, as if it were a part of the wall, rather than being stuck on there.
Despite the lack of 'thickness' in the super-narrow frame, Sony reckons the design of the KD55X9005C and KD65X9005C takes nothing away from the overall experience. The company claims the Bravia X90C – powered by its new 4K X1 Processor and non-quantum-dot-based TRILUMINOS colour gamut – delivers more vivid images, sharper contrast and clearer blues and greens than any of its 4K Ultra HD rivals on show at CES 2015.
Whether or not you'll be able to find some native 4K content to watch on your gorgeously slim UHD (ultra high-definition) television remains to be seen. The vast majority of programmes and movies made today are not made in such high resolution, although Sony is at least trying to get some content out there. In fact, the Japanese brand says it's confident that by the time the Bravia X9005C hits the shops this summer, consumers will have over 1,400 4K titles to choose from, though it neglected to say where this content would come from, and nor did it say if they were films, TV shows or something else. Still, at least there's always Netflix 4K streaming.
Also noteworthy is that the 55-inch and 65-inch X9005C run Google's Android TV operating system. Just like Android for mobile phones, it allows access to the Google Play Store, and thousands of different apps. These include streaming services like Hulu, Netflix and YouTube, which can all be accessed directly through the TV. The Bravia X900C also features voice search to make it easier to find content, while Google Cast allows media to be streamed to the TV directly from a compatible Android phone.
To pave way for its super-slim styling, the Sony X90C had to shed the local dimming technology found on the step-up X93C and X94C models. We'll bring you more details on availability and prices as soon as we can.