Full-array locally-dimmed LED LCD TVs haven't exactly been arriving by the boat-load lately, with cheaper, slimmer edge-lit LED LCDs instead taking the spotlight. What's more, those that do make it out of the lab and into the wider world often don't make it to the UK, for whatever reason.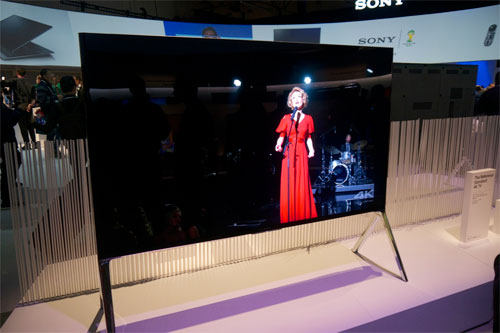 Fortunately, Sony has confirmed to us that its spectacular Bravia KD-85X9505 featuring full-array local dimming direct LED backlight system (dubbed "X-tended Dynamic Range Pro" by the company) will not be met with the same fate. On exhibit at CES 2014, this gigantic 85-inch 4K Ultra HD LCD-based television turned heads thanks largely to its exceptional contrast ratio. Specially cultivated footage (shot on Sony's 4K CineAlta cameras, naturally) allowed the display to strut its stuff and show jet black and pure white on screen simultaneously, with only minimal edge haloing. (Sony were not able to disclose the number of dimming zones).
Also on board is the company's Triluminos technology, which allowed for exceptionally vivid, saturated primary colours to really shine in the footage. However, with almost no content able to take advantage of this wide gamut technology (currently, we're limited to a couple of "Mastered in 4K" Blu-ray Discs, and even then only when played on Sony players), the feature will be of limited use to viewers who want to watch undistorted colours as intended by the filmmakers. The engineering achievement is nevertheless impressive, however.
Other features on the Sony X95 series include 4K X-Reality Pro video processing engine, MotionFlow XR 800Hz motion-compensated frame interpolation (MCFI) technology, active-shutter glasses (ASG) 3D capability, NFC-equipped remote control with wireless one-touch mirroring, HDMI 2.0 inputs with 4K@50fps/60fps support, integrated HEVC/ H.265 decoder allowing for 4K@60p playback from Netflix and others, a new "Wedge" design where the bottom of the chassis thickens to accommodate larger speakers, as well as the firm's revamped "One Flick Entertainment" Smart TV portal.
The Sony KD85X9505 is due to land in the United Kingdom and Europe in Spring, for an undisclosed sum – but trust us, it's not going to be cheap! For us mere mortals wanting to join the ultra high-definition (UHD) bandwagon, the Japanese manufacturer is also launching its refreshed 2014 X9 range, and a new slim-bezelled Bravia X85 series.