Sony UK has unveiled its 2015 range of 4K Bravia TVs at its headquarters in Weybridge earlier this week, adding some impressive features like inbuilt YouView functionality and Android TV integration. The Japanese manufacturer also promised HDR (high dynamic range) support on select television models before the end of the year.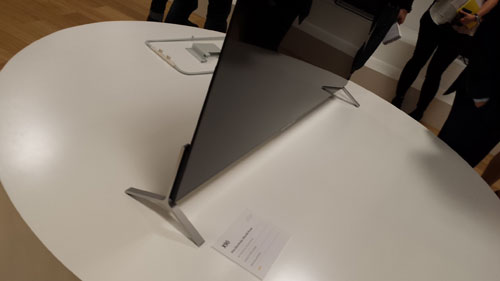 The partnership between Sony and YouView is extremely clever, because it grants users access to all catch-up TV services in the UK (BBC iPlayer, ITV Player, 4oD and Demand 5) in one fell swoop, all without requiring Sony to negotiate licensing and develop Smart TV apps for each broadcaster separately. We were treated to a demonstration of Android TV on a pre-production 1080p full HD model: the layout was certainly very slick, appearing to be more responsive than last year's platform.
Delving into the individual models, the one Bravia that generated the most buzz at the Consumer Electronics Show (CES) 2015 in Las Vegas was undoubtedly the Sony X90C 4K TV. Its size-zero slenderness was absolutely breathtaking, though the bottom half of the chassis has to bulge out to accommodate the company's freshly developed 4K X1 processing chip, speakers and connection ports. Two screen sizes are available, namely the 55-inch KD-55X9005C and the 65-inch KD-65X9005C.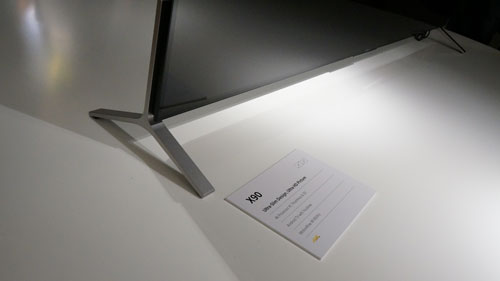 Given the absence of X-tended Dynamic Range feature, the Sony X9005C employs frame dimming instead of pseudo-local dimming for its edge-mounted LEDs. 3D capability is of the passive variant, providing the strongest hint yet that the X9C's underlying LCD panel is IPS (In-Plane Switching) which delivers wider viewing angles but lower contrast performance. While there exist VA-type LCD panels equipped with passive 3D (most notably on Sony's own X9 4K TVs in 2013), they are the exception rather than the rule. LG Display's pre-CES announcement of new 55in and 65in super-slim IPS LCDs also ties in nicely with the use of such panels on the Sony KD55X9005C and KD65X9005C.
One rung up from the ultra-slim X9005C is the Sony X93 series which carries the now-familiar wedge design with front-firing "elephant ears" side speakers, and comes in 55″ and 65″ sizes (KD-55X9305C and KD-65X9305C respectively). Features on the X9305C include native ultra high-definition (UHD) resolution of 3840×2160, edge LED backlighting, X-tended Dynamic Range pseudo-local dimming, 4K processor X1 and 4K X-Reality Pro video processing engines, Motionflow XR 1200Hz, plus – new for 2015 – high-resolution audio support, magnetic fluid subwoofers, a reduction in volume capacity from 2014's 7.9 litres to this year's 7.4, and of course Android TV and YouView integration.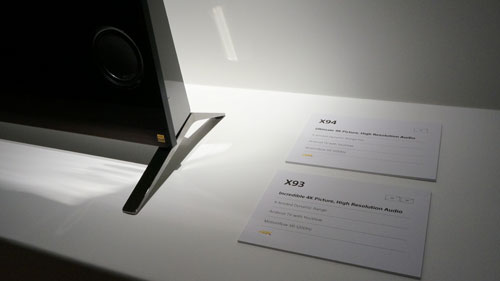 The Sony X94 is a step-up to the Bravia X93, offering direct LED backlight with full-array local dimming (FALD) in the form of X-Tended Dynamic Range PRO, although the exact number of dimmable zones remains unknown. Only one screen size, i.e. the 75-inch Sony KD-75X9405C, is coming to the United Kingdom (and other European markets). Last year's 85in Sony X95 with direct LED and FALD will carry over as 2015's flagship 4K television.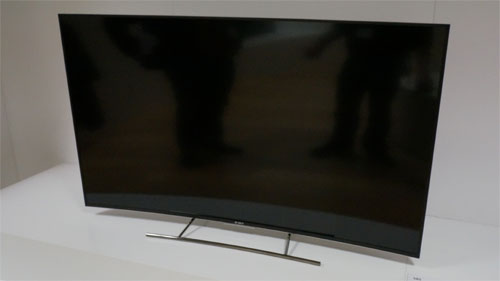 Fans of curved TVs can look forward to Sony's new S85 range which succeeds 2014's Bravia S90 series launched at IFA, and will be available in 55in and 65in versions as the KD-55S8505C and KD-65S8505C. Last year's 75in S90 curved 4K Ultra HD TV will carry over to 2015.
Those who are on a budget while shopping for a UHD television are also catered for by Sony's new X85 series which comes in 55″ (KD-55X8505C), 65″ (KD-65X8505C) and 75″ (KD-75X8505C) sizes. 3D functionality on these sets is specified to be active, signifying a shift to VA-type LCD panel from last year's IPS. The company has also introduced an even more basic 4K Ultra HD TV range without 3D support, namely the Bravia X83 series that's available as 43-inch (KD-43X8305C) and 49-inch (KD-49X8305C) sets.
Quantum Dot (QD) and High Dynamic Range (HDR) were buzzworthy TV trends at this year's CES, but Sony's current crop of 2015 4K TVs will not be supporting either at launch. The Japanese brand will continue to use its own WCG (wide colour gamut) technology, though still marketed under the "TRILUMINOS Display" moniker which previously referred to the quantum dot film deployed on high-end 2013 Bravia TVs such as the Sony W905 and X9005A.
On the HDR side of things, Sony is waiting for a HDR standard to be ratified, but promised to have a HDR-compatible model in its 2015 Bravia 4K TV lineup before the year is out. The firm refused to be drawn on whether its HDR support will arrive in the shape of a firmware or hardware upgrade to existing models, or the launch of new displays later in the year.
Sony's 2015 televisions will hit UK stores from April, starting with 1080p sets, whilst 4K Ultra HD models are scheduled for a June release. Official prices will be announced on the 18th/ 19th of March, at which time we will update this article accordingly.