Google TV hasn't exactly been a resounding success since its launch back in 2010, but the Smart TV platform keeps on chugging along with new firmware updates, doggedly trying to position itself as a 'cool' alternative to Apple TV. And now, with the arrival of the first ever 4K Google TV, it might just have its chance.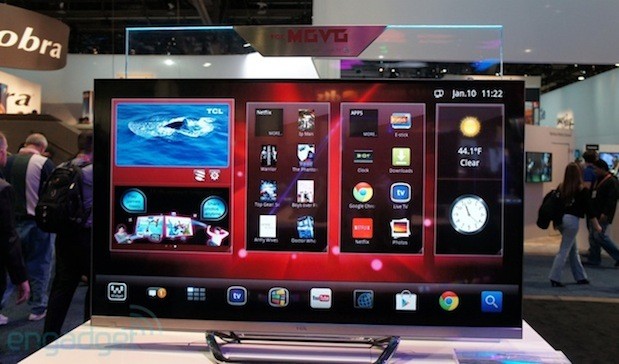 TCL announces MoVo UD, world's first 4K Google TV
TCL Multimedia has just announced its new MoVo UD, billed as the first 4K TV to incorporate Google TV software. So far, TCL hasn't revealed anything about the hardware's characteristics, but the set will feature its Personal Box Office version of Google TV alongside the latest Android 4.2.2 Jelly Bean firmware.
Also called a "Lazy TV" by the firm, TCL's press release gave a short description of the TV's content recommendation capabilities.
"MoVo UD combines TCL's innovative proprietary developed Personal Box Office with Google's powerful search capabilities. Using its built-in motion sensor-transmitter, MoVo can proactively comprehend viewer's preferences based on an analysis of their behavior and habits. Its content recommendation engine can then integrate this analysis to automatically recommended exciting content suitable for the viewer's preference."
Hence the "Lazy TV" description – MoVo UD sees itself as the ultimate couch potato's best friend, claiming that viewers will be able to enjoy a super smart experience without the need to fiddle with their remote control or even bother with voice recognition.
The only downside to all of this is that few consumers will have heard of TCL in the first place, and so questions will inevitably be asked about the quality of its hardware in comparison to that of more established brands. Nevertheless, TCL does seem to have pulled off a minor coup, beating out the likes of Samsung and LG to create the first 4K TV incorporating Google's TV platform.
TCL hasn't revealed whether or not it intends to sell the MoVo UD in Europe or the US, but the fact that its demonstrating the device at this week's Google I/O conference in San Francisco would suggest that it has at least half an eye on western markets.
Source: Engadget and PRNewswire