THX has long been associated with assurance of high-fidelity sound reproduction from various equipments in the audio chain, but in recent years the company has dabbled in video playback and even HDTV display certification. And considering how zealously 3D TV has been marketed by manufacturers, retailers and content providers throughout 2010, it is only natural for THX to extend its certification programme to 3D Blu-ray disc playback.
To achieve this, THX has partnered with BluFocus, the official testing centre for the Blu-ray Disc Association (BDA). Aiming to optimise 3D picture quality even at the authoring and mastering stage, the THX 3D Certification Programme will provide ample support to 3D content producers to make sure the 3D components on screen (such as objects, characters, visual effects and subtitles) are properly inserted into 3D movies. Certain stringent criteria must be met before a certification badge containing a combination of the following icons can be awarded: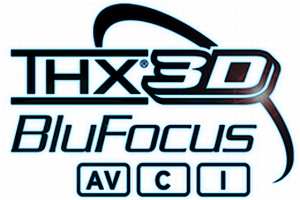 Audio-Video Certification: THX and BluFocus will perform a frame-by-frame analysis of the left and right eye channels within a 3D movie, to make sure that the 3D images remain as sharp and detailed as the original master. The sound quality must also be faithful to the master recording, and meet THX studio reference levels. If both the audio and video components are up to par, an "AV" certification icon can be awarded.
Creative Certification: THX and BluFocus will review the 3D titles to ensure that the 3D effects complement the plot rather than distract from it, and are correctly focused in the right areas to reduce eye fatigue. The engineers will also scrutinise 2D-to-3D conversions for any digital errors which may not represent the intent of the movie director. Once all these elements are satisfied, a "C" certification icon can be awarded.
Interoperability Certification: THX and BluFocus will run each Blu-ray disc on over 100 Blu-ray players (either 2D or 3D) from various consumer electronics manufacturers in different regions to make sure the tested BD disc playback smoothly without a hitch. If passed, an "I" certification icon may be awarded.
Source: THX