A glasses-free 3D TV has gone on sale in electronics stores across Tokyo, Japan today, attracting a number of intrigued passersby who were keen to see the display in action. Its manufacturer Toshiba claims that the 12GL1 is the world's first television that lets viewers enjoy 3D images without requiring compatible 3D glasses, though it must be pointed out that the 3D display in question is only 12 inches in size, and 466 x 350 in resolution.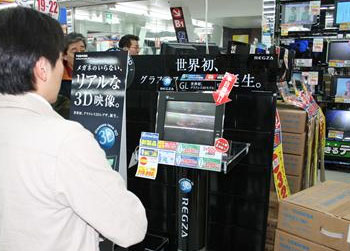 The Toshiba Regza GL1 range of glasses-free 3D TVs (technically known as autostereoscopic 3D displays) was first unveiled two months ago at a dedicated press conference held by the Japanese TV manufacturer just before the official opening of the annual CEATEC (Combined Exhibition of Advanced Technologies) consumer electronics expo, Japan's equivalent of the USA's Consumer Electronics Show (CES). Toshiba announced then that the 12GL1 would launch in Japan in December, and it certainly seems that the company is right on schedule.
Working on similar principles to the forthcoming Nintendo 3DS, the Toshiba 12GL1 produces autostereoscopic 3D effects by generating – with the help of a lenticular sheet and the company's proprietary video processing technology – 9 parallax images from each 2D frame. Seeing these slightly overlapped images with both eyes, the viewer's brain will then fuse them to create the illusion of 3-dimensional depth.
Bic Camera, the Japanese consumer electronics retailer which stocks the Toshiba 12GL1 at a price of 119,800 yen (around £930), said that the product has generated quite a few enquiries regarding its availability. The larger, 20-inch Toshiba 20GL1 which boasts a higher native 3D resolution of 1280 x 720 is due to be released on Christmas Day at twice the price.
The reason why these glasses-free 3D TV displays are still relatively small is because of the inherent limitations of autostereoscopic 3D technology which has difficulty rendering convincing 3D effects at bigger screen sizes. However, in an interview with The Wall Street Journal, Toshiba's visual product company president Masaaki Osumi hinted that the TV maker may bring out a 40-inch glasses-free 3DTV as early as April next year, coinciding with the start of the company's new fiscal year.