Once a formidable TV brand, nowadays Toshiba appears to be focusing more on the budget end of the market, with its mantra being to deliver better value for money than rival manufacturers. The 39L4353DB LED LCD television we're testing today is just one such set, packing a 39-inch full HD 1080p screen, an exceedingly generous 4 HDMI ports, integrated WiFi connectivity, and the company's Cloud TV internet-connected platform, all for below £400.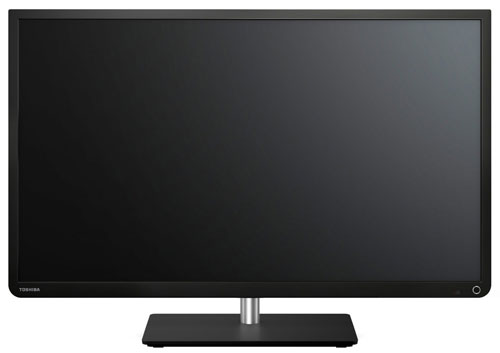 This is the first Toshiba HDTV we've reviewed in a little more than a year, as well as the first 39in display to pass through our test room. If you're intrigued by how will this affordable telly fare, so are we… let's crack on!
Note: The specific model we tested was the Toshiba 39L4353DB which denotes the 3-pin-plug British version in the Series 4 range. The same TV may be sold by high street retailers such as John Lewis, Argos, Tesco and Currys, or web merchants like Amazon as the Toshiba 39L4353B or 39L4353.
Design
Even for a direct-lit LED, the Toshiba L4353's chassis is very chunky, extending a lot further back than edge LED TVs which seem to be all the rage these days. The design is fairly basic, but there's a two-tone theme at play here, with the matte black frame being connected to the black rectangular base by a metallic silver tubular stem. Other swanky stylistic cues include curved corners along the bottom border, and a circular LED power indicator at the bottom right of the panel.
The 3-pin-plug power cord is fixed. The table-top stand doesn't swivel, and overall build quality could have been sturdier. Sound quality is above average, probably helped by the larger cabinet.
Connections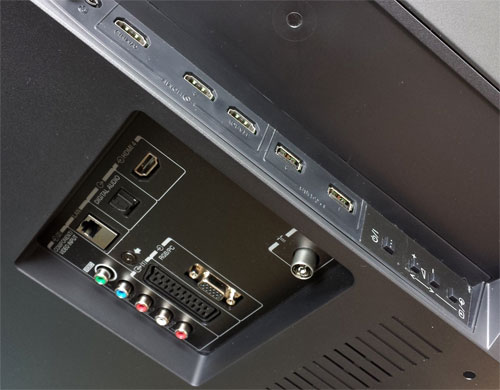 Rear: 4x HDMI, 2x USB, component, VGA, SCART, aerial, LAN & audio outs
Operation
Toshiba has revamped its user menu's graphical user interface (GUI) for 2013, which looks clean and logically laid out, but perhaps due to lack of processing power on the 39L4353DB, navigational responsiveness tended towards the slow side.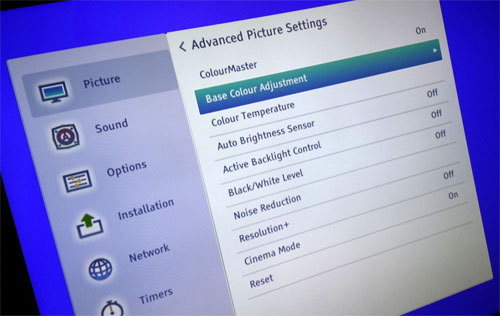 For videophilic tweakers like us, the 39L4353B provides a comprehensive array of picture-affecting options. Besides the usual [Dynamic] and [Standard] viewing modes that we do not care for, there are no less than three picture presets – namely [Hollywood Night], [Hollywood Day] and [Hollywood Pro] – which aim to deliver accurate images. [Hollywood Night] and [Hollywood Day] are Toshiba's take on [ISF Night] and [ISF Day] intended for use in different ambient light settings, while [Hollywood Pro] is similar to [Hollywood Night] in terms of default values, but with additional support for the company's i1Display Pro-based auto-calibration function.
The Hollywood picture modes offers a white balance system (both 2- and 10-point) and advanced colour management system (CMS), although we would've preferred them to be lumped under one submenu rather than spread out over two (namely [Advanced Picture Settings] and [Expert Picture Settings]).
Remote Control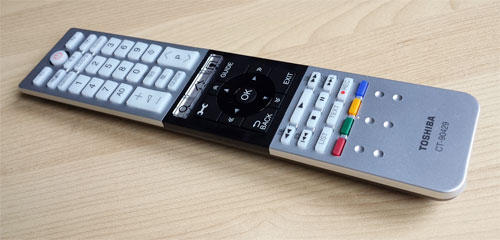 At first glance, the supplied infrared remote control looks premium, sporting a silver-and-black two-tone design. However, upon picking it up we were quickly disappointed by its plasticky feel and not-so-hefty weight. The rubbery keys provide mediocre tactile feedback, but at least they are large and labelled clearly. The remote is not backlit.
Smart TV
Even with the presence of inbuilt wireless connectivity to improve accessibility, unfortunately Toshiba's Smart TV system (called "Cloud TV") is not too user-friendly, saddled by sluggish navigation, random app freezing and crashes, and relatively poor selection of apps (no LoveFilm, ITV Player, 4oD or Demand 5).
Calibration
Note: Our 39in Toshiba L4 review sample was calibrated using CalMAN 5, the industry-leading video calibration software.
Out of the box, the most accurate picture presets on the Toshiba Series 4 LED TV are naturally the three [Hollywood] modes. All 3 yielded similar greyscale, gamma and colour profiles, with [Hollywood Day] delivering the brightest peak luminance by default at 140 cd/m2. [Hollywood Night] and [Hollywood Pro] both came in at 94 cd/m2 which is too dim even by our standards, so if you're not going perform advanced calibration on your L4353, we recommend using [Hollywood Day] from the get go.
Greyscale
Out-of-the-box greyscale accuracy was very impressive especially for an entry-level set, ranking among the best we've seen this year: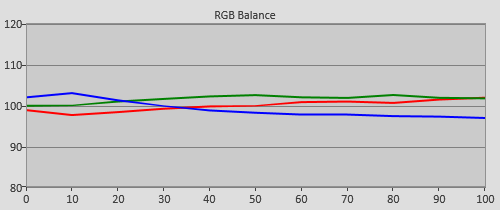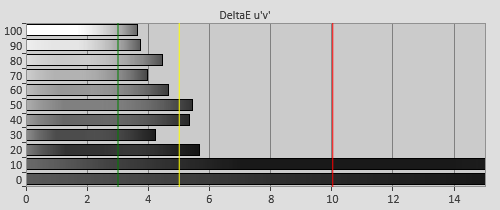 Pre-calibration RGB tracking and delta errors (dEs)
There's still room for improvement, and since Toshiba has kindly provided not only two-point but also ten-point white balance controls on the 39L4353DB, it'd be rude not to use them. Unlike Panasonic's and Samsung's implementation, the 2-point and 10-point WB systems on the L4353 work independently of each other, i.e. any adjustments made in the 2p system won't carry over to the 10p one for further finetuning. Because of this, we went to work straight away with the more precise 10-point white balance controls, checking regularly with a greyscale ramp pattern to make sure we're not introducing posterization as some 10p systems are prone to do.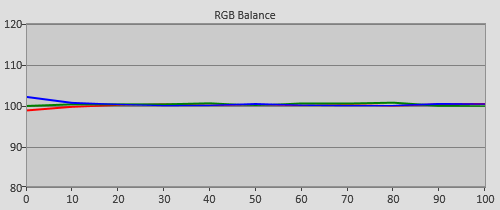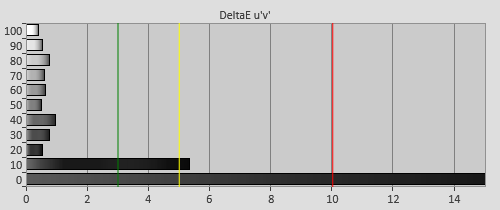 Post-calibration RGB tracking and dEs in [Hollywood Pro] mode
Calibrating the Toshiba 39L4353B was no fun due to sluggish response to remote button presses, not to mention a short time delay which meant that we had to keep cycling through the options to prevent a full-screen menu from popping up and interfering with our measurements. After some wrestling, we achieved an excellent result, with dEs (delta errors) sitting below 1 (the commonly accepted human perceptible limit is 3) from 20% stimulus and above. We didn't manage to fully rectify the excessive blue tint around 10% stimulus because we ran out of headroom after maxing out both the blue and red channels at [10 IRE].
Gamma
After Sony, Toshiba is the second TV manufacturer we've seen adopt 2.4 gamma this year, and we absolutely approve of the decision – after all an organisation no less authoritative than the ITU (International Telecommunications Union) is recommending 2.4 as the reference electro-optical transfer function (EOTF) for flat-screen HDTVs used in dark room studio mastering. The 39L4353's black level squeezed in at under 0.1 cd/m2 which just about qualifies for this gamma formula.
| | |
| --- | --- |
| | |
| Pre-calibration gamma tracking (2.45) | Post-calibration gamma tracking (2.39) |
It appears that the Toshiba Series 4 comes with a 10-point gamma system, but it's only workable through the TV's auto-calibration function. Unfazed, we simply calibrated gamma too while using the 10-point white balance controls by raising/ decreasing red, green and blue channels in equal measure.
Colour
Probably as a direct result of the type of LCD panel used, all three primary chromaticities were off-hue on the 39L4353DB. Furthermore, red was undersaturated while green and blue were undersaturated at 100% saturation points. As with previous Toshiba HDTVs, the onboard [ColourMaster] HSL-based CMS is not perfect: the [Hue], [Saturation] and [Brightness] controls are not truly independent of each other, with [Saturation] in particular having more of an effect on colour luminance than on its namesake.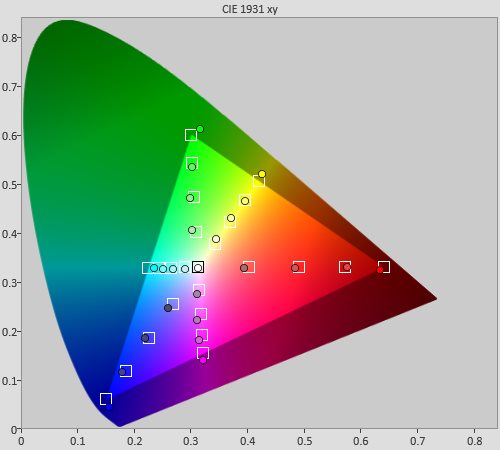 Post-calibration colour saturation tracking in [Hollywood Pro] mode
The whole colour calibration process wasn't easy due to the sluggish user interface which slowed us down when we switched between different patterns to balance out the errors, but we kept at it – all the while prioritising the accuracy of sub-100% saturation tracking – and finally achieved a result we're satisfied with.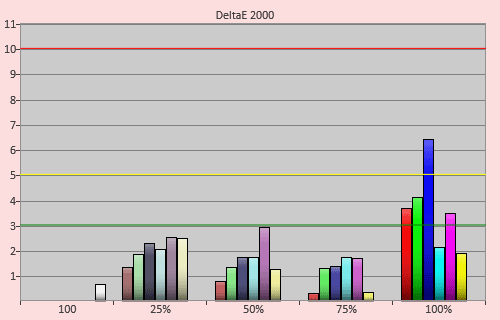 Post-calibration colour errors (<3 not appreciable to the eye)
Delta errors (dEs) for the 25%, 50% and 75% saturation points where suppressed below 3 across all three primary (red, green, blue) and secondary (cyan, magenta, yellow) colours, though we couldn't salvage the 100% saturation points with blue exhibiting the biggest inaccuracy.
Benchmark Test Results
| | |
| --- | --- |
| Dead pixels | None |
| Screen uniformity | Faint vertical and horizontal bands |
| Overscanning on HDMI | 0% with [Picture Size] set to "Native" |
| Blacker than black | Passed |
| Calibrated black level (black screen) | 0.098 cd/m2 |
| Calibrated black level (ANSI checkerboard) | 0.098 cd/m2 |
| Black level retention | Stable |
| Primary chromaticity | Desaturated red; oversaturated green & blue. All off-hue |
| Scaling | Good |
| Video mode deinterlacing | Good |
| Film mode deinterlacing | Passed 3:2/480i & 2:2/576i with [Cinema Mode] on |
| Viewing angle | Limited |
| Motion resolution | 300 |
| Digital noise reduction | Optional; occasional tendency to exaggerate noise in SD |
| Sharpness | Defeatable edge enhancement |
| Luma/Chroma bandwidth (2D Blu-ray) | Full luma; chroma horizontally blurred except in [Game] & [PC] modes |
| 1080p/24 capability | Subtle telecine judder |
| Input lag (high-speed camera) | 20ms compared to lag-free CRT |
| Leo Bodnar input lag tester | 28ms in [Game] and [PC] modes |
| Full 4:4:4 reproduction (PC) | Yes, in [Game] and [PC] modes |
Power Consumption
| | |
| --- | --- |
| Default [Standard] mode | 61 watts |
| Calibrated [Hollywood Pro] mode | 52 watts |
| Standby | <1 watt |
Picture Quality
This is the first 39-inch HDTV we've ever reviewed, so naturally we were curious to find out which LCD vendor supplied the panel. It turned out to be AUO (AU Optronics) who seems to be involved with most upper-tier television brands these days.
By LED LCD standards, the Toshiba 39L4353B's contrast performance was decent rather than stellar: with peak luminance pegged at our usual target of 120 cd/m2, we measured black level to be 0.098 cd/m2 on both 4×4 ANSI checkerboard and full-field video black patterns (the L4353 is one of the rare LED TVs which doesn't dim its backlight when asked to display a full black screen). To put this figure in perspective, this is darker than IPS LCDs (typically north of 15 cd/m2), but brighter than better VA-type panels which is around the 0.03 to 0.05 cd/m2 mark.
We sampled some high-definition content both from Blu-ray discs and the inbuilt Freeview HD tuner, and were largely pleased by what we saw. Greyscale was suitably neutral out of the box, and this could be improved further to a ridiculously accurate level belying the modest price tag. Colours looked natural if not absolutely spot-on. The 39L4353DB evinced a slight telecine judder during panning/ scrolling scenes from 1080p/24 signal (for example Blu-ray movies), indicating that the set doesn't support native 24p playback.
Moving over to standard definition, we found the 39in Toshiba L4 to be equipped with competent SD processing. Scaling was reasonably crisp; jaggies were smoothened effectively; and both 3:2 plus 2:2 cadences were handled correctly as long as [Cinema Mode] was engaged. There's a tendency for digital noise to be amplified when we watched various Freeview channels, but to be fair we didn't find this bothersome from a viewing distance of 6 feet away.
The Toshiba L4353 is one of the faster HDTVs for console gaming we've tested this year, returning 28ms in [Game] and [PC] modes when measured using the Leo Bodnar input lag tester, a figure that is bettered only by 2013 Sony Bravias. Even in the [Hollywood] modes the lag was not much worse, coming in at 45ms.
Conclusion
The Toshiba 39L4353DB is a decent HDTV that has the potential to be this year's sleeper. Its black-level depth is somewhere inbetween an IPS and a better-performing VA LCD panel; it offers relatively accurate out-of-the-box picture presets which can be improved even further with its comprehensive suite of calibration controls; and its low input lag plus full 4:4:4 reproduction in [Game] and [PC] modes make the TV a worthy consideration if you're a hardcore gamer.
Its downsides are limited viewing angles and slightly off colours which stem from the use of a non-top-grade VA-type panel; lack of native 24p support (the television does accept 24fps signal but displays it with mild judder); and a Smart TV platform that's not the easiest to get to grips with. But the biggest saving grace of the 39L4353B must be its keen price of less than £400, which just about persuaded us to file the TV under our "Recommended" category.