Not one to put all its eggs in one basket, Toshiba is continuing its three-pronged assault on the 3DTV market. The Japanese consumer electronics manufacturer has launched the Regza TL868 series of active-shutter 3D TVs to go with the recently reviewed VL863 passive 3D models, and the glasses-free 55ZL2 that is expected to hit UK shops in December.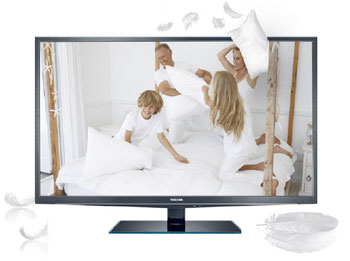 Toshiba launches 40TL868 and 46TL868 active 3D LED TVs
The Toshiba TL range is available in two screen sizes: the 40-inch 40TL868 and the 46-inch 46TL868 (British models may have an extra character "B" suffixed to the model number, i.e. Toshiba 40TL868B and 46TL868B). With any luck, the LCD panel deployed on these 3D-capable HDTV displays should be of the S-PVA variant, which promises deeper blacks than the polarized screens used on the company's passive 3D offerings.
As mentioned, the extra-dimensional display technology found on the Toshiba 40TL868 and 46TL868 is the active-shutter-glasses (ASG) version. While this demands that the viewer wears a pair of battery-powered 3D eyewear (sold separately), the upside is that unlike the passive 3D televisions we've tested thus far, there is no loss in the delivery of full HD 3D resolution to each eye.
The LCD screen on the Toshiba TL868 series is illuminated by edge LED backlight technology, which has gained popularity among buyers over the past few years since it allows for slimmer design and improved energy efficiency. Other specifications include an integrated Freeview HD tuner, four HDMI inputs, 200Hz motion-compensated frame interpolation (MCFI), and the TV maker's Toshiba Places internet-connected platform that provides inbuilt access to YouTube and BBC iPlayer.
Exact pricing and release date of the Toshiba 40TL868B and 46TL868B remain unknown at this time of writing, but the company has claimed that these 3D-ready HDTVs will provide "exceptional value".