Given the relentless push for super-slim edge-mounted LED-backlit LCD televisions by manufacturers and retailers alike in recent times, one could be forgiven for thinking that the local-dimming variant (theoretically superior in terms of picture quality) could soon be facing extinction. So you can imagine our relief when we received for review one such specimen in the form of Toshiba 46SV685D, the company's first HDTV featuring LED backlighting technology.

Note: The specific model we reviewed was the Toshiba 46SV685DB (denoting the 3-pin-plug British version) which may be sold as Toshiba 46SV685D or Toshiba 46SV685 by high-street stores like John Lewis, Comet and Currys, or online retailers such as Amazon or Dixons. These terms may be used interchangeably throughout this review to refer to the same model.
Design
Because its LEDs are arranged in separately controllable clusters directly behind the screen, the Toshiba 46SV685D is inevitably bulkier and heavier than edge-mounted LED-backlit (and even most CCFL-backlit) LCD televisions. However, a number of swanky touches does elevate the TV above the ordinary.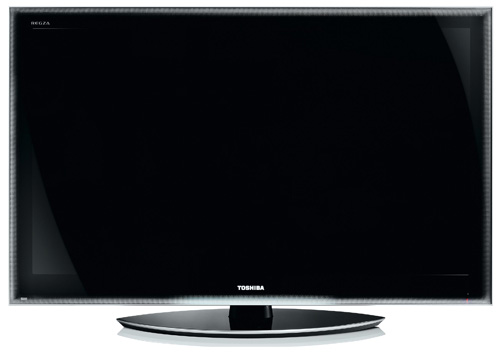 Immediately noticeable is the reflective sheet of glass (dubbed "Full Crystal Panel" by Toshiba) that overlies the screen and the bezel, giving the illusion that these two elements are flush against one another. This single level of fascia is in turn framed by a thin strip of silver metal.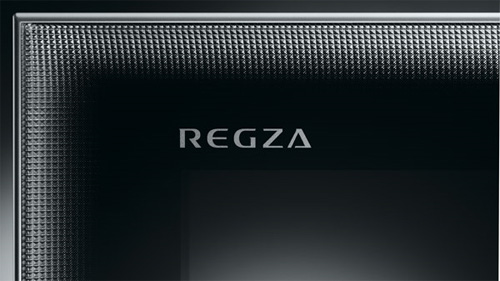 The outer part of the bezel transitions from grey to the glossy black of the inner portion. Upon closer inspection, the grey area is actually stippled with grids of minuscule squares, which then curves backwards behind a suspended layer of black to achieve the fade-to-black effect which Toshiba calls "Deep Lagoon". An illuminated Toshiba logo (which can be switched off) and a matching swivelling pedestal stand (that is pre-attached within the shipping box) complete the lush appearance of the Toshiba 46SV685D.
Connections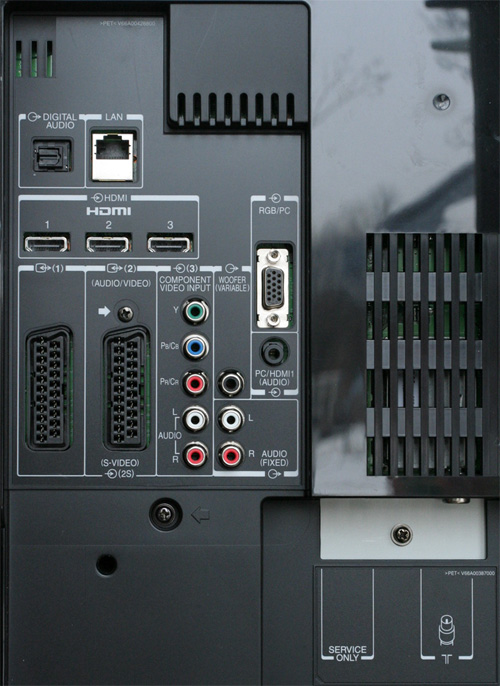 Rear: 3 x HDMI, VGA, component, 2 x Scarts, aerial, LAN, digital & analogue audio outs
| | |
| --- | --- |
| | |
| Side: CI slot, USB, HDMI, Svideo, comp, headphone | Control buttons & SD slot |
Operation
The Toshiba 46SV685's on-screen menu is well laid-out, responsive, and sprinkled with thoughtful touches. Every picture adjustment control we could ever want (and more) is available in the [Picture] submenu. One (minor) gripe though: we wished that the sliding adjustment bar would hold for longer instead of returning to its parent submenu (hence obscuring the centre of the screen where our measurement device is placed) after a couple of seconds.
[Picture] submenu
The [Advanced Picture Settings] submenu houses a comprehensive array of – as the name suggests – advanced picture adjustment controls.
[Advanced Picture Settings] submenu
Enabling [LED Backlight Control] switches on local dimming on the Toshiba 46SV685D to achieve the deepest blacks the set is capable of. [Black/White Level] modifies the shape of the gamma curve, whereas [Static Gamma] raises or lowers the gamma value. [Active Vision M200] controls Toshiba's motion-compensated frame interpolation (MCFI) engine to reduce motion blur. [Film Stabilization] relates to the set's film-mode deinterlacing: the "Standard" setting activates 3:2 (and some 2:2) cadence detection; while "Smooth" adds a whiff of 24p dejuddering to introduce a video-like effect to movies.
| | |
| --- | --- |
| | |
| [Base Colour Adjustment] submenu | [Colour Temperature] submenu |
Engaging [3D Colour Management] grants you access to the [Base Colour Adjustment] submenu where you can tweak the primary and secondary colours to your heart's content. In the [Colour Temperature] submenu, you'll find no less than 11 colour temperature presets, each equipped with its own independent RGB offset and gain controls for further greyscale finetuning.
| | |
| --- | --- |
| | |
| [Noise Reduction] submenu | [Resolution +] submenu |
The [Noise Reduction] submenu contains the [MPEG NR] and [DNR] options. The former utilises a spatial filter (intended to cut out MPEG noise) which can truncate the finer picture details; the latter uses a slightly more advanced temporal averaging approach which – while reasonably effective without softening the picture – can potentially bring about some low-grade motion smearing. Both of these options should be left off unless absolutely necessary.
[Resolution +] is Toshiba's much-touted video processing which upscales standard-def content to fit on their HD panels, though to our eyes it's simply another edge enhancement algorithm. Engaging [Resolution +] allows you to select from five levels of intensity. In the event that you wish to use [Resolution +] to beef up the sharpness of your SD images, we recommend sticking to the lowest setting of "
1
", since ringing would become quite obvious at higher settings.
| | |
| --- | --- |
| | |
| [Expert Mode] submenu | [Preference] submenu |
For users without the equipment or knowledge to measure light output from their TVs, the usual way to adjust colour and tint is to use colour filters but these can be unreliable due to light scatter and inherent inaccuracy. Fortunately the Toshiba 46SV685D provides us with an [Expert Mode] submenu where we can turn off individual or a combination of the red, green and blue colour guns, and then adjust the colour and tint using an appropriate test pattern.
When switching between 1080 content, we discovered that the Toshiba 46SV685D would default to "Wide" aspect ratio, making it necessary for us to change it to "Native" (which is critical to 1:1 pixel mapping without overscan for 1080 source) again and again. To get the "Native" aspect ratio to stick, turn off [Auto Format] in the [Preference] submenu.
Calibration
Greyscale
Out of the box, [Movie] mode – with its [Colour Temperature] setting changed from the default value of "2" to "3" – yielded the greyscale closest to D65 industry standard on the Toshiba 46SV685D:

Pre-calibration CCT in [Movie] mode & [Colour Temperature] "3"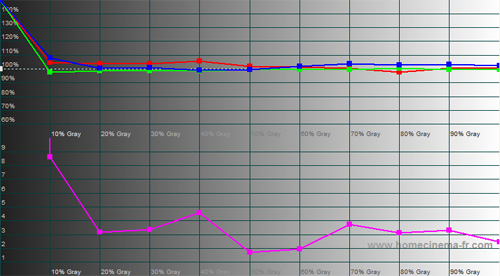 Pre-calibration RGB tracking & delta errors
Of course, the RGB offset and gain controls that are available in the [Colour Temperature] submenu allowed us to improve the already respectable greyscale, and reduce delta errors (dEs) to below 4 from 20% stimulus onwards:

Post-calibration CCT in [Movie] mode & [Colour Temperature] "3"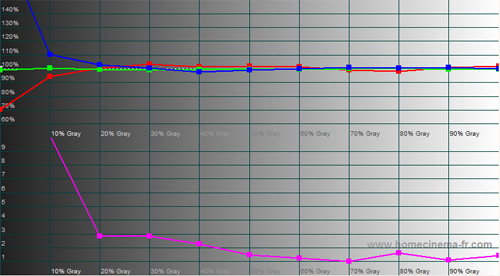 Post-calibration RGB tracking & delta errors
Colours
Considering that the Toshiba 46SV685D HDTV offers a full-fledged – on paper at least – colour management system (CMS) that lets you adjust the hue, saturation and brightness of all 6 primary and secondary colours, one would expect to achieve near-perfect colours on the television set.
Unfortunately things were not so straightforward when it came to actually using the CMS. First off, the saturation and brightness controls were not fully independent of one another, meaning that altering one element would invariably affect the other.
And while we found the CMS controls quite good for mapping the secondary colours to reference coordinates, they were less effective on the primary colours due to limited range of the controls, and also an increase in noise and posterization visible in darker areas of real-world content. So we decided to leave the primary colours largely untouched.
| | |
| --- | --- |
| | |
| Pre-calibration CIE chart | Post-calibration CIE chart |
However, even given these CMS drawbacks, there wasn't much to complain about the colours on the Toshiba 46SV685D after calibration. Other than a green primary that was slightly oversaturated and tilted towards blue, we attained generally accurate secondary colours, and very good colour decoding without any significant errors.
Benchmark Test Results
| | |
| --- | --- |
| Dead pixels | None |
| Screen uniformity | Very good with [LED Backlight Control] on |
| Overscanning on HDMI | 0% with [Picture Size] set to "Native" |
| Blacker than black | Passed |
| Black level | Awesome (<0.01 cd/m2 with [LED Backlight Control] on) |
| Black level retention | Virtually no fluctuation even with [LED Backlight Control] on |
| Primary chromaticities | Green oversaturated and tilted towards blue |
| Scaling | Above average |
| Video mode deinterlacing | Good; largely effective jaggies reduction |
| Film mode deinterlacing | Passed 3:2 in 480i (sluggish) & 1080i; and some 2:2 in 576i |
| Viewing angle | 85° |
| Motion resolution | [Active Vision M200] engaged: 950; otherwise 300 |
| Digital noise reduction | Acceptable at baseline |
| Sharpness | Defeatable edge enhancement |
| 1080p/24 capability (PS3) | Accepts 1080p/24 video signal; no telecine judder with [Film Stabilization] set to "Standard" |
| Input lag (rel. to Samsung F96) | 0-16ms in [Game Mode]; 47ms otherwise |
Power Consumption
| | |
| --- | --- |
| Default [Standard] mode | 176 watts |
| Calibrated [Movie] mode | 135 watts |
| Standby | <1 watt |
Picture Performance
Black Level
No owner with a sane mind should switch [LED Backlight Control] off on the Toshiba 46SV685D, because if you're not going to take advantage of its local-dimming LED backlight technology you might as well save your money and buy a much cheaper LCD TV.
Indeed, with [LED Backlight Control] engaged, calibrated black level on the Toshiba 46SV685D measured less than 0.01 cd/m2, i.e. below the lowest specified limit of our light-measuring instrument. A subsidiary benefit of local dimming was that the baseline luminance was lowered so much that any blemishes in screen uniformity were completely obscured.
Earlier generations of local-dimming LED-backlit LCD televisions can suffer from circumferential flaring/ blooming/ halos around brighter objects on a dark background due to the limited number of dimming zones. It's a testament to how much things have improved that we seldom noticed this phenomenon on the Toshiba 46SV685D HDTV (unless when viewed off-axis). Also, despite the necessarily dynamic nature of local dimming LED backlight, we saw practically no fluctuation in black level retention in test patterns and real-life material.
Motion Resolution
The [Active Vision M200] motion-compensated frame interpolation engine on the Toshiba 46SV685D LED-based LCD TV is – in actual fact – a combination of their existing 100Hz technology and a new backlight scanning system to create a pseudo-200Hz effect.
The result was a mixed bag to be honest. Although the Toshiba 46SV685D managed to achieve a motion resolution of 950 in our reference test pattern (Chapter 31 of the "FPD Benchmark Software For Professional") with [Active Vision M200] engaged, we also witnessed some wierd shimmering and smudging in the 250 to 500-line regions. What this meant was that on certain content, the Toshiba 46SV685D would exhibit more motion blurring than competing 200Hz and even some 100Hz HDTVs.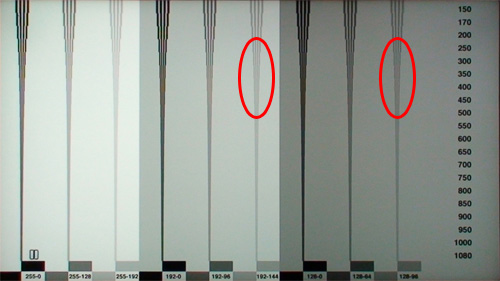 Motion resolution test pattern. Red circles indicate areas of shimmering/ smudging.
Standard Definition
The Toshiba 46SV685D LED-backlit LCD television smoothened jagged edges quite effectively for video-based material, according to the rotating wheel, bouncing bars and waving flag patterns found in the HQV Benchmark test DVD.
With [Film Stabilization] engaged, the Toshiba 46SV685D successfully detected and processed 3:2 cadence albeit sluggishly (taking 1 to 2 seconds to lock on). The set failed the 2:2 pulldown tests in the PAL version of HQV Benchmark, but fared better with real-life material – it managed to completely remove the moiré from the red Coca Cola sign saying "Go Bridget Go" in the PAL DVD of Bridget Jones: The Edge Of Reason.
Even without enabling [Resolution +], the quality of upconversion/scaling was above average. Sufficiently sharp detail (either off-air or from DVDs) were captured, but we did observe some ringing around high-contrast edges. Engaging [Resolution +] would add appreciable crispness to standard-definition images, but unfortunately also aggravate the ringing… we certainly wouldn't recommend going any higher than the lowest [Level] setting of "1".
Although its standard-def video processing was competent rather than outstanding, the Toshiba 46SV685D's exceptional black-level and contrast performance – together with natural-looking colours – made SD programmes immensely watchable as long as a sensible viewing distance was adopted.
High Definition
Blessed with local-dimming LED backlight, black-level performance on the Toshiba 46SV685D was typically superb, virtually matching the reference-level blacks seen on the now-discontinued Pioneer Kuro plasmas. Perhaps even more surprising and impressive was the clarity of shadow detail in the midst of such inky blacks.
In addition to injecting depth and dimensionality to the image on screen, the exemplary blacks and contrast also had a positive effect on the Toshiba 46SV685D's palette. High-definition colours looked suitably rich yet natural, with flesh tones in daytime particularly convincing due to the accurate secondary colours, absence of red push, and D65 greyscale that were achieved through calibration. Measurement-wise green was oversaturated and off-hue, but foliage never really looked out of place… most people probably wouldn't be able to spot the inaccurate green outside of a side-by-side comparison with a reference display anyway.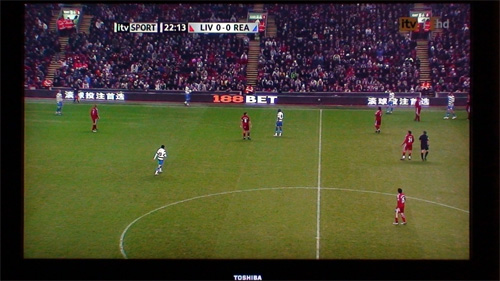 We watched some high-def broadcast of live football to check out the real-world benefits of [Active Vision M200], Toshiba's pseudo-200Hz MCFI implementation on the 46SV685D. Although engaging [Active Vision M200] did improve the clarity and definition of moving objects (compared to when it's off), in general we observed more motion blur than on true 200Hz systems (and even some 100Hz TVs). On the upside, we did not notice any significant interpolation artefacts.
The way the Toshiba 46SV685D HDTV handles 1080p/24 video signal is strongly linked to its [Film Stabilization] control. [Film Stabilization] "Standard" is the optimal setting, allowing for proper display of 24p material without telecine judder. The "Off" setting caused telecine judder to emerge, whereas the "Smooth" setting introduced a video-like effect to movies, though to be fair this was subtler than most other manufacturers' implementations that we've seen thus far.
Console Gaming
[Game Mode] was necessary to achieve the lowest input lag on the Toshiba 46SV685D HDTV. Out of 10 consecutive runs, the 46SV685D's input lag was measured to be on par with our resident Samsung F96 LED-based LCD television twice, and 16ms slower 8 times. Any other picture mode other than [Game] would produce an input lag of around 47ms vs the F96.
With [Game Mode] engaged, Call Of Duty: Modern Warfare 2 felt fluid and responsive enough on the Toshiba 46SV685D to not hinder our online multiplayer experience. That said, whether or not your gaming performance is going to be affected by this amount of input lag depends on your own individual sensitivity, and the reflexes demanded by the particular game.
Note: Our resident Samsung LE52F96BD with [Game Mode] engaged has about 30ms of latent input lag vs a CRT.
Audio Performance
To be honest, most of the time we're tempted to just skip writing about the acoustic performance of the HDTVs we review (because more often than not they sound dire), but the speaker system on the Toshiba 46SV685D deserves some commendation. Taking full advantage of the physical room afforded by the set's hefty chassis, the Toshiba 46SV685D's on-board speakers were extremely listenable, delivering respectable audio resolution, volume and low-end bass extension that would put most other flat panels to shame.
We did not hear any significant background noise from our Toshiba 46SV685D review sample both in use and in standby.
Conclusion
The 46SV685D is without doubt the best HDTV we've seen from Toshiba to date when it comes to picture and sound quality. The TV set is let down somewhat by subpar motion processing, limited viewing angles, inaccurate greens, and a relative lack of internet connectivity – its high price isn't easy to swallow either – but these should not detract from the Toshiba 46SV685D's ability to deliver class-leading blacks and contrast that few current flat screen displays (including plasmas) can match let alone top.