Here in Europe, they may not be the most prominent of TV manufacturers, but Toshiba have proven in the past that they can put together a respectable LCD TV. In for review now is the Toshiba 46WL768, which is the first 3D-capable television we've seen from the company. Not surprisingly, this HDTV is LED side-lit, which allows it to sport an ultra-slim design. Toshiba's "Active Vision" 200hz frame interpolation technology is also on board, as are some new picture calibration controls. Will all of this allow the WL768 to put out great quality pictures?

Note: The specific model we tested was the Toshiba 46WL768B, which denotes the 3-pin-plug British version. While we did not review the 40-inch 40WL768 or the 55-inch 55WL768, there should not be any significant difference in picture performance given similar specifications.
Design
Ultra-slim displays really don't feel so remarkable any more, with every major manufacturer offering some sort of "skinny TV" solution. In this reviewer's opinion, it's still a solution in search of a problem, but in any case, the people have spoken and thin is certainly "in". In fact, the Toshiba 46WL768 has been designed with the cooperation of Danish design group Jacob Jenson Design, indicating that aesthetics are a priority for the company. The front panel uses a "single sheet of glass" design, the only down-side of which is a shiny silver plastic trim around the edge, which looks a little cheaper than the rest of the set.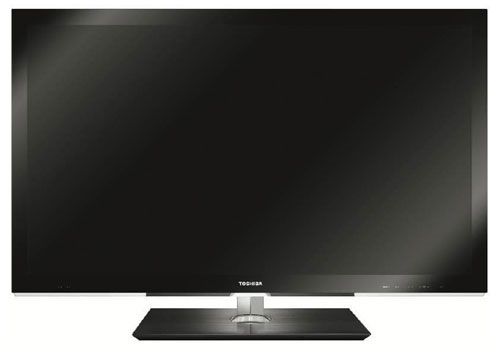 The supplied table-top stand (our 46WL768B review sample came pre-assembled, with the stand already attached to the TV) is styled in black, with a subtle "brushed steel" effect. The stand has a circular hole cut in the middle, allowing whatever surface the LED LCD TV is placed on to shine through.
The Toshiba 46WL768 is supplied with one pair of active 3D shutter glasses. These come in a hard plastic case which is almost identical to what Panasonic supply with their 3D TVs (we can only assume they're produced by the same third-party company). Toshiba's 3D glasses are fairly comfortable and don't put too much weight on any one part of the viewer's face.
The only design related issue we found was with the remote. It looks inoffensive enough, and for the most part doesn't cause any problems – but the 4-way directional button in the middle (which is used to navigate menus) feels somewhat cheap and "clicky". That is an entirely subjective opinion, of course.
Connections
The Toshiba 46WL768 features 4 HDMI inputs, and single Component and SCART connectivity options, in the form of break-out adapter cables (which are of course supplied). There's also a PC "VGA" input, and feeds for both of the TV's tuners. Yes, "both": the 46WL768B features both Terrestrial and Satellite tuners. There are also two USB ports for use with the WL768's multimedia playback facilities.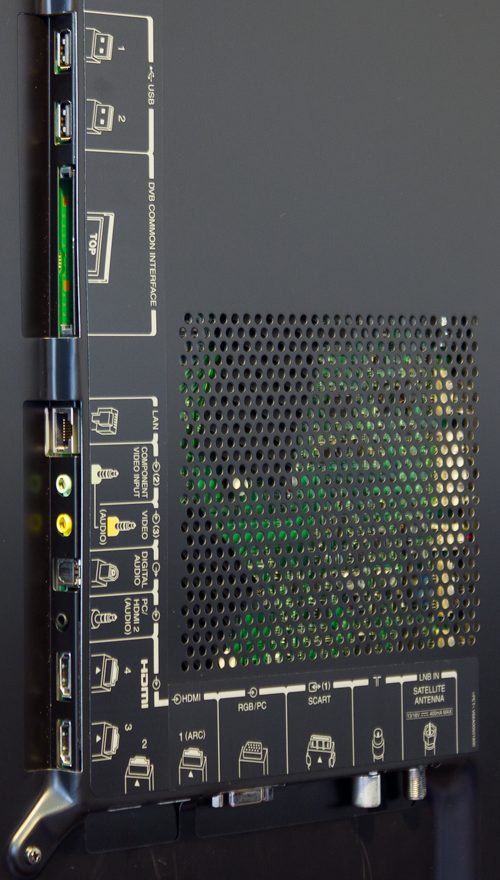 Rear: 4 x HDMI, VGA, component, SCART, aerial, satellite, LAN, 2 x USB, & audio outs
Operation
Although Toshiba has always provided a decent amount of control over picture quality, the TV maker appears to be taking image accuracy more seriously this year. Two new picture modes, called "Hollywood 1" and "Hollywood 2", appear to have been designed to provide similar functionality to the Day and Night ISF modes on other HDTVs. The company's colour management system also makes an appearance, and now goes under the name of "ColourMaster" (a branding term used by Toshiba's USA division for some time now). Don't get too excited, though: it's the same semi-functional colour management system that Toshiba has been providing for some time, just with a new name. We'll explain how well it does (or doesn't) work later in the review.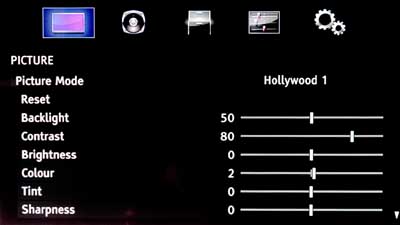 [Picture] menu
In terms of advanced adjustments, Toshiba's slightly confusing Gamma options are still present on the WL768: there's a control which sacrifices shadow and highlight detail for a richer image, as well as an overall Gamma curve selection control (we'll find out what the best settings are during calibration). There's also control over the [Active Vision M200 Pro] system and the related [Film Stabilization] setting. Lastly, a separate [Expert Picture Settings] screen gives access to a test pattern, and most interestingly, a 10-point Greyscale calibration system – a first for Toshiba. The company's once-hyped [Resolution+] sharpening system is also present, and although we don't feel it's worth the hype that Toshiba once generated for it, it's still worth a shot if you're watching some excessively blurry Standard Def material.
2D Calibration
Note: Our Toshiba 46WL768 review unit was calibrated using Calman Professional, the industry-leading video calibration software.
2D Mode Greyscale
We selected the [Hollywood 1] picture mode, which we felt was giving decent image quality in its default settings. However, it was still applying [DNR], [MPEG NR], and image overscan, meaning that the extreme outer edges of the picture were being cropped and some small details were being smoothed over. We changed these three settings before calibration (the overscan option is available with 1080i/1080p Full HD input, and is controlled by selecting "Native" from the TV's Aspect Ratio menu).
We then ran a Greyscale measurement pass to find out how well the Toshiba 46WL768B was mixing Red, Green and Blue to produce the proper colour of Grey: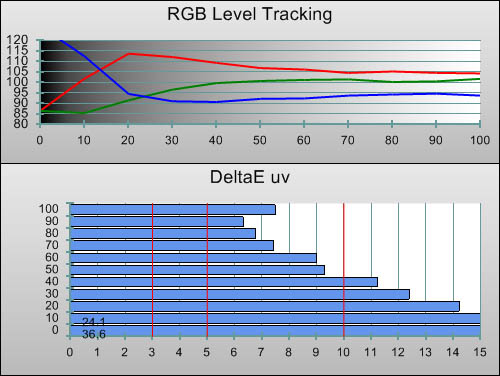 Pre-calibration RGB tracking and delta errors (dEs)
The measured excess of Red in the image was visible to the eye, although we found it much less objectionable than the excess of Blue that many displays exhibit prior to calibration. The 46WL768 also showed the common LCD issue of "blue-tinted blacks", visible in the 10% stimulus area of the above chart. This meant that darker material had a cooler, colder look than would be ideal.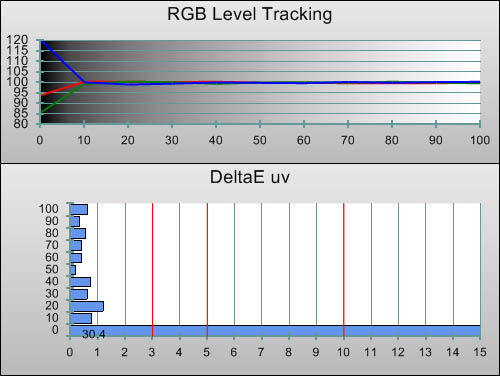 Post-calibration RGB tracking and dEs in [Hollywood 1] mode
All of the Greyscale tracking errors could be reduced to insignificant levels thanks to the Toshiba 46WL768's 10-point White Balance adjustment menu. This gave us complete control over the amount of Red, Green and Blue making up Grey at each stimulus level, meaning we could achieve the above, ruler-flat, visually perfect result. Normal 2-point control systems only allow for the "low end" and "high end" to be controlled, meaning that a 10-point system gives greater precision in evening out tinted areas of the picture. Even the "blue tinted blacks" could be corrected thanks to this extensive control. For calibrators, it's worth noting that the 46WL768B has two separate memories for Greyscale calibration: the 2-point and the 10-point mode are entirely separate, unlike on Samsung LCD TVs, where the 10-point mode works alongside the changes made in the 2-point mode. (We wish we'd checked this before we wasted time calibrating the 2-point mode!)
Gamma was all but perfect after calibration using the 10-point White Balance menu. In its out of the box state, the 46WL768's average gamma measured at about 2.5, which is a good setting for dark-room viewing. For consistency with our other reviews, and also to demonstrate the flexibility of the Toshiba 46WL768B, we chose to calibrate to a Gamma of 2.2. By measuring, we found out that the [Static Gamma] option was best set to "4" in order to accomplish this (and the [Black/White Level] control was best set to 0, since any higher would begin removing details in shadows and highlights on the WL768). Then, we used the 10-point White Balance menu to neutralise the colour of grey at each stimulus level (outlined in Greyscale calibration, above). Once this was done, we raised or lowered all three controls (Red, Green, Blue) by the same amounts in order to flatten Gamma tracking.
| | |
| --- | --- |
| | |
| Gamma curve before calibration | Corresponding gamma tracking |
| | |
| --- | --- |
| | |
| Gamma curve after calibration | Corresponding gamma tracking |
2D Mode Colour
Toshiba's three-axis colour management system (CMS) is still something of a kludge in practice. On the surface, it appears to offer control over the Hue and Saturation (expressed on the colourful CIE chart below) and also the "Brightness" of the colours, but using the "ColourMaster" menu is quite different in reality. From attempting to perfect the colour output of previous Toshiba LCD televisions, we were wary of the "Brightness" control: although it can bring great results when calibrating with test patterns, it's totally unusable with real content, and exaggerates previously invisible compression artefacts (blockiness, etc.), resulting in very poor quality pictures. We tested for the same issue on the 46WL768 and found that nothing has changed, meaning that we were limited to using just the [Saturation] and [Hue] controls to fine-tune the colour output of this HDTV. We often found that there was interaction between the controls: that is, adjusting [Hue] would often have a profound effect on Saturation, and adjusting [Saturation] would often affect both the Saturation and the Luminance of a colour. (The fact that Toshiba's [Brightness] control is basically useless for achieving an accurate image – after all these years – makes us wonder if they've ever tried using it to calibrate one of their TVs themselves!)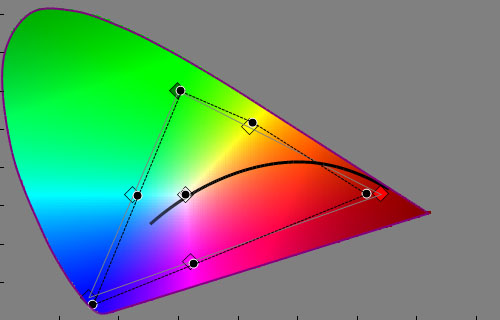 Post-calibration CIE chart with reference to HD Rec.709
In its out of the box configuration, the Toshiba 46WL768 displayed a slightly misshapen colour gamut. The Green primary colour was both oversaturated and slightly off-hue. Blue and Red both featured similar errors.
Using the [Base Colour Adjustment] menu, we were able to make some improvement, but the accuracy of Toshiba's LED-based LCD TV is still behind most competing displays – no thanks to the awkward colour management controls. We found that raising the [Saturation] control would often affect the saturation AND the luminance of a colour simultaneously, meaning that we couldn't bring the 46WL768B's colour reproduction up to an ideal level. We did manage to minimise errors with the Green primary, but Red remained slightly undersaturated, and it wasn't possible to make much improvement with Blue. If we attempted to correct its hue and saturation (which are actually more incorrect to the eye than the chart above would have you believe), then it would introduce a larger and more objectionable luminance error – and since we have no way of properly correcting Luminance with the TV's menus, our hands were basically tied.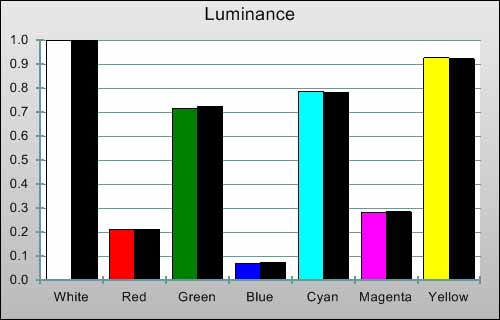 Post-calibration colour luminance (coloured bars = targets; black bars = measured values)
During calibration, we made sure to minimise any luminance errors as best we could using whatever control was available. The above result indicates this.
3D Calibration
3D Mode Greyscale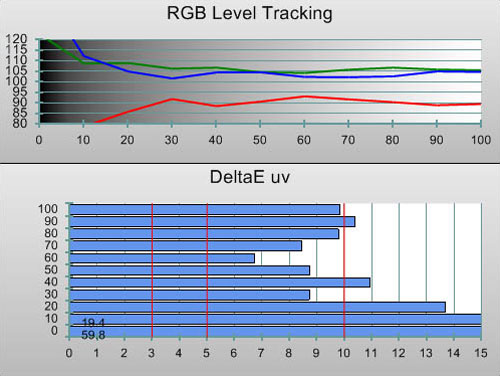 3D Pre-calibration RGB tracking and delta errors (dEs)
After fixing the bundled 3D glasses in front of our Klein K-10 colorimeter's lens, we displayed 3D Greyscale measurement patterns on the Toshiba 46WL768 and repeated the calibration process. The pre-calibration measurements indicated that the 3D TV was having no difficulty in maintaining fairly linear Greyscale characteristics at all stimulus levels, which always bodes well for the final calibrated result. Seen through the 3D glasses, the image had an overall lack of red, which may be an inaccuracy in the 46WL768B itself, a tint imposed by the glasses, or both. Since the lack of red was fairly uniform at all stimulus levels, it was much easier to ignore.
One thing worth noting relating to 3D here is that the 46WL768 does not have discrete picture settings for 2D and 3D. In other words, the picture settings are shared between both. This is a common and unfortunate design flaw (Panasonic's first-generation 3DTV displays did the same thing), because 2D and 3D both need separate calibrations, and therefore different picture settings, in order to look their best. As such, we used the [Hollywood1] mode for 2D and the [Hollywood2] mode for 3D. Irritatingly, we had to switch back and forth between the modes depending on the dimensionality of the content being viewed.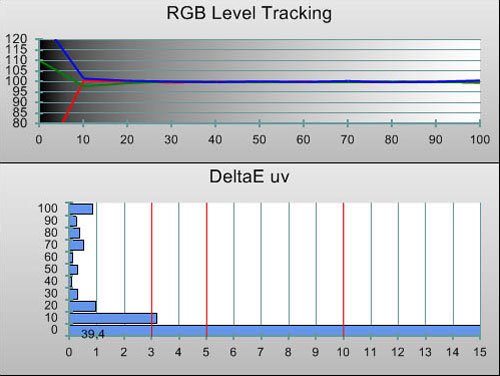 3D Post-calibration RGB tracking and dEs in [Hollywood 1] mode
With the 46WL768, Toshiba has the distinction of being the first HDTV manufacturer to have a 10-point Greyscale correction feature in 3D as well as in 2D (at least, this is the first time we've seen this). This means that unwanted colour tints can be removed with even greater precision than before. You can see the results of this process for yourself, above: after calibrating using this extensive process, 3D images were just about as natural and tint-free as we could hope for. We did have a look at gradient test patterns and we could still see some unwanted tints creeping in at points, but it's unlikely anyone would notice such tiny errors with actual content.
3D Mode Colour
Just as in 2D, colour reproduction wasn't perfect (relative to the Rec.709 HDTV specification), and the somewhat broken Colour Management system meant that we didn't have much opportunity to make improvements.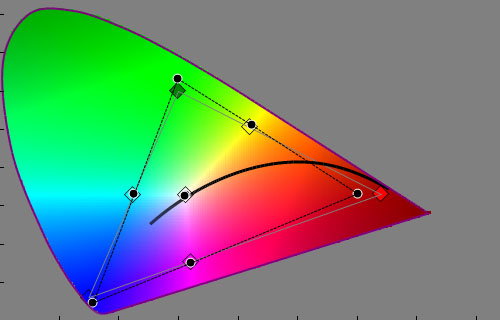 3D Post-calibration CIE chart with reference to HD Rec.709
Benchmark Test Results
| | |
| --- | --- |
| Dead pixels | None |
| Screen uniformity | Average |
| Overscanning on HDMI | 0% with "Native" aspect ratio |
| Blacker than black | Passed |
| Calibrated black level (black screen) | 0.045 cd/m2 |
| Calibrated black level (ANSI checkerboard) | 0.045 cd/m2 |
| Black level retention | Stable after calibration |
| Primary chromaticity | Good |
| Scaling | Good |
| Video mode deinterlacing | Good jaggies reduction |
| Film mode deinterlacing | Failed 2-2 PAL cadence test |
| Viewing angle | Good for an LCD; saturation and contrast diminish from sides |
| Motion resolution | 750 with [Active Vision M200 Pro] |
| Digital noise reduction | Optional, not forced |
| Sharpness | Very subtle horizontal blurring visible on exceptionally detailed 1080p HD sources |
| Luma/Chroma bandwidth (Blu-ray) | Full Luma, tiny Chroma blur (except in Game and PC modes) * |
| 1080p/24 capability | No judder in 2D; small amount of judder in 3D |
| Input lag | 26ms in "Game" picture mode |
| Full 4:4:4 colour reproduction | No |
Power Consumption
| | |
| --- | --- |
| Default [Autoview] mode (2D) | 101 watts |
| Default [Autoview] mode (3D) | 160 watts |
| Calibrated [Hollywood 1] mode (2D) | 113 watts |
| Calibrated [Hollywood 2] mode (3D) | 160 watts |
| Standby | 1 watt |
Measurements taken with full 50% grey screen.
Picture Performance
Black Level
The Toshiba 46WL768's black level performance was good, measuring at 0.045 cd/m2 both with a black screen, as well as with an ANSI checkerboard chart. This is good performance and means that dark scenes displayed on the 46WL768B with sufficient depth. However, blacks had a small blue tint to them – an issue we often see with LCD TV displays – and with a fully black screen, there was a little bit of non-uniformity visible around the edges.
Viewing Angle
The Toshiba 46WL768 did a good job of retaining picture quality from off-axis positions. When we looked at the 46″ LCD panel from the sides, there was no obvious Greyscale shifting like we've seen on other ultra-slim LED-lit displays – in other words, the picture didn't take on any unwanted colour tinting when we watched from a position other than "face on". Granted, blacks became slightly greyer and colours lost a little bit of saturation, but the effect was fairly minimal.
Motion Resolution
The Toshiba 46WL768B managed to deliver around 750 lines of motion resolution during the FPD Benchmark Disc's scrolling test chart. This, of course, is with the [Active Vision M200 Pro] system engaged. The good news is that we found no reason NOT to use this 200hz system. It's coupled with another control called [Film Stabilization] and, when set to "Standard", the 46WL768 boosts motion resolution without introducing false video-like motion into film content. In other words, Toshiba's implementation is entirely non-destructive to the look of the material, meaning that it's a "set and forget" 200hz system, which doesn't require the user to switch settings depending on the motion characteristics of the material being viewed. We left the system on during our review process and never found a reason to disable it, which is excellent.
3D Material
This is the first 3D TV we've seen from Toshiba, and all in all, we were pretty impressed by the performance. We ran a battery of tests on the 46WL768 and for the most part, it came out well. First and foremost, the dreaded issue of 3D crosstalk: there is certainly some visible, with the lead character from Monsters Versus Aliens's white hair causing some visible glowing. This, and the same slightly off colour reproduction, were really the only down-sides. The fact that the 46WL7 allows for 10-point Greyscale and Gamma correction, even when operating in 3D mode, means that if you can see past some crosstalk, you'll be rewarded with one of the most consistent, tint-free 3D pictures available today (even before calibration, the image wasn't too badly tinted when we used the [Hollywood 2] mode with only minor changes made to the settings). After the full calibration treatment, we did have to manually switch back and forth between the [Hollywood 1] mode (which we set up for 2D) and [Hollywood 2], which is something we hope to see remedied on future models.
Some LCD-based displays have had trouble with motion judder in 3D. We ran all of our 3D motion test clips on the 3DTV and found that the 46WL768 can play back 50hz 3D material without any judder – great news for anyone wanting to watch 3D movies on Sky, or on similar pay-TV platforms across Europe and Australasia (or elsewhere). We also checked for motion judder with Blu-ray 3D discs, and found that 3D movies shot at the 24fps frame rate did indeed show some unwanted judder on the Toshiba 46WL768B, which disappeared if we switched into 2D display mode. The effect was very subtle, however, and we don't feel it's worth worrying about.
The 46WL768 also had no issues with scaling Side-by-Side 3D material. Our 3D Side-by-Side resolution test chart was reproduced cleanly, without any missing details. The only 3D TVs to slip up here were some first-generation Samsung displays, so it seems like scaling issues will be confined to the 3DTV history books. Well done to Toshiba for avoiding any errors in the first place.
Standard Definition
The Toshiba 46WL768's standard-def performance is average. On the video processing side, it does a good job of scaling SD images to fit the HD panel resolution, capturing full detail from 576i (standard def, interlaced) material and presenting it with only a small amount of ringing around high-contrast transitions. Diagonal interpolation (jagginess smoothing) for content shot with video cameras was again good, but not exceptional, with the three rotating bars clip from the HQV test disc showing a little bit of jaggedness at extreme edges. Finally, film mode detection worked for video transfers done on the US-centric NTSC 3-2 pulldown system, but not on PAL 2-2 material, meaning that films shown on European standard-definition TV channels displayed with some jaggedness.
On top of this, even after we'd seen to the [Sharpness] and [Resolution+] settings during calibration, we felt that the Toshiba 46WL768 had a tendency to reveal more mosquito noise on over-compressed Digital TV channels than some other displays we've seen lately. We're not sure what the exact reason for this is, but we know that some LCD panel modes can exaggerate this issue by design.
High Definition
We ran some of our favourite Blu-ray Discs through the 46WL768B, and were largely happy with the results, although we didn't feel they ever qualified as being completely excellent. The ruler-flat Greyscale and Gamma tracking did its images a lot of favours, to the extent that the slightly limited colour gamut didn't seem to hurt the image quality too badly. That's not to excuse it entirely, though – it's an inaccuracy all the same. When we had a look at Ponyo (one of the most visually impressive 2D animated Blu-ray Discs), we did feel that the colours weren't as brilliant as they were on some of the more accurate displays out there. The errors with the Blue primary colour (which we couldn't do much about during calibration thanks to the semi-functional colour management system) did take a small toll on the film's many ocean scenes, colouring them a slightly more purpley hue.
When we sat close to the screen and played back some of the more detailed discs, we noticed that the same, very mild horizontal blurring effect that we noticed on the Toshiba 32SL753 was present on the WL768, too. Softer-looking Blu-ray Discs that don't maximise the format's detail potential (The Dark Knight, Inception…) won't reveal any issues, but users for whom resolution is a priority may notice some mild horizontal blurring if they're sitting close to the panel and are watching the most detailed video transfers that the format has to offer (How The West Was Won, The Sound of Music, Aliens…) It's a very, very mild issue, though, and the Toshiba 46WL768 displayed the rest of the image untouched, without any unwanted judder or film grain blurring (unless the user turned such settings on).
There was one other minor video processing glitch noted during the review process. The Toshiba 46WL768 performs some sort of adaptive chroma upsampling on video images at all times, which is arguably a good thing on its own. A little bit of technical background: nearly all video sources only store Chroma (colour) information at half precision, meaning that a Full HD image is made up of a 1920×1080 resolution Luminance (brightness) "base layer" with 960×540's worth of coloured information overlaid on top. Some HDTVs attempt to compensate for the softer colours by intelligently reconstructing edges, by using transitions in the the black and white "base layer" as a guide as to where the coloured transitions might have occurred without this limitation. That's all fine and well, and done properly, it can arguably have a subtle but beneficial impact on the picture. However, when we looked at test patterns on the Toshiba 46WL768B, we sometimes saw coloured edges appearing sharp, then blurred, then sharp again, as if the TV would sometimes turn its advanced chroma processing on and off every few seconds. Users with a copy of the Spears & Munsil test disc, or the free AVSHD calibration disc, can see this effect for themselves by pulling up any test pattern with colours in it, and then introducing some other movement into the picture (for example, calling up their Blu-ray player's on-screen display). The bug is minor, and we didn't see it affecting any actual content (we looked for it with animated material, which generally has sharp coloured edges), but it is there.
These two issues have been mentioned for completeness only, though. All in all, we felt the HD performance of the 46WL768 was good, although these small issues stopped us from classing it as exceptional – except for the perfect calibrated Greyscale and Gamma performance, of course.
Console Gaming
The Toshiba 46WL768 only lagged by around 26ms when we measured it in the [Game] picture mode, which cuts out unwanted video processing and also bypasses the 200hz MCFI system in order to cut down on input lag. 26ms is a very good figure, which should please almost all gamers.
Conclusion
The Toshiba 46WL768 is a good 3D-capable LED LCD display. It has a couple of minor video processing glitches and its colour gamut performance isn't quite as good as we'd like to see at this price range, but none of its flaws are major. Furthermore, its 10-point Greyscale calibration controls allow for some of the most natural, tint-free 3D images we've seen yet – although some minor crosstalk is still visible. It's an all-round good performer, and we advise checking it out – especially if its elegant design is to your liking.