The passive 3D movement seems to be gaining traction, as it transpired at the IFA 2012 consumer electronics trade show in Berlin today that Toshiba has opted to put this tri-dimensional display technology on its top-end WL968 series of LED LCD televisions comprising the 47-inch 47WL968 and the 55-inch 55WL968.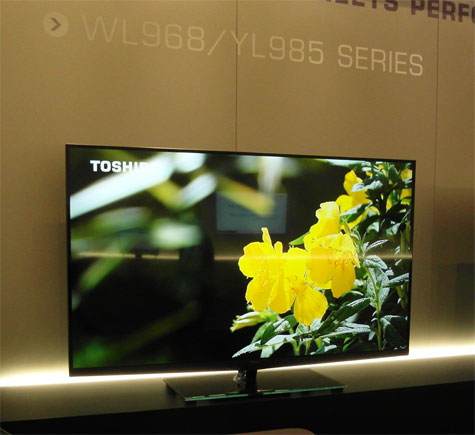 Toshiba 47WL968 & 55WL968 top-end LED TVs get passive 3D
Toshiba is not new to passive 3D – the Japanese brand has prided itself on being the sole TV manufacturer to offer the triumvirate of 3D display technologies on the consumer market: active-shutter glasses (ASG), polarized/ passive, and glasses-free 3D. However, its flagship (in the UK at least) WL range has hitherto featured an active-shutter 3D system which is the only one (at this time of writing) capable of delivering full HD 3D resolution from a 1080p panel.
To be fair, Toshiba's decision is hardly surprising, since passive 3D is probably the extra-dimensional display technology with the highest growth potential, primarily due to the polarized eyewear which are not only inexpensive to purchase, but also flicker-free and do not require synchronisation, battery nor recharging. ASG's superior resolution in the third dimension is in all likelihood only going to be appreciated by discerning video enthusiasts, whereas glasses-free 3D is beset by manufacturing cost and sweet spot issues.
The Toshiba 47WL968 and 55WL968 HDTVs will feature edge LED backlighting, four HDMI ports, integrated WiFi and WiDi, twin USB inputs with recording capability, Jacob Jensen design, as well as the company's smart TV platform whose available content include BBC iPlayer, YouTube and Acetrax. Scheduled to be released in the United Kingdom over the final quarter of this year, the Toshiba WL968 series of LED TVs will also ship with four pairs of polarized 3D glasses.