Toshiba first teased us with its awesome 84-inch Quad Full HD television way back at the IFA 2012 show last September, before giving us a closer look at its full range of Ultra HD 4K TVs at its annual event in March, pegging availability at "summer 2013". The Japanese manufacturer then went almost three months without so much as a word – until today when both pricing and the launch date of its three L9300U models, the 58-inch, the 65-inch and the 84-inch, was announced for the USA.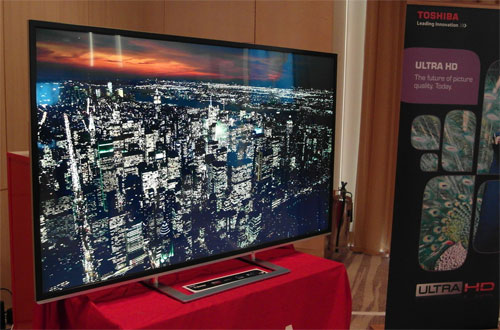 Well, the launch date was 'sort of' announced at least, with Toshiba saying that its 9 Series will be shipped "sometime in August". The company was more firm about the pricing though, announcing that the 58in L9300U will retail at $4,999, while the 65in will sell for $6,999, and the bigger, badder, 84in expected to retail at an eye-watering $16,999. Sounds pricey, but for your money you'll be getting your hands on a super-high definition 4K beast of a television, featuring Toshiba's proprietary Resolution Restoration tech, which upscales regular HD content to something approaching that of native 4K resolution.
The Toshiba 9 Series ultra high-definition (UHD) televisions are powered by a CEVO 4K Quad+ Dual Core Processor, which includes hi-tech features like Color Gamut Enhancement and Surface Brilliance Enhancement to deliver a crisp, clear and colourful picture that promises to leave viewers dazzled in awe. Other features include a 240Hz refresh rate, plus Colour and Depth Adaptive Resolution+ to provide an image resolution boost. The Toshiba 58L9300U, 65L9300U and 84L9300U also comes with Cloud TV, with features like MediaGuide and MediaShare, plus all the usual photo sharing, browsing, news and social apps you've come to expect on a Smart TV.
We should also give a quick mention to the CQ Engine, which allows users to play with image controls like Dynamic Gamma, Color Master, Edge Enhancer and Expert Mode Calibration Capability, which should provide plenty of fodder for calibrators. Augmenting these features is Toshiba's UltraClear Dynamic Noise Reduction, which does exactly what it says on the time, reducing noise whilst maintaining clarity. And of course, the UHDTVs all come with integrated WiFi connectivity.
Scott Ramirez, Toshiba's Digital Products Division VP of Product Marketing and Development, was naturally pretty enthusiastic over the 9 Series capabilities.
"Whilst content creators are still working out how to deliver more 4K content, we're making sure that our customers can already enjoy a clearer, natural, more lifelike picture quality," said Ramirez.
"With the Toshiba 9 Series, viewers can enjoy watching Blu-rays at close to 4K resolution, thanks to our powerful upscaling tech. When choosing a brand, consumers need to be careful to choose one that has the proven engineering skills to optimize their 4K experience the right way, and we believe that's us."
No word yet on UK and European pricing and release dates, but we'll be sure to bring you news when those become available.