Toshiba unveiled its Regza 55ZL1 flagship TV alongside the company's 2011 HDTV range at a press conference in Rome, Italy last week. However, it has later transpired that the Japanese TV manufacturer has made a strategic decision not to release the ZL1 in the British, Irish and Nordic markets, because its price is deemed to be too expensive for consumers in these regions.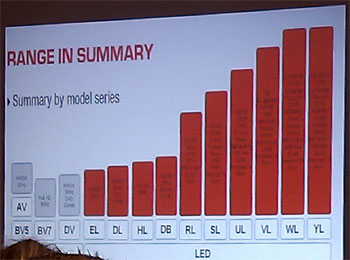 Blessed with the CEVO engine (a derivative of the CELL microprocessor engine used in the Sony PS3) and full-array direct LED backlight technology with 512 dimming zones (a record for a consumer-grade flat-screen television), the Toshiba 55ZL1 is indeed a formidable proposition that can potentially stand toe-to-toe with the best offerings from Panasonic, Samsung and Sony, be them plasma or LCD-based.
But at a product briefing for journalists from the UK, Ireland and Nordic countries, a Toshiba spokesman revealed that the flagship 3D LED TV will not be coming to these markets. Apparently having conducted their own market research and spoken to their dealer network, the company decided that the model will not sell too well in these countries since it is provisionally priced at more than 4,000 Euros (around £3,500).
Instead, Brits will have to make do with the Regza WL863 and YL863 series of 3D TV as range-toppers. In terms of specifications both ranges are exactly the same, featuring edge-mounted LEDs that can be locally dimmed to a certain extent (Toshiba calls this "PRO LED 32″), Smart TV internet-connected portal, as well as the same CEVO engine found in the ZL1, which powers a number of video-processing technologies including 2D-to-3D conversion, 3D Resolution+, Net Resolution+, and Intelligent 3D+. The only difference between the WL and YL series is cosmetic: the YL863 will sport a silver brushed aluminium bezel, whereas the WL863 will don a more conventional black one.
Both the WL and YL 3D-capable LED-based LCD series will come in screen sizes of 42″ (42WL863 and 42YL863), 46″ (46WL863 and 46YL863) and 55" (55WL863 and 55YL863). The 3-pin-plug British versions will have a "B" suffix, meaning that their model numbers will end up being 42WL863B, 42YL863B, 46WL863B, 46YL863B, 55WL863B and 55YL863B. Availability is scheduled for August this year, and although exact prices remain unconfirmed, Toshiba hinted that they will be substantially cheaper than the 4,000 Euros that 55ZL1 costs.