Toshiba has launched the world's first large-screen glasses-free 3D TV in the form of the 55ZL2 at the IFA 2011 consumer electronics trade show in Berlin today. Unlike the 55ZL1 which never made it to the United Kingdom, the Toshiba 55ZL2 has been scheduled to be released onto the UK market come December this year.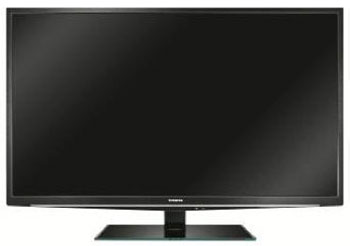 Toshiba 55ZL2 glasses-free 3D TV
To create tri-dimensional effects without the use of 3D eyewear, an array of lenticular lenslets is deployed in front of the LCD screen, which sends slightly offset images to the left and right eyes. The Japanese TV manufacturer claims that up to nine viewers can sit in different positions to simultaneously enjoy 3D content on the 55ZL2 without needing to wear 3D glasses. To make this work, the 55-inch panel is blessed with a native pixel resolution of 3840 x 2160 (Quad Full HD), and is driven by the company's powerful CEVO video processing engine.
The 3D-capable HDTV also features facial tracking technology – apparently at the touch of a button the ZL2 can detect the positions of viewers, and automatically adjust the lenslets to optimise the viewing zones. 2D-to-3D conversion is delivered via the CEVO engine; users are also granted control over the depth of 3D renditions. Other specifications include the TV maker's Resolution+ upscaling algorithm, auto-calibration functionality (requires separate purchase of the TPA1 colour analyser), integrated Freeview HD tuner, built-in WiFi and DLNA connectivity, USB-HDD recording, as well as the Toshiba Places internet-connected platform that contains some of the most popular apps like BBC iPlayer, Facebook and Youtube.
This is not the first time Toshiba is venturing into the glasses-free (also technically known as autostereoscopic) 3D realm. The manufacturer previously launched the 12GL1 and 20GL1 glasses-free 3DTV displays in its home country of Japan, although consumer response was poor due to their small screen sizes and high prices. It remains to be seen whether the Toshiba 55ZL2 – boasting a much bigger screen (and probably an expensive price tag) – will fare better in Britain.