Toshiba has confirmed at its 2012 product preview event this week that its flagship 55ZL2 glasses-free 3D TV will go on sale in the UK from Monday next week (12th of March). The Toshiba ZL2 series of autostereoscopic display was originally slated for a Christmas 2011 release when it was first unveiled at last year's IFA consumer electronics trade show in Berlin.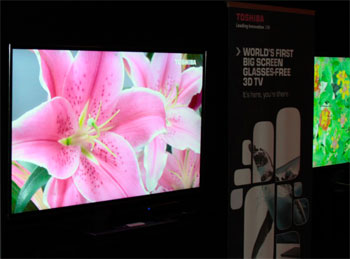 Toshiba 55ZL2 glasses-free 3D TV to hit UK next Monday
As with most groundbreaking technological products, we did not expect what is effectively the world's first consumer-grade large-sized glasses-free 3D television to come cheap. The Toshiba 55ZL2 will cost £7000, and the Japanese manufacturer's distribution strategy is unsurprisingly targetted towards the super-rich who can afford this price tag. The 3DTV will initially only be available to buy exclusively from the John Lewis flagship store on Oxford Street, although 4 days later on the 16th of March Harrods (through Dixons Retail) will begin to stock it as well.
You do get a lot of cutting-edge technologies for the price. Besides its autostereoscopic capabilities (which is achieved via the deployment of a lenticular filter in front of the LCD screen), the Toshiba 55ZL2 boasts a Quad HD panel with a native resolution of 3840 x 2160 (almost 4K), partly to ensure that the glasses-free extra-dimensional images achieve Full HD 3D.
Of course, given the current dearth of native 4K content, the company's powerful CEVO engine is called upon to provide the appropriate upscaling for lower-resolution (i.e. even 1080p HDTV) material. Other features include edge LED backlight technology with local dimming, auto-calibration functionality, 800Hz Active Motion Rate (AMR800) technology, built-in Freeview HD tuner, integrated WiFi and DLNA connectivity, USB-HDD recording, as well as the Toshiba Places internet-connected portal that contains apps like BBC iPlayer, Facebook and Youtube.
David Mackenzie, our chief HDTV reviewer who attended the event, said that he was extremely impressed with the native 4K footage which was "jaw-droppingly beautiful". However, he noticed a slight honeycomb-like effect in bright areas of 2D footage, which is probably due to the inclusion of the lenticular filter (necessary to deliver tri-dimensional effects without the need for 3D eyewear), but as ever we will reserve full judgement until we get our hands on a review sample.