Toshiba took the opportunity at this year's IFA consumer electronics trade show in Berlin to showcase its full lineup of ultra high-definition (UHD) televisions for the year 2013, detailing the pricing and availability of these super high-resolution displays for the UK market in the process.
The company's highest-end L9 series of 4K TVs comes in three screen sizes: the 58-inch Toshiba 58L9363DB, the 65-inch 65L9363DB and the gigantic 84-inch 84L9363DB. Interestingly, the 58-incher features active-shutter 3D technology whereas its larger siblings use passive 3D tech, giving us an indication of the vendors from whom the Japanese manufacturer sourced the underlying LCD panels (AUO's VA panel for the active; LG Display's IPS LCD for the passive).
Listed specifications on the Toshiba L9363 include a super-slim design, two-tone black-and-silver finish, the firm's proprietary CEVO 4K picture-processing engine, 800Hz AMR (Active Motion Resolution) motion-compensated frame interpolation, integrated Freeview HD tuner, built-in WiFi and WiDi connectivity, Cloud TV internet-connected platform with BBC iPlayer, YouTube and Netflix, as well as four HDMI ports (one of which supports MHL for connecting to your smartphone or tablet).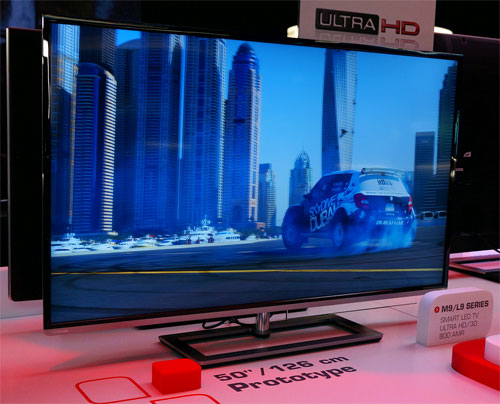 At its IFA show booth, Toshiba also had a 50-inch Ultra HD TV on display. Although labelled as prototype, it looked very much like a finished product, sporting the same chassis, connection inputs and table-top stand as the 58in, 65in and 84in models. Speaking to HDTVTest, Toshiba's senior product manager Glenn Zanoni said that the company will be monitoring the market response to its other UHD 4K TVs before deciding on whether to release the 50-incher in the United Kingdom.
All the Toshiba 9 Series of Ultra HD televisions currently only support HDMI 1.4, but Zanoni confirmed that the brand is working towards providing HDMI 2.0 compatibility through an upgrade in the near future.
The Toshiba 58L9363DB, 65L9363DB and 84L9363DB is available to buy from selected British stores this week, priced at £2999, £5499 and £13999 respectively. This makes the 58L9393 the cheapest 4K TV on sale in the UK, compared to the £3299 price tag Samsung and Sony are charging for their 55-inch F9000 and X9 UHD models.