Toshiba has unveiled its full lineup of LED LCD televisions for the year 2013, ranging from entry-level budget HDTVs to humongous ultra HD 4K TVs, at its annual product preview event. Yes, the company's 84-inch Quad Full HD television we first saw at IFA 2012 has now received a UK model number, although exact pricing and availability remains unconfirmed.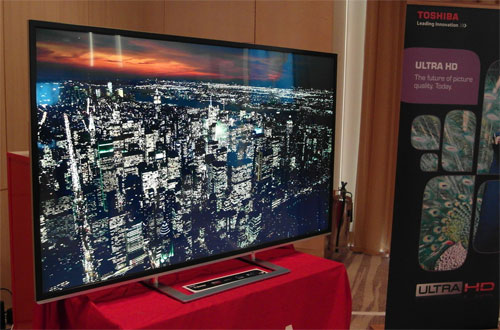 Toshiba unveils 84L9363, 65L9363 & 58L9363 (9 Series) 4K TVs
Understandably keen to underline the flagship status of its ultra-high definition (UHD) TV range, Toshiba has given it a moniker of "9 Series" which may raise a few eyebrows because of the similarity to Samsung's premium displays. However, to us the most interesting bit about the Japanese manufacturer's 4K TV offering is the addition of a 58-inch model (Toshiba 58L9363) that uses active-shutter glasses (ASG) 3D technology, alongside a pair of 65-inch (65L9363) and 84-inch (84L9363) UHDTVs that are based upon passive 3D technology.
As with every other ultra HD TV currently available to buy on the UK and European markets (the Sony KD-84X9005 and the LG 84LM960V), the Toshiba 65L9363 and 84L9363 both use FPR (film-type patterned retarder) IPS LCD panel produced by LG Display, which works together with polarized 3D glasses that are typically cheaper, lighter and more convenient (they do not require batteries, recharging nor synchronisation) to deliver flicker-free three-dimensional images whose vertical resolution is effectively halved. The latter shortcoming, whilst visible on regular 1080p 3D TVs as multiple scan lines running horizontally across the picture, is not a problem on 4K TVs which boast a native screen resolution of 3840×2160: half of the vertical resolution of 2160 is 1080, meaning that you're still getting a full HD 3D image to your eyes (in fact, you're seeing more than full HD 3D, since the horizontal resolution of 3840 remains intact).
But onto the intriguing 58in Toshiba 58L9363 ultra HD television that features active 3D display technology. Obviously the underlying LCD panel did not come from LG – when asked, Toshiba merely said that its panels are sourced from a number of different vendors. Unfortunately 3D was not demonstrated on the 58″ L9 showcased at the product preview event we attended, so we could not see for ourselves whether 4K resolution is actually preserved in the third dimension.
Several pre-production samples – with the 84in Toshiba 84L9363 being closest to shopfloor-ready – were on show at the event, running a variety of content both in native 4K and 1080p. True 4K clips naturally looked gorgeous, and from sensible viewing distances Toshiba's CEVO 4K video processing engine worked well to upscale full HD 1080p movies onto the ultra HD screens. We did witness an alarming amount of noise, posterization and clipped highlights on the 58-incher, which we're sure can be eradicated by simply dialing down the settings. As always, we'll reserve judgement until we get our hands on a review sample in our test room.
Other features on the Toshiba 9 Series include 800Hz AMR (Active Motion Resolution) motion-compensated frame interpolation technology, integrated WiFi and WiDi connectivity, USB-HDD recording, four HDMI inputs (one with MHL support), as well as the firm's revamped Cloud TV internet-connected platform that lists BBC iPlayer, Netflix, Blinkbox, Acetrax and YouTube among its available apps.
The Toshiba L9 series of UHD televisions is scheduled to hit UK stores this summer. Prices are said to be extremely competitive compared to corresponding 4K models from rival TV brands. £15,000 for the 84-incher then?