Toshiba has this week announced its 2014 lineup of HDTVs for the UK and Europe, which will be spearheaded by the L74 series whose headline feature is its full-array local dimming (FALD) LED backlight technology.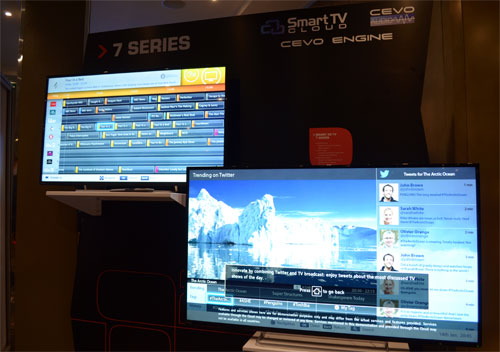 In recent years, FALD LED TVs have almost become extinct, as consumers and manufacturers take to the super-slim design of edge-lit LED LCD televisions (see here for an indepth explanation of the differences between the two). However, this year will see several TV brands embrace locally-dimmed direct LED as they seek to differentiate their displays in the picture quality stakes… Toshiba is one of them.
The L7453 range comes in three sizes: the 42-inch Toshiba 42L7453, the 47-inch 47L7453 and the 55-inch 55L7453 (UK model numbers are 42L7453DB, 47L7453DB and 55L7453DB respectively). Combining these specific screen sizes and the fact that they feature passive 3D technology, it's highly likely that the LCD panel on board will be IPS (sourced from LG Display) rather than VA.
IPS-type LCD panels are not known for deep black level, so local dimming will improve it, but because the discrepancy between the native black level and the dimmed state is greater, a higher number of dimmable zones is required to avoid circumferential blooming (i.e. bright objects on dark background will exhibit a halo around them). We've asked Toshiba how many dimming zones are there on these sets, and will update this article when we get an answer.
Other features on the Toshiba L74 include dual-core processor, CEVO video processing engine, AMR+ 1500 motion-compensated frame interpolation (MCFI) technology, four HDMI ports (one with MHL support), Resolution+ upscaling, inbuilt Freeview HD tuner, as well as the company's revamped Smart TV Cloud platform that offers wireless connectivity, Intel WiDi 4.0, and access to popular apps like BBC iPlayer, Netflix, YouTube, Twitter and Facebook. The 42L7453, 47L7453 and 55L7453 will each ship with four pairs of polarized 3D glasses.
The Toshiba L7453 will go on sale during the second quarter of 2014 when the company is also expected to refresh its 4K Ultra HD models. No word on pricing yet, but we'll be sure to bring you the details as soon as we know.