You can be forgiven for experiencing a sense of déjà vu reading this one. This week we saw the announcement of Sony's new 84-inch 4K TV at the IFA 2012 consumer electronics show in Berlin, and not to be outdone, Toshiba has also extended its offering of ultra high-definition televisions with the release of its own 84″ 'Quad Full HD (4K)' TV.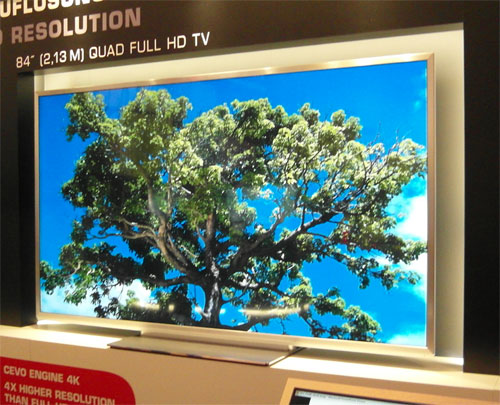 Toshiba extends 4K offering with 84-inch Quad Full HD TV
Toshiba's newest baby won't be out on sale until some time next year, but its early 2013 release date ensures that it will be one of the first of its kind to break into the higher echelons of new giant-screen resolutions.
The Japanese firm isn't new to the 4K arena – they pulled a similar trick at last year's IFA with the announcement of its 55-inch 55ZL2, one of the first generations of new 4K TVs.
However, the Japanese company's latest super high-def TV certainly tops that. Powered by Toshiba's CEVO Engine 4K, the television made for a truly impressive sight, featuring a sleeker housing than the Sony model, helped in part by its lack of side-mounted speakers. The UHDTV's performance is just as impressive, delivering crystal clear audio and incredible picture quality at both long and short distances. Compared to similarly-sized 1080p HDTV displays, the 4KTV's optimal viewing distance is about 50% less, making the set practical for viewing in a living room. Nevertheless, given the fact it has an 84-inch footprint, most viewers will likely want to position themselves at a fair distance away from the screen in order to be able to take it all in properly.
Specification-wise, the new Toshiba Quad Full HD TV supports USB (meaning viewers can enjoy photos, music and video from compatible devices), and also high-def content through its HDMI slot. The gargantous display has also been equipped with video processing that upscales the resolution of other content like Blu-ray discs, using algorithms to improve the detail, increase sharpness and bolster the depth of the images that appear on screen.
Just like the new Sony, Toshiba's 84-incher also uses passive 3D as opposed to active 3D, delivering a full HD 3D 1080 horizontal lines of pixels to each eye, making the extra-dimensional viewing experience more 'cinema-like' than ever before.
Toshiba hasn't revealed how much the Quad Full HD (4K) TV will cost, but given the €25,000 (around £19,800) retail price tag of Sony's 84-inch 4KTV model, it's fair to say that the Toshiba will fetch a similarly eye-watering price.