Toshiba Corporation this month revealed that it has stopped making LCD televisions in its native country of Japan. Production of Regza-branded LCD TVs has ceased at the company's sole domestic factory located at the city of Fukaya in Saitama Prefecture – the workload will be picked up by Toshiba-owned manufacturing plants in China, Egypt, Indonesia and Poland.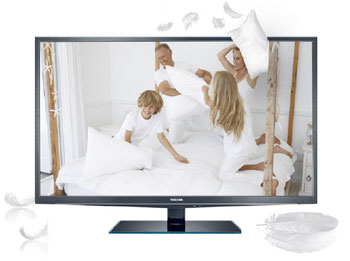 Toshiba has stopped making Regza LCD TVs in Japan
Toshiba's move came as no surprise, as Japanese television manufacturers have struggled in recent years in the face of sluggish consumer demand for HDTV displays (particularly in developed countries), as well as fierce competition from South Korean conglomerates like Samsung and LG Electronics. Although the firm has also been hit hard by the strong yen (which makes its exports less competitive in foreign markets), a Toshiba spokesperson denied that unfavourable currency exchange condition played a major role in influencing the final decision.
Stressing that the company still intend to continue operating in the TV business, Toshiba's CEO (chief operating officer) Norio Sasaki said that shutting down its domestic LCD television arm – which posted a 50 billion yen (around £400 million) loss one year ago – is a process the firm needed to undertake to restructure the division and get back into the black. The number of Toshiba Regza LCD TV models the company manufactures will be slashed by 60 percent by the year 2013.
The Tokyo-headquartered corporation is targeting a doubling of its annual operating profit to 450 billion yen (approximately £3.6 billion) over the next three years by focusing on its social infrastructure business and sales of other consumer electronic products. Toshiba's shares jumped more than 5 percent in the Nikkei index on news of its domestic TV production shutdown.