TV manufacturers Toshiba and Vizio are planning to unveil HDTV sets powered by the Google TV software at next year's Consumer Electronics Show (CES) in Las Vegas, according to inside sources at the two companies who wish to remain unidentified. If true, the backing of these TV makers will come as a timely boost for Google who has in recent weeks seen its Google TV platform embargoed by major US TV networks.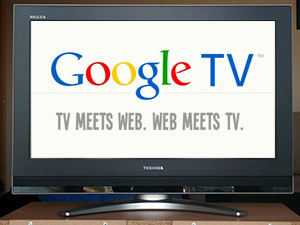 Google TV is Google's effort to merge traditional TV viewing with the internet in a seamless manner, empowering users to browse web content and surf TV channels directly on HDTVs loaded with the software which is based on the popular Google Android operating system and driven by the Intel Atom processor.
Sony and Logitech – two of the co-developers in the project – launched their respective Google TV-based devices last month. Sony released four screen sizes of Google-TV-powered HDTV sets under the moniker "Sony Internet TV", and a Google TV Blu-ray player, while Logitech unveiled its Revue Google TV set-top box. Google is rumoured to be actively seeking new consumer electronics manufacturers to adopt its software platform: Samsung and LG Electronics have apparently expressed their interests, but to date no official partnership announcements have come to pass.
However, despite signing content partnership agreements with several large media and entertainment companies in the USA such as Amazon, Netflix and HBO, recently Google TV suffered a significant setback when four major American TV networks – ABC, NBC, CBS and Fox – decided to block Google TV from accessing and displaying their online content, on fears of a dilution of advertising revenues and a rise in unauthorised viewing.