Just when you thought the Koreans and the Japanese had the high-end TV market all sewn up, here comes a new player into the fray. TP Vision, a joint venture between TPV Technology and Philips Electronics that has just taken over the latter company's television arm, has signaled its intention to compete with the best with the launch of its new Philips 46PFL9707 LED LCD TV at the IFA 2012 consumer electronics show in Berlin.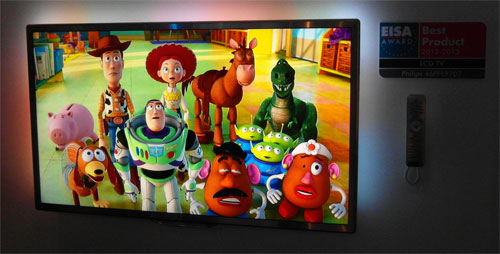 TP Vision signals TV ambition with Philips 46PFL9707T launch
The new flat-screen TV is the latest in Philips' 9000 Series lineup, boasting the Dutch company's three-sided Ambilight Spectra XL technology alongside an exciting new feature – Philips' Moth Eye Filter that helps to reduce on-screen reflection.
TP Vision unveiled two models at IFA: the 46-inch 46PFL9707T which will be equipped with Moth-Eye filter; and the 60-inch 60PFL9607 which won't. Both will be bursting with a range of cutting-edge technologies that promise to up your viewing pleasure to the next level.
These include the firm's Micro Dimming Premium full-array local-dimming LED backlighting, giving viewers the control they need to establish the most vivid colors and superb contrast; 1200Hz PMR motion picture enhancement to maintain clarity during motion; and Flicker Free 3D, which promises a totally 'flicker-free' experience in Full HD 3D for the first time.
By far and away the most exciting of these technologies is TP Vision's new and improved Moth Eye Filter, which promises to do away with one of our biggest pet hates – those annoying on-screen reflections that bedevil even the most expensive of high-end HDTV sets.
According to TP Vision: "The Moth Eye Filter is bionic technology that basically mimics the nanostructure of the moth's eye, acting as the most efficient, anti-reflective screen surface yet seen."
But while it's attempting to reduce light interference in one place, the Philips 9000 Series is also trying to increase it in another, with its three-sided Ambilight Spectra XL technology, which projects a beam of light onto the surrounding wall from the back of the screen, enabling the TV to perfectly adapt the brightness and color to match the content shown on screen.
And just like Sony's much vaunted SimuView Technology, the Philips 46PFL9707T/12 – which will be available to buy from selected UK retailers this autumn at a price of £2,500 – uses its 3D capabilities to allow gamers to view two screens at once whilst they're playing 2D games.
Last but not least, the 9000 series comes with a full range of internet-connected services via Philips' Premium Smart TV home screen, including access to online video stores, catch-up TV, apps, web browsing, USB recording and more. All users need to do to be able to record digital content or pause their television programmes to watch later is to connect a USB drive to the device and they're ready to go.