When shopping for a new plasma television, LCD HDTV or LED TV it is important to also consider the TV stand or TV cabinet the television is to be placed upon. This guide will inform you of the many types of TV furniture which are now available on the UK market, provide the pros and cons of each type of TV furniture, highlight issues you may encounter with a checklist of things you should check before you purchase a TV stand or TV cabinet, and finally the guide will recommend the brands we believe to be the best quality and value for money in each type of TV furniture.
Glass TV Stand
Many retail stores only offer glass TV stands, however if you browse the web, it quickly becomes apparent that in store prices are seriously inflated and that the same products are available online at significantly lower prices. If buying in store check the web first and ask for a price match, typically glass TV stand costing £150 in store are available for as little as £50 online.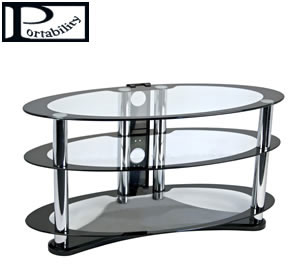 Portability glass TV stand
Glass TV stands have a contemporary image; they are well suited to modern surroundings. The vast majority of glass TV stands are available in either clear or black glass finishes, the vertical supports are mostly available in silver, chrome, brushed aluminium or black legs, a wider variety of finish combinations are available online but prices tend to increase with more unusual colour combinations. Never buy a glass TV stand which does not feature toughened, safety glass shelves, there are some poor quality products available on the market, however even at the lowest price points it is possible to buy a toughened glass TV stand. Always consider cable management before purchasing a glass TV stand, unsightly wiring should ideally be completely hidden. Black glass TV stands make it far easier to hide wiring when compared with clear glass; however black glass attracts more dust and will require regular cleaning.
Pros:
Value for money.
Contemporary looks.
Open design enables equipment to be well ventilated.
Huge choice of products available in a wide range of sizes and styles.
Many brands allow castors to be added.
Cons:
Open design leaves AV equipment exposed.
Can look out of place in traditional homes.
Tend to have fixed (not height adjustable) shelves.
Cable management can be an issue.
Show more dust than a wooden TV stand or cabinet.
Remember to Check:
All glass is toughened safety glass.
Cable management is adequate for all of your cabling.
The shelf height and depth is sufficient to accommodate all of your AV components, sometimes cable tidies and supporting legs can eat in to the usable shelf space so remember to consider these.
Shape is suitable for the room.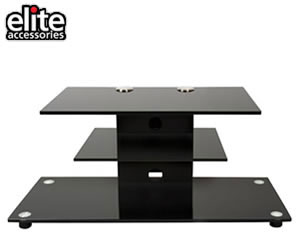 Elite black TV stand
Recommended Brands:
Budget: Portability TV Stands
Mid Range: Elite TV Stands
High End: Spectral TV Stands
Cantilever TV Stands
Cantilever TV stands are a new type of TV furniture, combining glass TV stand design with the concept of a wall mounted television. Typically cantilever TV stands feature a glass or wooden base with one or two additional shelves, instead of the TV resting on top of the glass shelves, cantilever TV stands have a central spine with a TV mount on the top, the TV is bolted to the stand and suspended in the air, the shelves beneath offer storage for AV components.
Just Racks TV stand
Cantilever TV stands are well suited to modern living spaces, the futuristic looks rival the affect of a wall mounted TV, however a cantilever TV stand eliminate the need to drill into a wall, offers far simpler cable management opportunities and offer increased flexibility if you desire to change your room layout. Another major benefit of cantilever TV stands is the increased safety when compared with a typical TV stand or TV cabinet. Flat panel televisions are becoming lighter and therefore easier to knock over when simply rested on top of a surface, with a cantilever TV stand the TV is physically bolted to the TV stand making the overall structure far more stable than a standard television stand. Due to the nature of mounting a TV it is important to check your LCD, LED or Plasma TV is compatible with a cantilever TV stand, it is critical to check the cantilever TV stand can support the weight of the TV, the vast majority of cantilever stands have been tested and detail a max weight limit. The vast majority of flat panel TV's have a VESA mounting system, this is usually expressed with a number, VESA200 for example, the number refers to the distance between the mounting holes on the TV, ensure the bracket supplied with the cantilever TV stand is of sufficient size to hold the TV, also with TV's sized 32" and below it is important to ensure the mounting bracket is not physically larger than the TV itself, although the bracket will support the TV the sides of the bracket may protrude from either side of the screen running the aesthetics.
Pros:
A more practical alternative to wall mounting a television.
Some models exude style.
Increased safety is households with children or pets.
Some models have space saving designs.
Perfect for bedrooms where the TV viewing height needs to be increase.
Cons:
Some models have poor cable management.
Models with a single pole design can have flimsy equipment shelves.
Installation of cantilever TV stands is more complicated than with a standard glass TV stand.
Very few models feature castors.
Remember to Check:
The cantilever TV stand is capable of supporting the weight of your TV.
The cantilever bracket is compatible with your flat panel TV.
The cantilever TV stand has sufficient cable management for your needs.
The TV will sit at the desired height when mounted on the bracket.
Aquila TV stand
Recommended Brands:
Budget: Stil TV Stands
Mid Range: Aquila TV Stands
High End: Spectral TV Stands
TV Cabinets
TV cabinets are more sophisticated than ever before, the days of ugly MDF TV cabinets are over and the UK market now offers a wide range of LCD, LED and Plasma television cabinets in a wide range of finishes. Many TV cabinets feature enclosed designs, this protects audio and video components inside the TV cabinet, however it is important to ensure that the TV cabinet has an open back or a removable back panel, otherwise you may find some AV equipment or games consoles could overheat, this can have a detrimental effect on performance and longevity.
BDI TV cabinet
Some models of TV cabinets feature an advanced cable management system which enable cables to be run from the inside of the cabinet to the outside and some even enable cables to be run from compartment to compartment. TV cabinets usually feature height adjustable shelves but some models overlook this useful feature, always thoroughly check the interior dimensions against the measurements of your AV components before purchasing a TV cabinet. Most TV cabinets come flat packed although some luxury models are supplied as fully assembled units. High gloss TV cabinets are perfect for contemporary rooms whereas natural wood finishes are more suited to traditional settings. If you need a TV cabinet to match existing furniture or surroundings it could be worth asking the retailer to provide a sample, every PC monitor and printer produces slightly different shades of colour so the only way to be sure is to ask for a sample. Most natural wood TV cabinets are finished in a real wood veneer, be careful with solid wood TV cabinets as the heat of audio and video equipment can cause the wood to warp, we would advise against solid wood TV cabinets unless they feature a supporting metal framework.
Pros:
Enclosed design protects AV equipment inside the cabinet.
TV cabinets offer the best cable management available.
TV cabinets are available in a wide range of finishes.
Some TV cabinets are supplied fully assembled.
Cons:
TV cabinets tend to be more expensive than open TV stands.
Flat packed TV cabinets tend to be more complex to assemble than glass TV stands.
AV equipment can overheat if the back panel is not removable.
Remember to Check:
The TV cabinet interior is sufficient in size to accommodate all of your AV components.
The TV cabinet front is made from glass to enable remote controls to function; otherwise the additional purchase of an Infra-Red receiver will be required to operate AV equipment when the TV cabinet is closed.
The back panel can be removed for easier setup and to prevent audio and video components overheating.
The finish matches your expectations before purchasing.
Recommended Brands: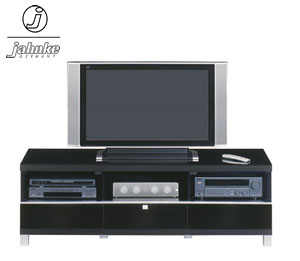 Jahnke TV cabinet
Budget: Alphason TV cabinets.
Mid Range: Jahnke TV cabinets and Gecko TV cabinets.
High End: BDI TV Cabinets and Salamander Designs TV cabinets.
Disclaimer: This guide is written by Paul Murphy from Big AV, the TV furniture superstore, to help you make the correct choice when buying TV stands or TV cabinets.
Promotion: Even though Big AV are already the cheapest on the market for many TV stands and TV cabinets, they are offering a further 10% discount exclusively for HDTVTest readers. Just quote "HDTVTest" by phone or by email when placing your order.